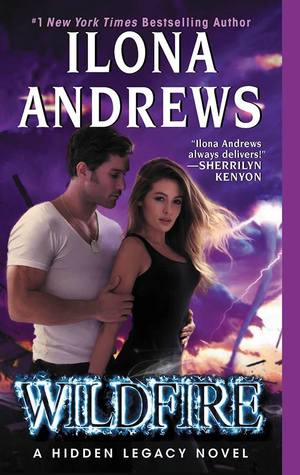 Wildfire

by Ilona Andrews
Series: Hidden Legacy #3
Published by Avon
Published on: July 25 2017
Genres: Paranormal Romance, Urban Fantasy
Pages: 405
Format: eBook
Source: Purchased

Amazon
|
Book Depo
|
Kobo
|
B&N
|
iBooks
 |
GoodReads
Just when Nevada Baylor has finally come to accept the depths of her magical powers, she also realizes she's fallen in love. Connor "Mad" Rogan is in many ways her equal when it comes to magic, but she's completely out of her elements when it comes to her feelings for him. To make matters more complicated, an old flame comes back into Rogan's life…

Rogan knows there's nothing between him and his ex-fiance, Rynda Sherwood. But as Nevada begins to learn more about her past, her power, and her potential future, he knows she will be faced with choices she never dreamed of and the promise of a life spent without him.

As Nevada and Rogan race to discover the whereabouts of Rynda's kidnapped husband and are forced to confront Nevada's grandmother, who may or may not have evil motives, these two people must decide if they can trust in each other or allow everything to go up in smoke.
Before anything else, it's important to know: the main storyarc is not resolved in this book. We still don't (definitively) know who Caesar is, and Rogan's conniving snake of a cousin has yet to receive her comeuppance.
And while that may not be ideal, guess what is?
MOAR HIDDEN LEGACY. *dares you to be a pessimist*
I mention this b/c while I knew a fourth installment was planned, before reading WILDFIRE for the first time, I had assumed that promise was a boon rather than a necessity. I find it's best to know in advance that a series you thought was ending isn't in fact ending.
SO. Now you know.
Secondly, this chapter of Rogan and Nevada's life carries a lot of DREAD.
Dread over a megalomaniac grandmother's intentions, dread over the repercussions of Nevada and her mother's continued silence on Leon's ability, dread over a certain worthless former flame of Rogan's . . .
Speaking of which, did you know that I hate, loathe, despise, and abominate the appearance of old-flames-with-an-agenda? B/c I hate, loathe, despise, and abominate the appearance of old-flames-with-an-agenda.
And while, it's handled well (I can't help but feel that this was a result of the outcry over KATE #6), meaning there are few moments of serious (legitimate) doubt, that doesn't negate the fact that I hate, loathe, despise, and abominate the appearance of old-flames-with-an-agenda. *fumes*
So that might color my overall experience a bit.
To make things worse:
She was the kind of person who would see a pot overflowing on the stove and come and tell you about it, instead of picking it up and moving it off the burner. And then she would be proud of herself for acting quickly in a crisis.
*throws head back and shrieks with rage*
It is a truth universally acknowledged that the kind of female not bothered by the relationship status of her target male is also some version of useless and or (seemingly) helpless. Smart, capable women aren't interested in beginning relationships with disloyalty at the foundation, but this woman . . . GAH. *plots murder*
Basically, the fact that she was such a well-crafted target for my ire isn't necessarily a good thing in this situation. It's impossible for me to separate the negative feelings the Andrews' evoked with their masterfully imagined relationship obstacle from my overall experience.
The hate is too strong.
That's the only reason I'm giving WILDFIRE 4.0 stars. It doesn't seem fair, even to me, to punish the authors for their mastery of characterization, BUT. I hate, loathe, despise, and abominate the appearance of old-flames-with-an-agenda. *shrugs awkwardly* It causes me real anxiety.
Otherwise, it was everything I've come to expect from my favorite writing duo.
There's the increasingly kick-ass heroine (whom I called "soft" in an interview when BURN FOR ME was released *shakes head at self*):
"You're wasting my time," I said. "Just say everyone I know and love is dead. It's more efficient."
He laughed quietly. "You're mouthy."
"And you're a psychopath."
"You say it like it's a bad thing. It's practically a requirement for people in our position."
"Yes, well, David Howling did it better."
"Rogan won't always be there to do your dirty work."
"Rogan didn't kill David. I did. He fought me for his life and lost. The next time we meet I'll pull every dirty secret out of your mind and lay them out in the open. When I'm done, you'll curl into a ball and weep, just like all the others. That's how you threaten, Vincent."
The secondary characters that are as wonderfully crafted as the MCs:
"Could you get me some coffee?"
"No," Bug said.
She blinked.
"I'm a surveillance specialist, not a waiter," Bug said, his diction perfect, his voice flat. "The coffee is on the kitchen counter over there. Help yourself."
She opened her mouth and closed it.
"Nevada?" Bug said.
Don't do it, don't do it . . .
"Would you like some coffee?"
"No, thanks." Ass.
"Because I'll totally get it for you."
The plot is still compelling and action-driven, the enemies, nefarious, the world is fantastic . . . So I repeat, WHY have you yet to read it for yourself? Hmm?? HIDDEN LEGACY has everything a fan of paranormal romance and/or urban fantasy could possibly want. It's truly one of the few idiot-proof decisions a lover of either or both genres can make.
Bottom line: In this modern world of too-many choices, pick a guaranteed win for once. #yourewelcome
Hidden Legacy:
Was this review helpful to you? If so, please consider voting for it on Amazon or like it on Goodreads!
Related Posts