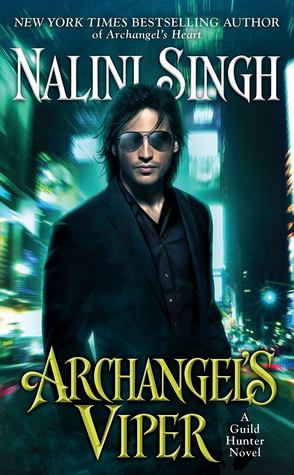 Archangel's Viper

by Nalini Singh
Series: Guild Hunter #10
Published by Berkley
Published on: September 26 2017
Genres: Paranormal Romance, Urban Fantasy
Pages: 367
Format: eARC
Source: NetGalley

Amazon
|
Book Depo
|
Kobo
|
B&N
|
iBooks
 |
GoodReads
Enter New York Times bestselling author Nalini Singh's breathtakingly passionate Guild Hunter world with the story of a woman who isn't a vampire or an angel…or human…

Once a broken girl known as Sorrow, Holly Chang now prowls the shadowy gray underground of the city for the angels. But it's not her winged allies who make her a wanted woman—it's the unknown power coursing through her veins. Brutalized by an insane archangel, she was left with the bloodlust of a vampire, the ability to mesmerize her prey, and a poisonous bite.

Now, someone has put a bounty on her head…

Venom is one of the Seven, Archangel Raphael's private guard, and he's as infuriating as he is seductive. A centuries-old vampire, his fangs dispense a poison deadlier than Holly's. But even if Venom can protect Holly from those hunting her, he might not be able to save himself—because the strange, violent power inside Holly is awakening…

No one is safe.
V E N O M.
I don't know about you guys, but of all the mysterious mystery men in Raphael's coterie, Venom probably held the least interest for me.
That's not to say he held no interest—this is Singh we're talking about—just that of all the intriguing men up for grabs, Venom might've wound up my last pick.
You: Y no Venom love?
Me: Umm . . . b/c probably a parselmouth.
You: Pfft. Lies.
Me: Also, he's POISONOUS.
And let's be realistic, just b/c I'm a proud, card-carrying member of House Slytherin, doesn't mean snakey Voldemort is my dream man.
And try I as I might, the only other man/snake amalgam I could come up with was Jafar, which isn't any better, and is also a Bad Guy.
B/c snakes are ALWAYS the Bad Guy.
*flinches b/c hears Nalini Singh laughing from undisclosed location*
So that's the first hurdle Singh had to jump. And she did. Remarkably well. Her efforts aided, in no small part, by Holly.
You: Holly who?
Me: Holly-the-lone-survivor-from-cannibal-archangel's-pile-'o-woman-flesh (from book 1).
You: O_____O
Me: YEP. Bet you forgot about her. I know I did.
BUT. As it turns out, she's kinda poisonous too.
I'm not going to waste time outlining this installment's furthering of the main plot: is that crazy bitch who hung out in China really dead? What new worrying signs of the Cascade appeared? All of that is typically secondary in the non-Elena and Raphael segments anyway.
ARCHANGEL'S VIPER is about Venom and Holly and how two individuals, abused by fate and man, can be forged into something new and profoundly unique, and in that shared abnormality become perfect for each other.
It's quite lovely.
SO. If you've yet to begin reading what is one of my favorite urban fantasy/paranormal romance combos, I encourage you to climb on up and get on this bandwagon. There is cake, and I will share it. Probably. If your hesitation stems from the number of installments you're behind, consider how you'll feel in five years when GUILD HUNTER is still going strong, as I predict it will be. *sing songs* Better late than neverrrrr. To the veterans, I say nothing. B/c you already know. *eats cake*
Guild Hunter:
Was this review helpful to you? If so, please consider liking it on Goodreads!
Related Posts