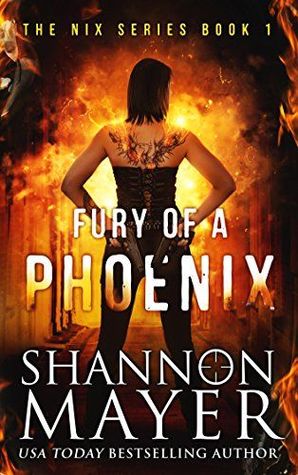 Fury of a Phoenix

by Shannon Mayer
Series: Nix #1
Published by HiJinks Ink Publishing
Published on: July 11, 2017
Genres: Urban Fantasy
Pages: 315
Format: eARC
Source: Author

Amazon
 |
GoodReads
"I knew the sins of my past would call to collect what was left of my soul. If I'd known the price I'd pay, I would've sacrificed more to stay hidden from the magic."

In the middle of Wyoming--away from the abnormals of the world--I thought I was free and clear. I started a new life. Found a love I'd never known in a husband, and a son who was my everything.

And in a blinding instant, that life was stolen from me.

The rage of a grieving mother is an ugly beast. More so when she has the skills and killer instinct to back up the wrath and the knowledge that an accident was anything but.

Once more, I will pick up my guns. This time to hunt those who took my husband's and son's lives.

Let them see the assassin, trained to kill abnormals, stalk the shadows again.


Let them see the Phoenix rise from the fragments of a broken life as she burns with a fury that cannot be contained.

Let the killing games begin.
Shannon Mayer has a whole new bag of tricks with NIX, her latest Urban Fantasy series! The heroine is a human living in an abnormal world where props talk, and more importantly—her enemies have forgotten that revenge is a dish best served cold. I'm so happy that this author finally branched out from her RYLEE ADAMSON / ELEMENTAL conglomeration, and took a risk on this new venture because it totally paid off.

It's clear from the blurb that the protagonist's son dies, but I kinda expected that to have already happened, and for the story to start with Phoenix on the warpath. Instead, readers get to experience that agonizing moment of loss right alongside the lead character, and the crippling grief that follows. I just wanted to give you fair warning because I wish Mayer had done me the same courtesy. It was a rocky takeoff.

The gut wrenching opening did come with certain advantages though in that we get to witness Nix's about-face from her domestic role to that of the assassin she once was. I enjoyed this approach because it allowed the author to slowly build-up the heroine while also piling on a bit of world-building which in turn gently eased fans into the fictional universe instead of opting for the info dump commonly found in book 1's.

The plot took a more circuitous route than what I'd anticipated with various secondaries coming and going along the way. I liked how difficult it was to label any of them either ally or foe, especially the protagonist's husband, Justin. My feelings on Dinah & Eleanor are still up in the air, and with the addition of Linx, it could go either way at this point depending on how Mayer decides to use them in future installments.

FURY OF A PHOENIX soared from the ashes in its debut.

Was this review helpful? If so, please like it on GoodReads or vote for it on Amazon!



Related Posts