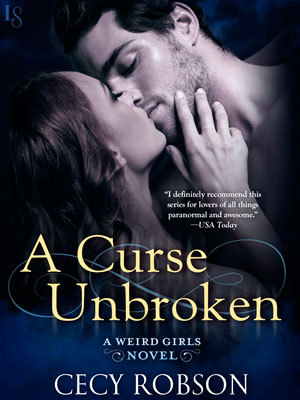 A Curse Unbroken

by Cecy Robson
Series: Weird Girls #5
Published by Loveswept
Published on: March 10, 2015
Genres: Urban Fantasy
Pages: 297
Format: eBook
Source: Library

Amazon
|
Kobo
|
B&N
|
iBooks
 |
GoodReads
Fans of Keri Arthur will love the Weird Girls, four sisters cursed with supernatural powers. In Cecy Robson's latest urban fantasy romance, the search is on for an unholy grail, while evil is licking its wounds—and looking for revenge.

The preternatural world is changing. After a massive magical throwdown tore apart the established order, the dark elements are rebuilding their ranks unopposed. Celia Wird's world is changing, too. She's the mate of the pureblood were Aric, and his Warriors are honor-bound to protect her family as she and her sisters recover from unimaginable horrors.

Celia hesitates to reveal the true extent of the Wird sisters' trauma, but they aren't the only ones keeping secrets: Aric and the werewolf Elders are tracking a stone that grants limitless power. So is a tough coven of witches. Then Misha, a master vampire with his own plans for the stone, sends Celia after it. Can she and the vamps beat both the weres and the witches to the treasure before it falls into the wrong hands?

Fearing for Celia's safety, Aric begs her to stay out of the hunt. What they don't realize is that they're the ones being hunted. But Celia's ready to prove that she's not easy prey.
After a topsy turvy run, Celia and Aric's story reached its zenith in A CURSE UNBROKEN, and as much as I have enjoyed their adventures, it was high time for these two to ride off into the sunset. Happily-ever-afters (or in their case for-now) don't come easy in Urban Fantasy, and Cecy Robson certainly didn't don kid gloves for this couple's last dance. No, instead she poured salt on old wounds, and ripped them a new one!

I really liked how the elements in this book came together. The weres, vamps, and witches were neck-and-neck from start to finish in the race to acquire the stone (Shah), Taran & Gemini's relationship is on shaky ground which set things up nicely for OF FLAME AND PROMISE, and the Wird sisters' origins came full circle in a surprising plot twist that revealed that there's bigger things at work than just the Alliance/Tribe plot arc.

This installment was basically Celia's biggest nightmare incarnate. On the tail end of the worst pain she's ever endured, Wird gets dealt SO MUCH hurt in this novel that Emme's healing light couldn't keep up, not to mention the gory visuals that the author seared into my retinas—a sea of arms anyone!? And, if none of that was enough to gut you, Robson dredged up a horror from Celia's past, and managed to make it TEN TIMES WORSE!

However, as much bad as there was, there was plenty of good too. Shah, for one, was darned amusing, and considering he's a rock, that's saying something. There's also, I suspect, something brewing between Bren & Emme which made me super happy because she's been hung up on the Liam thing for too long. Honorable mention goes to sparkly Celia and her tinkling nipples—oh, and don't forget the naked cartwheels. You had to be there. LOL

A CURSE UNBROKEN was like getting a warm hug after getting pulverized by a blender.


Was this review helpful? If so, please vote for it on Amazon or liking it on GoodReads!



Related Posts