Bookfessional: On Artificial Intelligence in Science Fiction
One of my sisters and I have a standing phone date Monday – Thursday mornings at 7:00(ish) am.
"WHY?" you ask.
B/c otherwise we'd never get to talk to each other. #adultingsucks
Also that heady combination of lack of sleep and caffeine consumption leads to hilarity on a regular basis.
Behold:
Sister: I think my phone's been listening to me.
Me: Huh?
Sister: The other day Dude came up when I was talking to Dollface, and I haven't talked to him in FOREVER, but later that day when I got on Facebook, there was a status update from him on my newsfeed.
Me: If you're friends with him, his status updates are going show up in your newsfeed . . .
Sister: I KNOW THAT. But I've seen nothing about Dude in literally months, and then I mentioned him to Dollface, and he shows up a couple of hours later?!
Me: Hmm . . . *internally snorting*
Sister: And another time I got directions to Restaurant from Google maps, and the next day I had coupon offers for that same restaurant in another app. My phone is totally eavesdropping on me. (Lowering her voice.) It's probably listening right now, laughing at us.
I never did explain the concept of "smart phone."
It's more fun this way.
Which is why, just to be contrary, I decided it'd be a good idea to tell her about my recent decision not to read a book that had been pretty high up on my TBR (ANCILLARY JUSTICE by Ann Leckie), b/c I'd found out it was based on (or that it at least prominently featured) Artificial Intelligence.
I have a bad habit of one-clicking books that look interesting when they go on sale, especially award-winning books, and silly things like reading book blurbs are for amateurs.
You: How did you find out it was about AI if I didn't read the blurb?
Me: One of my blogger buddies posted a status update on Goodreads about the, "interesting concept and use of artificial intelligence," to which I responded something like: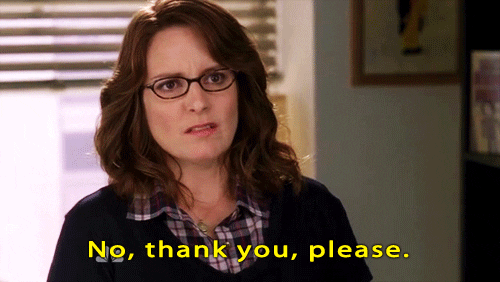 B/c while I might not be quite be as deliberately ignorant as my sister, there's not much that freaks me out more than the concept of machines thinking for themselves, sans any sort of ability to empathize or judge situations individually based on extenuating circumstances.
Also, there is a positive correlation between the real world existence of a freaky thing and my level of freak out. Maybe I could mitigate the fear if I cared to truly educate myself about the subject, but science is hard. *shrugs awkwardly* And to my humanities-oriented brain, it seems colossally stupid to create a machine or software program or whatever that could logically decide that humanity is redundant/a plague/inferior/etc.
Have you seen AVENGERS: AGE OF ULTRON?
Then there's the fact that I'm an escapist reader and reading a book on the subject that I find terrifying would defeat the purpose of getting my read on in the first place.
Verdict: Such books are to be avoided . . . like the plague . . . of machines . . . that are coming . . .
What about you? Do you read books that prominently feature your real life fears? What subjects do you avoid?
Related Posts