Bookfessional: Randomness
Sometimes I run across interesting bookish (or nerd life) things that don't rate a full post, but it makes me sad not to share their awesomeness at all, SO this is my first Bookfessional, randomness edition.
1. American Gods.
The first episode of Neil Gaiman's American Gods airs on Sunday night. Did I upgrade my Amazon Prime account to include a subscription to STARZ? You bet I did. And I promise to report my findings.
2. ACOTAR.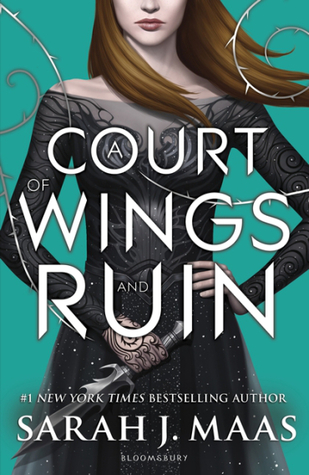 Next Tuesday is the release day of A Court of Wings and Ruin (ACOWAR), the next installment of A Court of Thorns and Roses by Sarah J. Maas. I only mention it, b/c aside from Saga, Volume 7, which doesn't really count b/c graphic novel, this is the first book I've gotten excited about in months. #bookfunky
So HOORAY for that.
3. Fairy Loot.
I've tried at least half a dozen different monthly subscription boxes for books and book swag, and while I've never been straight up disappointed, they all left something to be desired.
And all along, Fairy Loot was kind of the holy grail. It always had the best Instagram posts, the best book choices, the best and prettiest bookish paraphernalia.
BUT.
It's based out of England, so I thought it would be hella expensive. I wanted it, but I didn't pursue it. Then a couple of months ago, I cancelled all of my other subscriptions (b/c bored, redundant, etc.), and thinking I could now justify the cost, I tried to jump on the Fairy Loot bandwagon.
I say "tried" b/c it was habitually sold out.
After two failed attempts, I was successful—seriously, guys, if you want it, you better stalk them on social media, and sign up the second they announce that month's box is available—and it wasn't nearly as expensive as I'd feared. To calculate your cost, use the handy shipping table found under their Subscription and Single Purchase Guide.
In any case, it was totally worth it.
Getting a book is a given. That's the whole point. But it's the EXTRAS that make subscription boxes so attractive. In all the other boxes I've received, it was pretty standard to get a book-themed candle, OR a mug with a cool quote, OR a bookish tote bag.
In my Fairy Loot box, I got all three. In one box. All. Three.
And they were quality items. The quote covered the entire mug, not just a three-inch section that was surrounded by blank space. The tote bag was a full-sized tote, not some cheap cotton bag barely big enough to hold the book it came with that collapses into a wrinkled nightmare after you throw it in the wash.
I also got a cute enameled pin of a jar filled with dreams, a mini journal, and magnet with another quote about dreams (April's theme). There were also various bookmark and postcard-type items, but after everything else, they were just bonus.
Long story short, Fairy Loot is the YA subscription box you've been looking for. Go forth and stalk the June box—May's is already sold out.
4. God Only Knows.
I stumbled across this gem while trying to update my liked YouTube videos, then watched it another six or eight times. You should watch it too. It's whimsically wonderful.
And if you're curious about who all the featured musicians are, this post lists them in order of appearance:
Who's in the Impossible Orchestra?
That is all.
What about you? Are you excited about American Gods? Feeling book funky? What do you think of monthly subscription boxes? Do you have a favorite?
Related Posts