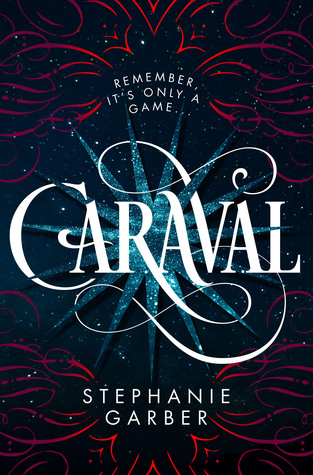 Caraval

by Stephanie Garber
Series: Caraval #1
Published by Flatiron Books
Published on: January 31 2017
Genres: Fantasy, New Adult
Pages: 416
Format: Hardcover
Source: Purchased

Amazon
|
Book Depo
|
Kobo
|
B&N
|
iBooks
 |
GoodReads
Whatever you've heard about Caraval, it doesn't compare to the reality. It's more than just a game or a performance. It's the closest you'll ever find to magic in this world . . .

Welcome, welcome to Caraval―Stephanie Garber's sweeping tale of two sisters who escape their ruthless father when they enter the dangerous intrigue of a legendary game.

Scarlett has never left the tiny island where she and her beloved sister, Tella, live with their powerful, and cruel, father. Now Scarlett's father has arranged a marriage for her, and Scarlett thinks her dreams of seeing Caraval, the far-away, once-a-year performance where the audience participates in the show, are over.

But this year, Scarlett's long-dreamt of invitation finally arrives. With the help of a mysterious sailor, Tella whisks Scarlett away to the show. Only, as soon as they arrive, Tella is kidnapped by Caraval's mastermind organizer, Legend. It turns out that this season's Caraval revolves around Tella, and whoever finds her first is the winner.

Scarlett has been told that everything that happens during Caraval is only an elaborate performance. But she nevertheless becomes enmeshed in a game of love, heartbreak, and magic with the other players in the game. And whether Caraval is real or not, she must find Tella before the five nights of the game are over, a dangerous domino effect of consequences is set off, and her sister disappears forever.
Anytime a book is surrounded in as much hype as CARAVAL, I try to go into reading it with lowered expectations.
BUT.
Said hype seldom stops me from actually reading it. Not b/c I'm a lemming, but b/c curiosity. *shakes fist at curiosity gods* That being said, beyond the pretty, pretty cover and the quote, "It's only a game," I had no prior knowledge of the contents when I first cracked its spine.
The concept is intriguing: two sisters, raised by an abusive father, run away to play a game whose winner will be granted a single wish. That's oversimplification, but I don't want to spoil you, so that's all you get. *orbit gum smile*
The problem is the execution.
A lot of new authors make the mistake of browbeating their readers with key details:
1. Ever since their mother abandoned them, Scarlett has felt responsible for the well-being of her younger sister Tella.
2. Above all things, Scarlett desires escape from her father. But only if the escape provides safety and security.
3. Tella is reckless.
But instead of these ideas being vocalized once, then reinforced by demonstrations, we're simply told (over and over again) by an increasingly fretful and exasperating Scarlett. And once Scarlett gets to her destination, it only gets worse, b/c we know the things she repeatedly tells us are untrue.
Little to no world-building.
The only things we know about Scarlett's world are:
1. It has magic and that magic is a tricksy fae sort of magic.
2. The part of the world that Scarlett and her family live in is conquered (by we-don't-know-who) and travel is restricted. But this information feels more like a plot device to explain Scarlett's inability to travel freely than actual world-building.
Ringmaster's island is more developed, but it felt like a Stardust/Diagon Alley/Disney mashup, so MEH.
Then there's other weird stuff like how Scarlett assigns colors to emotions, an obvious sign of her own magical ability, which is never addressed. We just get a lot of very specific shades that mean very specific things (sometimes nonsensically), except for when the colors don't mean anything at all . . . But are still very specific, which is confusing and a little bit weird.
Cerulean blue . . . Apricot orange . . . Saffron yellow . . . Primrose pink. OR if you're familiar with my peeves, blue blue, orange orange, yellow yellow, and pink pink. *flares nostrils*
BUT.
By the end, I had either grown immune to Scarlett's fretting or she'd calmed down—I can't be sure which—and I wasn't quite as annoyed by her as I'd been for the first three-quarters of the book, which allowed me to appreciate the ingenuity of the tale.
SO.
Although I don't think CARAVAL by Stephanie Garber comes close to living up to the hype, I don't regret reading it, and I'll probably read the next book. Garber is clearly capable of dreaming up not-your-ordinary-story, she just needs a bit of polish. Recommended. Ish.
Was this review helpful to you? If so, please consider voting for it on Amazon or like it on Goodreads!


Related Posts