In the wake of my recent TWILIGHT reread, I decided it was time to give up the ghost on THE CHEMIST, which made me take a closer look at several others I'd been hanging to . . . and here we are: my second DNF Roundup.
I nearly made it to the halfway point before I temporarily set THE CHEMIST aside. The beginning was intriguing in a whoa-holy-is-the-MC-a-serial-killer? kind of way, but it all went downhill from there.
The more I learned about Alex, the less I liked her. Her scary sociopathic pragmatism . . . Her utterly unbelievable haplessness when dealing with the opposite sex . . . just ughhhhhh.
My last impression before I gave up was that Meyer needs to embrace her apparent love of romantic suspense and stop trying to turn into something more "respectable" like a thriller, b/c #notfoolinganyone.
It took me awhile to give up on THE OPERATOR too, b/c loyalty to Kim Harrison. I wish I could say that loyalty paid off, but in reality, it only made me resentful when I finally did call it quits.
Why resentful?
B/c seriously . . . this book . . . Every bad book cliche was present and accounted for . . . parts of it read like a spaghetti western, while other parts read like a badly dubbed Bruce Lee movie (and NO that is not an exaggeration) . . .
It was terrible. TERRIBLE. T E R R I B L E.
So terrible that I wasn't surprised that Harrison went back to THE HOLLOWS after the second installment. #goodriddance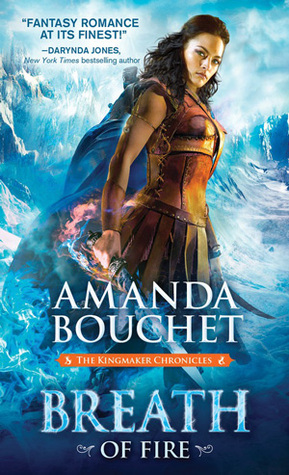 I read A Promise of Fire near the end of last year, and ended up giving it a mixed review.
BUT. I saw promise in Bouchet, so I won't go so far as to say I eager to read the second installment, but I wasn't dreading it either.
*flares nostrils*
I DNFed this one after the first couple of chapters treated me to one of the most convoluted miscommunications I'd ever read.
That thing we kept waiting (and waiting, and waiting) for Griffin to find out in book 1? Well, he finally does. Then Dollface runs away to nurse her broken heart, blah blah, histrionics, blah, I quit.
Last but not least, I give you SAVING HOPE, or as I like to refer to it in my head, GREY'S ANATOMY with ghosts.
I started watching it b/c Lois Lane was the best part of SMALLVILLE, and then there was DANIEL JACKSON (STARGATE, people. STARGATE). But the first season was spent waiting for Charlie to wake up, the second with him trying to come to terms with his leftover gift, and when season three began with Alex in her very own coma, I was over it.
It was just silly.
And that's it for this batch, but keep your eyes peeled for another YA edition, b/c it's a' comin'.
Related Posts