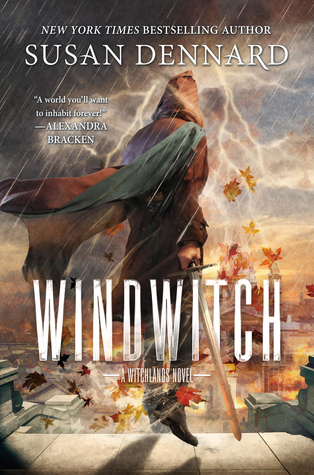 Windwitch

by Susan Dennard
Series: The Witchlands #2
Published by TorTeen
Published on: January 10 2017
Genres: Fantasy, Young Adult
Pages: 381
Format: eBook
Source: Purchased

Amazon
|
Book Depo
|
Kobo
|
B&N
|
iBooks
 |
GoodReads
Sometimes our enemies are also our only allies…

After an explosion destroys his ship, the world believes Prince Merik, Windwitch, is dead. Scarred yet alive, Merik is determined to prove his sister's treachery. Upon reaching the royal capital, crowded with refugees, he haunts the streets, fighting for the weak—which leads to whispers of a disfigured demigod, the Fury, who brings justice to the oppressed.

When the Bloodwitch Aeduan discovers a bounty on Iseult, he makes sure to be the first to find her—yet in a surprise twist, Iseult offers him a deal. She will return money stolen from him, if he locates Safi. Now they must work together to cross the Witchlands, while constantly wondering, who will betray whom first?

After a surprise attack and shipwreck, Safi and the Empress of Marstok barely escape with their lives. Alone in a land of pirates, every moment balances on a knife's edge—especially when the pirates' next move could unleash war upon the Witchlands.
WINDWITCH picks up pretty closely where TRUTHWITCH left off, which is to say, it hits the ground running. As you should recall, the first book ended rather explosively, so we're dealing with the (almost) immediate aftermath.
Merik, a broken shadow of himself, is newly arrived to Nubrevna (b/c death wish, as far as I can tell), and Safi and Iseult are for all intents and purposes at opposite ends of their world, with only their flashy-when-in-danger stones connecting them.
I found out afterward that book bff struggled with waiting for everyone to be reunited, and while I didn't share her struggle, I can see why she would, so I'm going to go ahead and tell you: they aren't.
Reunited, that is.
Knowledge is power, my friends, so I'm hoping that you'll appreciate being forewarned rather than furious b/c (not really a) spoiler.
Their separation for the entirety of this book is just one of many things that makes me wonder how many books are planned for this series? I'd assumed it was three, but after WINDWITCH . . . It's not so much a concern over how Dennard will be able to satisfactorily wrap things up in the next (and final?) book, as it is disappointment, b/c this world has so much potential.
Potential aside, this was not a perfect book.
I can't rightly say that the beginnings no was slow, b/c it was pretty much pure adrenaline from start to finish, but about halfway through, I started to get frustrated b/c it didn't feel like much of import was happening.
But almost immediately after that realization, important things did start to occur, and a lot of that seemingly unimportant stuff turned out to be key, so I caution you not to lose patience.
My real issue is—once again—a matter of personal preference.
You: No purple eyes?
Me: Not this time.
You: Once you're dead, YOU'RE DEAD?
Me: Bingo.
Except it's not cut and dry. There are, occasionally, exceptions to rule . . . the problem is that I already made an exception of Aeduan, the Bloodwitch-who-won't-die.
Aeduan can survive just about everything short of burning and/or beheading, but we were informed of this as soon as me met him, and it was made clear that he's a rarity = exception.
But now there's all kinds of Dead Things, so even though in one of the instances, it's a magical process that can only occur under specific circumstances (like vampirism), in conjunction with the Bloodwitch-who-won't-die, AND nottellingbutWHOAHOLYplottwist, there's too many ways for a person to not really be dead for me to be happy.
So there's that.
Plot wise, there's not much I can say that I haven't already (b/c spoilers), but I repeat, it was super action packed, and there were at least three major plot twists that had my eyes threatening to come out of my head, so no second book syndrome here.
Basically, WINDWITCH cemented Susan Dennard's TRUTHWITCH series as one of my favorite unfinished YA fantasy series. Bad Guy himself was off page in this installment, but his schemes were long-reaching, keeping my hatred fresh, and while I long for the day when all my favorite characters are reunited, I loved their individual journeys as well as the new friends they made along the way . . . Never in my life could I have imagined a scenario in which I might wish for my own giant green bat, but here we are . . . Highly recommended.
The Witchlands:
Was this review helpful to you? If so, please consider voting for it on Amazon or like it on Goodreads!


Related Posts