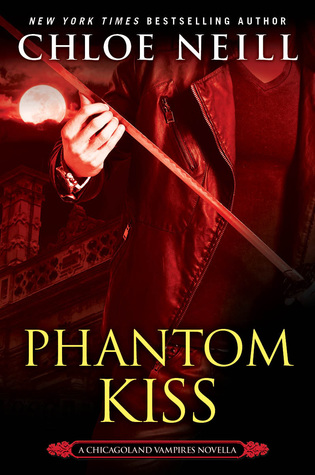 Phantom Kiss

by Chloe Neill
Series: Chicagoland Vampires #12.5
Published by InterMix
Published on: January 17, 2017
Genres: Urban Fantasy
Pages: 82
Format: eARC
Source: NetGalley

Amazon
|
Kobo
|
B&N
|
iBooks
 |
GoodReads
In this all-new novella from the New York Times bestselling author of Midnight Marked, Merit, Ethan, and the rest of Cadogan House crew discover that not all undead creatures are kindred spirits…

Vampires generally aren't afraid of things that go bump in the night, but Merit and Ethan are extra jumpy after a recent attack by a dark sorcerer. So when they learn that someone is messing with graves in Chicago's cemeteries, stealing skulls and snatching souls, they fear that their powerful foe might be back for even more magical vengeance.

But after a specter begins haunting Cadogan House—and targeting vampires—they realize that their being taunted by an altogether different sort of monster. A ghoulish villain straight out of the Windy City's urban legends is on the prowl—and he won't stop until he's killed again...

Includes a sneak peek of Blade Bound, the epic final novel in the New York Times bestselling Chicagoland Vampires series.
*** CONTAINS SPOILERS FROM PREVIOUS BOOKS ***
This was a great little side tangent to the regular series, and offered a more intimate glimpse into Merit & Ethan's romantic life than what we tend to get in the full-length books. PHANTOM KISS opens with Meredith throwing the happy couple a bridal shower which was a hoot because 1- We all know how much the Sentinel loves shindigs—one of the reasons why Sullivan appointed her as the House's social chair—haha! And, 2- Some of her uppity family is still peeved about her being a vampire. So, naturally, drama-drama-drama!

The story then takes on a heavier tone with its ghost plot line, and the potential for the final big bad to make an appearance. I enjoyed the historical aspects of this short; Chloe Neill is a pro at incorporating all things Chicago into her novels, and in this one we get some of Capone & O'Banion's henchmen engaged in a ghostly turf war. Ok, kinda, not really, but if I told you who's at the heart of this mystery I'd be giving away the punchline. Annabelle, the necromancer, was also in attendance, so I was happy to see her again, and the CPAN (Chicago Paranormal Action Network) folks were stereotypical however, they did force Cadogan House's Master to give Luc permission to add some new gadgets to his arsenal which was cute.

PHANTOM KISS was one of the better novellas that I've read in recent months. It included most of the characters that CHICAGOLAND VAMPIRES fans just can't get enough of, didn't contain anything vital to make it a one-click must, but it was a value add that few will want to miss, and of course, the sneak peek at the last installment will ensure that you are counting down the days until April 25th if you haven't started doing so already.
Chicagoland Vampires Series


My Review


My Review


My Review


My Review


My Review


My Review


My Review


My Review


My Review


My Review


My Review


My Review
Was this review helpful? If so, please like it on GoodReads or vote for it on Amazon!



Related Posts