Bookfessional: Books We Love on the Big (or Little) Screen
Last week, Tor.com posted a MASTERLIST of all the SFF adaptions coming to TV or theaters, and I couldn't curb the urge to repost/comment on some of the ones I'm most looking forward to.
But FIRST, it's important to know that just b/c the film rights of a book have been bought, or even if it's "in development," it does not guarantee that a movie or TV version of your favorite story/series will ever see the light of day.
So don't come back in a year or six months and say I/we (Tor.com) got your hopes up for nothing.
You have been disclaimed.
In this adaptation, produced by Stephenie Meyer, ghost hunter Cas will be played by Cameron Monaghan, or THE (future) JOKER on my favorite superhero tv series Gotham
Yes, please.
Fox's Camelot "reimagines the legendary stories of King Arthur in a police procedural."
I'ma take another leaf out of Tor.com's notebook and just repost the synopsis, b/c WHUH:
"When an ancient magic reawakens in modern-day Manhattan, a graffiti artist named Art must team with his best friend Lance and his ex, Gwen—an idealistic cop—in order to realize his destiny and fight back against the evil forces that threaten the city."
*swoons* *flails*
This one falls under the "less certain" umbrella b/c the "breaking news" was back in February. Would I LOVE to see the various Londons on the small screen? YES. Is that going to happen?
We can only hope.
I'm not going to lie, I hadn't even heard of this one before Tor.com's post, but "Disney is developing a live-action adaptation that could lead to a diverse franchise built on female empowerment," is something I can get behind.
I know, I know, Interview with a Vampire has already been done.
BUT.
That doesn't mean it can't be done again. And if the rumor's are true, this version's Lestat is none other than Jared-effing-Leto, so can I get a HELL YES?
Please and thank you.
This is another of the less certain ones, but OCTOBER DAYE, so must be included. On the bright side, if it does hit the small screen, Margaret Dunlap, of The Lizzie Bennet Diaries fame, will be writing the adaptation.
Maybe it's naive of me, but the fact that this one is (to be called Queen of Shadows) is being developed by Hulu makes it feel like more of a legit possibility . . . Kind of like all the Marvel series on Netflix.
SO. I'm allowing myself to get riddikulusly EXCITED. B/c THRONE OF GLASS. *throws confetti in the air*
Ever since I binge read all of Saga earlier this year, ALL THINGS Brian K. Vaughan have been at the top of Mt. TBR.
So discovering that an adaptation of Runaways was in the works . . . It's like Christmas, people.
So apparently DMG entertainment has purchased the film rights to Sanderson's entire Cosmere universe . . . Can't see them doing that iffin' they weren't serious.
Can you?
*touchdown dances* *moonwalks* *booty shakes*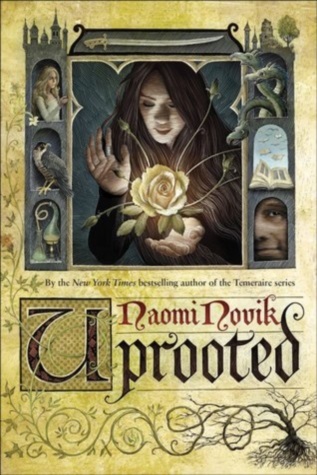 If you didn't already know, Uprooted was my favorite book in 2015, and instantly became one of my favorite books EVER.
The news is kind of old, but Novik is working with Ellen DeGeneres to bring it the big screen. *crosses fingers* *wishes and hopes*
And now the trailers for a few done deals:
I willl pay the add-on subscription for STARZ on Amazon Prime for American Gods. Just sayin'.
But what about you? What adaptations are you excited about?
Don't forget the MASTERLIST can be found on Tor.com. This is but a fraction.
Related Posts