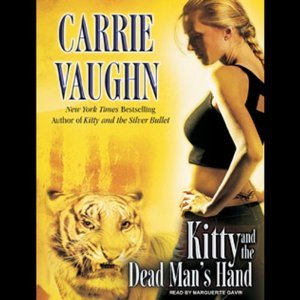 Kitty and the Dead Man's Hand

by Carrie Vaughn
Narrator: Marguerite Gavin
Series: Kitty Norville #5
Published by Tantor Media
Published on: January 6, 2010
Genres: Urban Fantasy, Werewolves
Length: 7 hrs & 45 mins
Format: Audiobook
Source: Purchased

Amazon
|
Book Depo
|
Kobo
|
B&N
|
iBooks
 |
GoodReads
Already the alpha pair of Denver's werewolf pack, Kitty and Ben now plan to tie the knot human-style by eloping to Las Vegas. Kitty is looking forward to sipping froufrou drinks by the pool and doing her popular radio show on live television, but her hotel is stocked with werewolf-hating bounty hunters.

Elsewhere on the Strip, an old-school magician might be wielding the real thing; the vampire community is harboring a dark secret; and the irresistible star of a suspicious animal act is determined to seduce Kitty. Sin City has never been so wild, and this werewolf has never had to fight harder to save not only her wedding but her very life.
The protagonist's spinelessness was formerly my primary beef with this series, but in this installment it was the romance—if the relationship between Kitty and her beau can even be labeled as such given how this story unfolded. The couple has decided to elope Vegas-style in KITTY AND THE DEAD MAN'S HAND, however they spend the bulk of this book apart; her preparing for a live show, and him competing in a poker tournament. They have lots of hot sex, yet aside from that, there's no real connection between these supposed love birds.

The city that never sleeps has a reputation for having something that'll appeal to everyone, and this installment played that up by adding a supernatural thread to the entertainment industry with magicians practicing real magic and shapeshifters performing in animal spectacles. The Balthazar and Odysseus Grant plot lines both took unanticipated turns, and neither was explained enough to my satisfaction. It seems like Carrie Vaughn keeps piling on the mythology, but she's left so many lose ends in her wake that I fear will never be ironed out.

I wasn't sure about how I felt when Kitty wound up with bachelor #2, albeit this character did eventually wiggle his way into my heart. As a match for the heroine though? Hmm… Then things seemed to be moving in the right direction in KITTY AND THE SILVER BULLET until this novel happened, and now I'm not so sure. It was weird, the duo was in the thick of a catastrophe; however then one of them stops to have a mundane convo with the Master of LA for like an hour only to dash off because—oh yeah, we're in the middle of a crisis here!

Gavin has provided me with hours of enjoyment through her narration of these audiobooks. When I'm listening in the moment, my opinion of whichever title I'm currently consuming is usually much higher than what my final thoughts end up being once I've had a moment to reflect on the actual contents of the story. She delivers such an upbeat performance filled with humour and sassiness that it's easy to overlook all of the holes in the writing. Her portrayal of the various bounty hunters at the gun show was particularly good for a laugh.

The only thing that impressed me about KITTY AND THE DEAD MAN'S HAND was Marguerite Gavin.




Was this review helpful? If so, please like it on GoodReads or vote for it on Amazon!



Related Posts