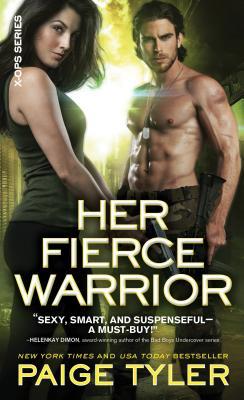 Her Fierce Warrior

by Paige Tyler
Series: X-Ops #4
Published by Sourcebooks Casablanca
Published on: March 1, 2016
Genres: Paranormal Romance
Pages: 352
Format: eBook
Source: Library

Amazon
|
Book Depo
|
Chapters
|
Kobo
|
B&N
|
iBooks
 |
GoodReads
The woman tensed. As anger and fear ricocheted across her face, her eyes changed from red to green to brown in a dizzying display like nothing he'd ever seen.

Every instinct in Angelo's body screamed at him to lunge for his weapon. Instead he set his feet for impact, blocking her slashing claws. Unbelievably, after a few moments of struggling, she went still, all the fight gone...

Minka isn't sure she should trust the sexy Special Forces soldier who found her. Subjected to horrors, on the run from scientists set on locking her in a cage, Minka is terrified of the monster she's becoming...and somehow, Angelo is the only one who can calm the beast inside her and make her feel safe.

But can she trust the way he makes her feel when she's not even sure she can trust herself?

Praise for Paige Tyler's X-Ops series:
"This series gets better and better."-RT Book Reviews, 4 ½ Stars
"Wow, just wow!"-Fresh Fiction
In this series, we've been following the members of the DCO (Department of Covert Operations), a secret organization within Department Homeland Security. This organization takes a human and pairs them with a EVA, extremely valuable asset or shifter. However, some people within the organization would like to see it shut down. They feel that the shifters are dangerous and shouldn't be trusted.
This is the first book in the series that the neither member of the couple is a member of DCO. This story revolves around Angelo, who is a member of the military team that our first hero original ran. Angelo is part of a special ops team that is currently stationed in Tajikistan. He stumbles upon a group of men attempting to rape a woman. Angelo, being not a douche, follows with every intention to stop the rape. Only to learn that she can take care of herself. Since he knows what she is, he calls the only people he knows that can help her, Landon, his old boss who is now with DCO.
Minka has been working with the US military in Tajikistan when she was captured and her life changed. She has been experimented on and tortured until she finally escaped. These people who tested her have turned her into a monster. She has no idea what is going on and has been stumbling through towns trying to hide. She's been in the same clothes for a really long time and eating out of dumpsters. That is until a man shows up. He seems to calm the beast inside her.
This is another great installment in the X-Ops series. Angelo is a character that has been a really fun secondary character. I love that he finally gets his own story. Angelo has his reasons for not wanting a wife/girlfriend. Buy when Minka shows up in his life, he can't help but be protective of her. Minka is a new character that we meet for the first time in this book, but she is a very solid character. She has had a lot to live through, but has made her way through life anyway.
This series is a really fun. It is full of suspense. I loved watching as the team search out and try to solve who is running the lab that created Minka. She's a hybrid, which is a created shifter, not one who was born like most of the agents in DCO. There is also the fact that their is someone in DCO who isn't on the side of the team. The romance is also high as we watch Minka and Angelo come together. There is an insta-love aspect to the story, but the pair do take a while to come together completely.
Even though there are many paranormal romances that can be read out of order. This is not one that I would recommend with that. Each story builds on the previous, so I would read these books in order. With this book, I would recommend you read the prequel, Her Secret Agent, before reading this one. It is free and quick read. Thanks to Sophia at Delighted Reader for the heads up. I'm really excited for the next book, Her Rogue Alpha.
Related Posts