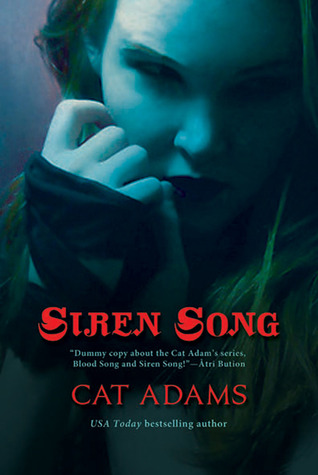 Siren Song

by Cat Adams
Series: Blood Singer #2
Published by Tor Books
Published on: September 28 2010
Genres: Urban Fantasy
Pages: 384
Format: eBook
Source: Purchased

Amazon
|
Book Depo
|
Kobo
|
B&N
|
Book Outlet
|
iBooks
 |
GoodReads
In Celia Graves's world, vampires roam the alleys of Tinseltown, street corner psychics have real powers, and cops use memory enhancement spells. But Celia thought she was an ordinary human, albeit one with a clairvoyant best friend and a ghostly little sister.

The vampire attack that made Celia an Abomination forces her to take food in liquid form and gives a whole new meaning to the word "sunburn." She's slowly adjusting (therapy sessions and all) when she discovers that the attack awakened a hidden part of her heritage: Celia is part Siren, able to enthrall men—and enrage women.

Her best friend's murder is unsolved; the cops think Celia should be in jail or staked; and her old lover, mage Bruno DeLuca, has something important to tell her. To top it all off, Celia's been summoned to the Sirens' island.

Celia Graves has more than one enemy. Some of them want her blood. Some of them want her soul. All of them want her dead.

Siren Song, Book Two in the Blood Singer series, is another thrilling paranormal fantasy from bestselling author Cat Adams—an action-packed follow-up to Blood Song.
It's rare to get a really good first installment in an urban fantasy series—too much stuff has to happen. You've got world-building, laying the foundation for the series arc while telling an individual story that's compelling by itself, character development, etc. All preferably in 40k words or less.
On occasion, it does happen, but most the time . . . something's missing.
BUT.
It's equally rare to get a decent second book from those same early winners. Second Book Syndrome . . . #thestruggleisreal
Unless the series is BLOOD SINGER and the second book in question is SIREN SONG, that is, in which case you, my lucky friend, strike pay dirt.
MINOR SPOILERS from BLOOD SONG (book #1) and the beginning of SIREN SONG after this point.
At the close of BLOOD SONG, we knew several things:
1. Celia's grandfather was half-siren, making Celia herself a shoddy 1/16th siren.
2. Celia's latent siren abilities were activated by her bat attack.
3. Celia is now neither human nor bat norsiren, but a unprecedented mashup of all three.
And in the early pages of SIREN SONG, we learn that not only was Celia's grandfather half-siren, he was brother to the QUEEN, making Celia a PRINCESS.
Which is AWESOME. #disneyforever
We also learn that Bruno is an unilateral decision-making asshat (#teamcreede).
But more on that later . . . Maybe . . . I'm not sure I can talk about Bruno without going on an incomprehensible Rick-type rant (of Jane Yellowrock fame). So we'll see.
SIREN SONG picks up almost immediately where BLOOD SONG left off, with Celia and Dr. Scott on their way to begin her two stay at Birchwoods before her mind-manipulation/dangerous-to-society hearing scheduled in two months.
I'm not going to tell you what happens, I'm just going to say it does NOT go as planned. *winks*
Other fun things to look forward to:
1. The reading of Vicky's Will.
2. Boat trip with Bubba.
3. Freaky-ass wadjeti.
4. Escalating sexual tension between Celia and Creede.
5. Queen Lopaka
My only two complaints are Celia's continued use of View Spoiler »"fuck a duck" « Hide Spoiler as her expletive of choice, and a propensity for having Important Events take place off page and telling us about them after the fact: View Spoiler » 1. In BLOOD SONG, Dawna was attacked and mind manipulated by Lilith, but we only find out about it in reference to the poor girl's borderline suicidal reaction to the trauma.

2. In SIREN SONG, we find out that "they" told Celia she'd go full bat if she ever consumes human blood, AND friggin' Ivan DIES off page. « Hide Spoiler
I don't like it. It's lazy.
But beyond that SIREN SONG was stellar. Celia continues to be a heroine who makes me laugh and I admire, the various secondary characters elicit the full spectrum of emotions, and the story itself is just . . . WHUH. Towards the end, I might have started suspecting whodunnit, but the context and the thoroughly woven web . . . Not even a little bit. Highly recommended.
Blood Singer:
Was this review helpful to you? If so, please consider liking it on Goodreads!
Related Posts