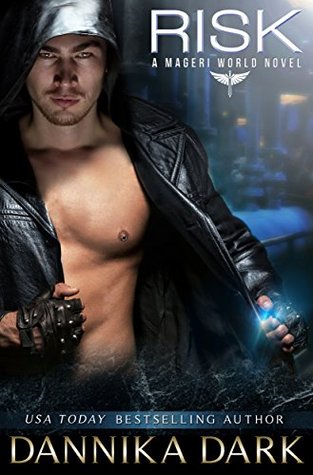 Risk

by Dannika Dark
Series: Mageri World #1
Published by Indie
Published on: August 14, 2016
Genres: Urban Fantasy
Pages: 278
Format: eBook
Source: Purchased

Amazon
|
Book Depo
|
Kobo
|
B&N
|
iBooks
 |
GoodReads
WHEN A GAME OF CHANCE BECOMES A FIGHT FOR SURVIVAL.

Simon Hunt is a masterful Mage when it comes to knives, solving puzzles, and women. But when a Mageri Councilman asks for a personal favor, his skills are put to the test. He reluctantly accepts the impossible job of training a young Learner who is beyond anyone's help. She's beautiful, cunning, and disabled. If he succeeds, he'll receive a hefty paycheck. But if he fails, more is at stake than merely his reputation.

A compelling tale about two lost souls with dark secrets and the unique connection they share. Simon is her last hope… and perhaps she is his.

Has Simon finally met his match?
It's been two and half years since Dannika Dark's Mageri series was wrapped up with the last book, Shine. Since it is one of my favorite series of all time, it was hard to see it all end. Well turns out it didn't exactly end, and with Risk, Ms. Dark has gone back into the Mageri world to give one of her most beloved characters from that world, his own story. A story I have wanted pretty much from the beginning.

Simon Hunt. There is so many wonderful characters in this series that it's hard to pick favorites. But of course, I did. My absolute favorites are of course Logan and Silver and their amazing romance. But Simon was throughout the whole series, lending humor to every situation-even when there's nothing humorous about the situation-being one of Silver's best friends and fellow board game enthusiast, and pretty much being a womanizer most of the time. He's a Mage, immortal, outlandishly dressed in leather most of the time, super handsome, and a strategist for the Mageri Halo organization, and the Mageri counsel as well. So many laugh out loud moments when Simon is on the page. But he never told his story to Silver, where he started from, who his Mage Creator was, nothing from his beginnings. Nor would he ever settle down with one woman. He has his reasons and they are good ones. So we finally, with this book, find out Simon's back story and it's pretty heartbreaking. I am going to leave it at that.

What kind of woman would finally break down Simon's walls and actually "get" him? I've wondered that frequently throughout the series. We find out when Novis asks Simon to help out with the training of a learner who was created by one of the Mageri counsel, Hannah. The learner is deaf due to an attack and it's incurable. Hannah can't stand that a learner of hers could be defective and is about ready to give up on her. So it's up to Simon to train the young woman in warrior type skills. Ella has just about decided to give up before meeting Simon. She's been hidden away and not allowed to leave the house by Hannah. Simon opens up a whole new world for her under his tutelage, and eventually some of his strongest walls start to crumble around her. And that's all I am saying about that, except to say that Learner's are newly created Mages that must live with their creators until they are able to control their light. This process can take five years, or more.

Besides the fact that we finally have a book starring Simon, I also enjoyed catching up with so many of the characters from the Mageri world. Silver, Logan, Sunny, Justus, Novis, Levi, and Finn to name a few. There's children in this world now, and they were a fun addition to the series as well.

I loved finally getting to really know Simon. So many questions are answered. I feel like Ella was an excellent match for him. However, if you read Dark's books, you know she doesn't always answer every question, or even necessarily completely finish a story line-on purpose. But she also is cliffhanger free on all her books. A big plus in my mind. Dannika's writing is nothing short of amazing and I found myself stopping and re-reading certain passages many times, due to her unique phrasing. I am looking forward to her Mageri novella, The Gift, coming in December this year, and hopefully we will learn more about Simon and Ella together, as well as the other characters.

It's not absolutely necessary to read the other books in the series to enjoy this one, but I personally recommend that you do so, or you could be a bit lost. Mostly though, because they are so flat out good reads! Highly recommended to adult paranormal romance readers! Adult due to one of the most unique sex scenes I have ever read, in my opinion anyway.
Related Posts