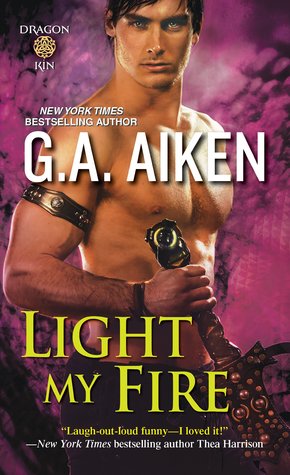 Light My Fire

by G.A. Aiken
Series: Dragon Kin #7
Published by Zebra
Published on: November 25, 2014
Genres: Fantasy, Fantasy Romance
Pages: 483
Format: eBook
Source: Library

Amazon
|
Book Depo
|
Chapters
|
Kobo
|
B&N
|
iBooks
 |
GoodReads
The trouble with humans is that they're far too sensitive. Forget you put a woman in the local jail for a few months - and she takes it so personally! And yet she is the one trying to assassinate the queen. And now I'm trapped with Elina Shestakova of the Black Bear Riders of the Midnight... gods! That endless name!

But what am I to do? I am Celyn the Charming with direct orders from my queen to protect this unforgiving female.

Even more shocking, this unforgiving female is completely unimpressed by me. How is that even possible? But I know what I want and, for the moment, I want her. And I'm sure that she, like all females, will learn to adore me. How could she not when I am just so damn charming?
This series just keeps getting better and better. Here we have the hero of Celyn the Charming who is son to Bram the Merciful and Ghleanna the Decimator and brother of Branwen the Awful who has been a predominant secondary character in several books. He is also the captain of Queen Rhiannon's personal guard (as if she really needed a guard. That she-dragon is fierce.). Celyn is also quite curious and has a tendency to ask a lot of questions, which tends to only lead to more questions.
The story starts out when Celyn sees a single human female climbing Devenallt Mountain, home of Rhiannon the dragon queen. He just watches here to see how far she makes it. Once she reaches the top of the mountain, he confronts her. She then goes on to tell him that she was there to kill said dragon queen. He picks her up with his tail and carries her to Rhiannon, curious to see how the queen will react.
Elina Shestakova of the Black Bear Riders of the Midnight Mountains of Despair in the Far Reaches of the Steppes of the Outerplains (yes, that is her full name and the name that she request people to call her. The dragons decided that they could just call her Elina or Elina Shestakova or even "Elina Shestakova of the excessively and ridiculously long name." LOL), didn't really want to kill the dragon queen. She knew that this was a ploy from her mother just to get her killed. She is quite surprised when the queen doesn't kill her, but tells Celyn to keep her safe. Celyn takes her to the Garbhan Isle jail, where he proceeds to forget about her, for months. Needless to say, that is not something that is easy for someone to get over and it brought up several times.
Anyway, they decided that they need an alliance with the Riders of the Steppes. So Rhiannon asks Elina to go back and try to get a meeting between Annwyl and Anne Atlie, Mother of the Steppes Riders. First she has to get permission to see Anne Atlie through her mother. Rhiannon sends Celyn to help her on this mission.
I don't want to go into a whole lot more detail into what goes on in this story, so I can avoid spoiling it. Let's just say that things get a little crazy. We get to see plenty of the Cadwaladrs, who are always fun. We learn more about Annwyl's twins and Izzy's younger sister who left the family in the previous book to learn more about their powers. We get to see more Dagmar's awkward nephew, Frederick. Not to mention Dagmar's own children, of which she has several.
As per usual with these books, it isn't finding quotes to use, but narrowing them down. I had more than twenty selected, but I can't include all of them, so here are a few that I thought were fun.
"Keep in mind, She of the Impossibly Long Name, that I am your protection. You might want to be nice to me."
"Nice to dragon who forgets woman he takes to prison?"
"Would you let that go?"
"No! I will never let that go!"
"Because when I asked him to come talk to you," Frederik replied, "he said he didn't have time for ridiculous conversations with his ridiculous kin about ridiculous issues. Not when he had a kingdom to help his mother manage." When they all just stared, Frederik added, "Aunt Dagmar assures me he's only ten . . . but I still question."
"No," Elina cut in, her voice practically begging. "No more questions. Decades could pass with your questions before we get on road."
"I know. I know. It's just—"
"No." She placed her hand against his chest. "No."
"Can I ask you questions later? Like during a break for food?"
He sounded so hopeful. Did the other dragons not speak to him? Was his curiosity as painful to them as it was to her?
Elina didn't know. But she did know that her weakness sickened her when she replied, "Yes. I can answer questions then."
His grin was very wide. He didn't seem smug so much as simply excited at the prospect of asking even more questions.
By the horse gods, what had she gotten herself into?
"Stop." She dropped the spoon back into the bowl of stew. "By all death, please stop." Elina relaxed into her chair and gazed at the dragon. "Your mouth is like panicked horse. It just keeps running."
Related Posts