Beta Reads:
For anyone who's unfamiliar with the concept, a beta read is when an author enlists the help of book lovers acquainted with their work, to read early versions of their current projects, with the intent to spot plot holes, inconsistencies, etc.
Assuming that you aren't going to beta read for anyone you aren't a diehard fan of, the most obvious pro is getting to read the latest material in a beloved series significantly sooner than it goes to print, often months before even the ARCs are released.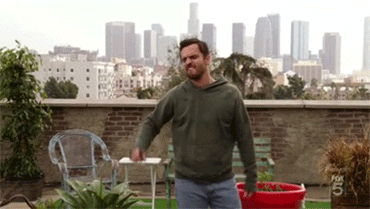 Of course, the flip side is that once you're ahead of the curve, even if you're lucky enough to be chosen to beta read the next installment, you'll still have the whole of the wait period before getting your grubby mitts on the next book. And if you can't beta the next time around, your wait between books will likely be even longer.
In my humble opinion, it's a risk worth taking. The only kind of patience I'm good at is the kind that results from a lack of other options. The average wait between new installments is twelve months, and once you're resigned to waiting a whole year, what's another couple of months if you can read a new one NOW?
#teaminstantgratification
After you decide whether or not you're down for—worst case scenario—a potentially increased wait between new books, the next hardest pro/con scenario is more complicated.
Pro: contributing to the creation of the next chapter of a favorite series.
For a true bookworm, there is nothing in this world like:
1. Corresponding with (one of) your favorite author(s), and personally giving feedback on the latest (mis)adventure of the characters you've been faithfully reading about for YEARS.
2. Seeing your suggestions implemented on the pages of the final copy when it goes to print.
3. Reading your name, in print, in the acknowledgments of a book that you had the tiniest of roles in creating.
It's amazing. Incredible. Wonderful. MARVVV-AHH-LAAS!!
Con: slogging through a significantly less polished version of the end product.
For people who read strictly for pleasure or relaxation, I don't recommend trying your hand at beta reading . . . It is work. It's work that I happen to enjoy, but, no way around it, it's still WORK.
A typical beta read takes me most of a work week to complete. It's not uncommon for me skip the gym, b/c up late or up early working on it, and my poor husband will eat more takeout than he'd prefer. But that's all on me, sloth and poor housekeeping are not a requirement.
I get consumed, first by the initial reading, impatient to learn ALL the new things, then in the dissecting that takes place during the second phase of my process: the reread.
YEP. That is correct. An author will usually need your notes seven to ten days after you receive the early draft, and during that time, I read the book TWICE. For a multitude of reasons, but the two biggest are probably:
1. I'm too impatient to read the book as I sloooooowy dissect it.
2. There's always a crap ton of overlap in foundation-laying and cause-and-effect type situations that aren't recognizable or until you know the destination.
And that's the gist of it. For me the time and effort a beta read requires is absolutely worth it, and the "cons" aren't really "cons."
What about you? Have you beta read before? What was your experience? Would you do it again?
Family Beach Trip 2016:
I'm incredibly lucky to have step-grandparents who are exceedingly gracious about allowing a dozen or so of my immediate and extended family members stay in their beach house every Fourth of July.
And when I say "beach house," I mean "beach house."
This year I rode up with my dad, stepmom, bebe sister, and THREE dogs (hubs came up later, b/c couldn't take a week+ off work).
Other Sisters got there with Boy a few hours after my group.
And various cousins and uncles trickled in a leisurely fashion over the next couple of days.
Not much to say beyond that. We lounged. We baked—even me, believe it or not. I went home significantly less luminescent then when I arrived. I did get a little reading in, but it was mostly contemporary (b/c BEACH).
But if it didn't involve commandeering my oldest-younger sister's Bluetooth speaker and blasting her meticulously cultivated New Politics Pandora station, reapplying sunscreen every few hours, or jumping in the Chesapeake Bay on a similar schedule, we didn't much do it.
It was perfection.
I hope you guys are all having an excellent summer, too!
Related Posts