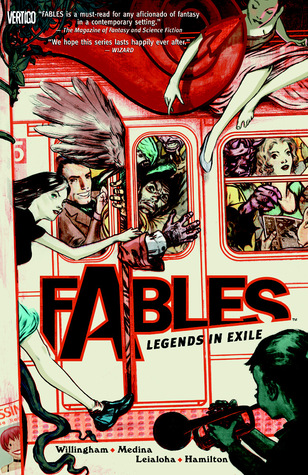 Fables, Vol. 1: Legends in Exile

by Bill Willingham
Series: Fables #1
Published by Vertigo
Published on: December 1 2001
Genres: Graphic Novel, Urban Fantasy
Pages: 128
Format: eBook
Source: Purchased

Amazon
|
Book Depo
|
B&N
|
iBooks
 |
GoodReads
When a savage creature known only as the Adversary conquered the fabled lands of legends and fairy tales, all of the infamous inhabitants of folklore were forced into exile. Disguised among the normal citizens of modern-day New York, these magical characters have created their own peaceful and secret society within an exclusive luxury apartment building called Fabletown. But when Snow White's party-girl sister, Rose Red, is apparently murdered, it is up to Fabletown's sheriff, a reformed and pardoned Big Bad Wolf (Bigby Wolf), to determine if the killer is Bluebeard, Rose's ex-lover and notorious wife killer, or Jack, her current live-in boyfriend and former beanstalk-climber.
I haven't read many graphic novels.
It's not that I dislike them . . . at least not at this point–I don't have enough experience to definitively state my feelings one way or another. *shrugs awkwardly*
BUT. I've been curious for awhile, and this seemed like a good place to start. I do like pretty pictures, and, hello, fables, so practically guaranteed to like it.
So I one-clicked, then I read the whole thing in a couple hours. I loved it. A LOT.
In this first volume, there was Snow White and Rose Red (one of my childhood favorites):
A sword-wielding Cinderella:
Prince Charming (at least twice divorced, and a frat boy, dumb dumb, besides):
Beauty and the Beast (bickering like an old married couple):
A typically creeptastic Bluebeard:
Jack of magic beans fame (and a schmoe):
A reformed . . . ish Big Bad Wolf, one of the three little pigs (who doesn't like country life), and an understandably angsty Pinocchio (b/c three-hundred+ years old, and stuck in the body of a pre-pubescent boy):
And that's just off the top of my head.
ALSO, this series predates Once Upon a Time and all the bandwagoners that followed by a decade. So no copycats here, FYI.
BUT.
After 120ish pages of pretty pictures and dialogue that rarely crossed over the line from basic to clever (or one of a myriad of other adjectives that can be used to describe writing that isn't BLAH), there were a handful of full text pages that gave a rather fantastical accounting of how the two MCs met.
Those six or eight pages were by far my favorite part of the book.
That's not to say that I didn't enjoy the rest of it—I did. But WORDS, man, WORDS. I don't know what it says about me that words are the more effective communicators, but yeah, all of that "a picture is worth a thousand words," nonsense is . . . nonsense.
Despite an overt admission of attraction from one of the characters to another, and the various illustrations that accompanied it, it was the subtle longing revealed through words that made me feel the agony of unrequited love more potently than any drawing ever could. The possibility that a beast decided to take human form in order to be closer to the girl whose scent he couldn't forget . . .
*swoons*
Maybe. Then again, maybe he was just sick of running around in the forest and eating the boring humans who were stupid enough to wander the woods of his lackluster new home. #thatwouldsuck
I guess I'll see. <------b/c it's a given that I'll be reading the next one. *winks* Highly recommended, especially to graphic novels noobs who love fairytales. UPDATE: since finishing Volume 1, I've devoured an embarrassing number of additional installments, and the dialogue has significantly improved. Sometimes it's punny, sometimes it's slyly clever (especially on the social commentary front), but it's rarely BLAH. FYI.
Fables:
Was this review helpful to you? If so, please consider voting for it on Amazon or like it on Goodreads!


Related Posts