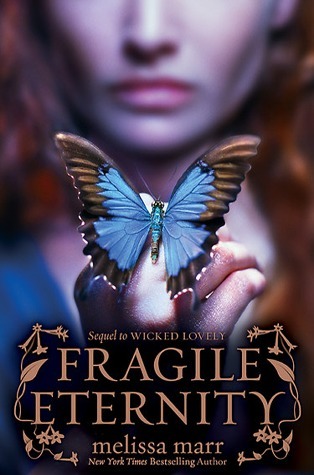 Fragile Eternity

by Melissa Marr
Series: Wicked Lovely #3
Published by HarperCollins
Published on: April 21 2009
Genres: Urban Fantasy, Young Adult
Pages: 404
Format: eBook
Source: Purchased

Amazon
|
Book Depo
|
Kobo
|
B&N
|
Book Outlet
|
iBooks
 |
GoodReads
Seth never expected he would want to settle down with anyone—but that was before Aislinn. She is everything he'd ever dreamed of, and he wants to be with her forever. Forever takes on new meaning, though, when your girlfriend is an immortal faery queen.

Aislinn never expected to rule the very creatures who'd always terrified her—but that was before Keenan. He stole her mortality to make her a monarch, and now she faces challenges and enticements beyond any she'd ever imagined.

In Melissa Marr's third mesmerizing tale of Faerie, Seth and Aislinn struggle to stay true to themselves and each other in a milieu of shadowy rules and shifting allegiances, where old friends become new enemies and one wrong move could plunge the Earth into chaos.
I've been rereading a few of my old favorites in preparation for NOLA StoryCon, and if it wasn't for the tediousness of Aislinn and Keenan, FRAGILE ETERNITY, the third installment of Melissa Marr's WICKED LOVELY series, would have been close to a five star read.
As it is, it's still my favorite thus far (by a LOT).
After a significant reprieve from our erstwhile MCs in the second installment, they're back in full force in this one. BUT. The focus is more on Seth, who, while not being my favorite (b/c still too emo), he's a genuinely good guy, and the relationship that develops between him and Sorcha, High Queen of Faery is . . . truly lovely.
Approximately six months after Aislinn became Summer Queen, things are looking bleak for for her and Seth. The very nature of her bond with Keenan seems to draw them together, despite her love for Seth.
Add to that Seth's mortality, and, well . . . his feelings of inadequacy are thick enough to choke on.
This was about the time I started screaming, "Why the bloody hell don't you turn him Fae?!"
And that was Seth's thought too, but apparently it's not quite that easy . . . There's only one faery who can change Seth, but she's also the one faery who is least likely to do so: Sorcha, the Queen of the High Court.
But when Bananach, Sorcha's sister and antithesis, shows up on his doorstep and offers to take him to Sorcha, he risks everything for the minuscule chance to have eternity with Aislinn (who so doesn't deserve him).
And that's when things start to get REALLY cool.
Speaking of Bananach, GAWD, I bloody love her. She's this wonderful combination of unsettling and bloodthirsty, of manipulative and INSANE . . . She's one of my favorite Fae characters of all time.
Bananach's expression became hopeful: eyes wide, lips parted. "I could like you if you would step willingly to the pyre. Let them blame each other… It's a little thing really. It mightn't even hurt. Sunlight and fire, much the same."
Aislinn trembled. "No. I don't think so."
"I would dance to your screams. You wouldn't be alone," she said cajolingly.
CREEPTASTIC, right? Also, it's fun to say her name. #cantstopwontstop
SO. If you haven't checked out this series yet, ask yourself a couple of questions:
1. Do you like fae?
2. Do you like urban fantasy?
If the answer to those questions is YES, WICKED LOVELY should be at the top of your TBR. Even if you don't usually YA, Marr is one of the few authors who can write YA UF without making you feel like you've regressed back to your infancy. *pinky promises* I love this book and I love this series. Let the reread continue! Highly recommended.
Wicked Lovely:
Was this review helpful to you? If so, please consider liking it on Goodreads!
Related Posts