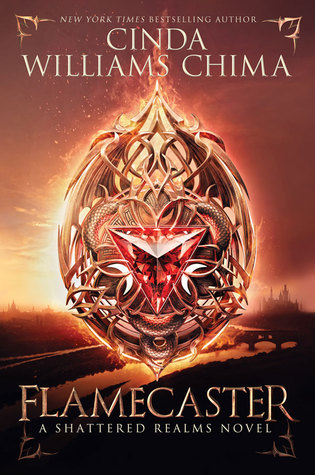 Flamecaster

by Cinda Williams Chima
Series: Shattered Realms #1
Published by HarperTeen
Published on: April 5 2016
Genres: Fantasy, Young Adult
Pages: 544
Format: eARC
Source: Edelweiss

Amazon
|
Book Depo
|
Kobo
|
B&N
|
iBooks
 |
GoodReads
The first in a thrilling new four-book fantasy series from New York Times bestselling author Cinda Williams Chima, set in the same world as her beloved Seven Realms series, a generation later.

Adrian sul'Han, known as Ash, is a trained healer with a powerful gift of magic—and a thirst for revenge. Ash is forced into hiding after a series of murders throws the queendom into chaos. Now Ash is closer than he's ever been to killing the man responsible, the cruel king of Arden. As a healer, can Ash use his powers not to save a life but to take it?

Abandoned at birth, Jenna Bandelow was told that the mysterious magemark on the back of her neck would make her a target. But when the King's Guard launches a relentless search for a girl with a mark like hers, Jenna assumes that it has more to do with her role as a saboteur than any birth-based curse. Though Jenna doesn't know why she's being hunted, she knows that she can't get caught.

Eventually, Ash's and Jenna's paths will collide in Arden. Thrown together by chance and joined by their hatred of the king, they will come to rescue each other in ways they cannot yet imagine.

Set in the world of the acclaimed Seven Realms series a generation later, this is a thrilling story of dark magic, chilling threats, and two unforgettable characters walking a knife-sharp line between life and death.
First things first—I've been asked eleventy billion times where FLAMECASTER falls in the works-of-Chima lineup: it's a spinoff from her Seven Realms series.
You: Should I read Seven Realms before reading FLAMECASTER?
Me: That's a complicated question. Technically, you don't need to. BUT. I think you should. B/c reasons:
1. It's my favorite (finished) YA fantasy series, so EVERYONE should read it.
2. I have an OCD compulsion to read everything in order.
3. There's something that happens at the beginning of FLAMECASTER that won't have the impact it should, if you haven't read Seven Realms.
You: What is this thing?
Me: I'LL NEVER TELL. But later I will dance around it like a zombie from Thriller (b/c still traumatized and can't help it).
You: Is there anything special about this spinoff?
Me: YES. I'm so glad you asked. This book takes place twentyish years after the events in Seven Realms, and the main characters in FLAMECASTER are the children of the main characters from Seven Realms.
HOW COOL IS THAT?
You: SO VERY COOL.
*high fives*
And now is when I'm going to get exceedingly vague.
That thing I mentioned? The one that I warned I'd be dancing around? Yeah, it's . . . so very awful.
It's almost as bad as the Bad Thing that happened in Morning Star, and the Bad Thing that happened in Morning Star is my current reigning Worst Thing to Happen in a Book EVER.
And this Bad Thing influences so much of what comes after that I can't talk about any of it. What I can tell you is:
1. There are dragons.
2. There are pirates.
3. It's funneh:
If I killed the bastard now, Ash thought, none of these lords would lift a finger to stop me. But then they'd turn around and execute me, because, you know, precedent.
B/c, you know, precedent. *giggle snorts*
4. The new characters will keep you in a near constant state of panic trying to figure out who's good and who's bad (which is a good thing b/c TWISTY and unpredictable).
5. There's a villain so contemptible that he/she/it joined the Most Vile Villain ranks with Umbrage.
And most importantly, I loved it. Unless the Bad Thing happened to make it easier for blah, something, blah blah, something to happen, in which case I will do much violence to quench the fire of my RAGE.
*laughs nervously*
BUT.
I'm hopeful that's just my paranoid, hyperactive imagination running wild, and this time next year, I'll be back to let you know, b/c Chima has proven with FLAMECASTER that her success with Seven Realms wasn't a fluke—she is awesome—and my YA fantasy monster is sated. Highly recommended.
Seven Realms:
Was this review helpful to you? If so, please consider liking it on Goodreads!
Related Posts