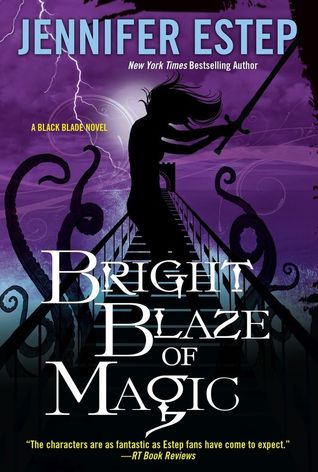 Bright Blaze of Magic

by Jennifer Estep
Series: Black Blade #3
Published by K-Teen
Published on: April 26, 2016
Genres: Young Adult, Urban Fantasy
Pages: 368
Format: ARC
Source: Author

Amazon
|
Book Depo
|
Kobo
|
B&N
|
iBooks
 |
GoodReads
Bad Things Always Come In Threes…

As a thief, I'm good at three things: hiding in the shadows, getting in and out unseen, and uncovering secrets. I put these skills to work for the Sinclair Family, one of the magical mobs that run the tourist town of Cloudburst Falls.

Everyone knows Victor Draconi wants to take over all the other Families--and kill every last Sinclair. What they don't know is that I'm on to him, and no way will I let the man who murdered my mom get away with hurting all the other people I care about. Especially when I've got places to break into, stuff to steal, and Devon Sinclair fighting right by my side…
Jennifer Estep had a lot of ground to cover in order to tie the BLACK BLADE trilogy up with a nice bow what with the main story arc, romance, and Lila's past still up in the air, but rest easy because all that and more was accomplished in BRIGHT BLAZE OF MAGIC. This series is intended for a Young Adult audience, and yet the Urban Fantasy elements were just as strong that regardless of your preference, you're sure to enjoy this novel.

The finale set-up has been two installments in the making, so this title was about watching the author free the pent-up momentum, and letting her rip. The book does begin with Merriweather, Devon & Felix enacting the last stages of their plan, however after that it's a straight shot to the conclusion. Relations between the Families enter the red zone, Victor Draconi makes his move, and the Sinclairs meet him pound for pound.

Lila's mother played such an important role in her life, and continued to do so well after her death. I liked how the heroine was able to hold-on to her memory, and honour Serena's legacy by finishing what she had set in motion four years ago. The way that the events unfolded had a cool fate-like feel to it, and we also got to learn about Merriweather's father who hadn't been mentioned overly much up until this point.

The death toll was higher than what I'd envisioned, minus most of the gore found in Estep's adult works, but given that an all-out mafia war broke out, I thought that it was appropriate. The tête-à-tête between the Draconi head and Lila had just the right amount of fingernail biting moments too. The love interest with Devon was handled in a tasteful way, and I was happy that a second couple was able to get their own HEA as well.

BRIGHT BLAZE OF MAGIC will keep you reading until the job is done!
Black Blade Series


My Review


My Review
Was this review helpful? If so, please consider liking it on GoodReads or voting for it on Amazon!
Related Posts