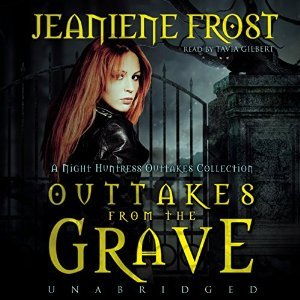 Outtakes from the Grave

by Jeaniene Frost
Narrator: Tavia Gilbert
Series: Night Huntress #7.5
Published by Blackstone Audio
Published on: January 19, 2016
Genres: Urban Fantasy
Length: 12 hrs & 3 mins
Format: Audiobook
Source: Audiobook Jukebox

Amazon
|
Book Depo
|
Kobo
|
B&N
|
iBooks
 |
GoodReads
Cat and Bones fans, sink your teeth into this new outtakes compilation from New York Times bestselling author Jeaniene Frost!

Indulge your love of paranormal super couple Cat and Bones with this ultimate "director's cut" collection of deleted scenes and alternate versions from the first four novels in the Night Huntress series, complete with author commentary on each selection. Includes: the original beginnings of Halfway to the Grave, One Foot in the Grave, At Grave's End, and Destined for an Early Grave: a chapter written in Bones's point of view; alternate versions of sections of Halfway to the Grave, One Foot in the Grave, and Destined for an Early Grave; the "white wedding" scene between Cat and Bones that never made it into the final books…and much more!
Nothing beats discovering an anthology, novella or deleted scene from one of your top Urban Fantasy series unless it's finding all three-in-one AND doing so two years after you thought that you'd been forever limited to cameo appearances in spin-off worlds. It's important to note that some of the chapters in OUTTAKES FROM THE GRAVE break the rules of the NIGHT HUNTRESS universe while as others might spoil a picture perfect ending, but if you're a hardcore Cat & Bones fan this is a MUST!

This anthology has everything from original / alternate beginnings, middles, and endings of the seven published books as well as things that you've always wondered about such as what was in the note that Crawfield wrote to Crispin when she left him, and how their human wedding that never was would have unfolded. There's also tons of little extras that were edited out due to pacing concerns such as sex scenes, and Jeaniene Frost's authors' notes precede each one which was a treat in and of itself.

Practically every character shows up at some point or another, although the focus was on Cat & Bones, so Ian worshipers don't get your hopes up too much… This collection provided fab insights into the inner workings of the world, and of Frost's publishing journey. It's amazing how much goes on in the background, and how much gets edited out of the finished product. Other than a couple of excerpts to add context, this compilation was largely never-before-seen, and thus a great value for the price.

I listened to the NIGHT HUNTRESS WORLD novels, and some of the NIGHT PRINCE titles as well, but read this series in its entirety, so getting to revisit it via Tavia Gilbert's narration was another huge plus. She's such a savvy performer; her voices remain of the highest quality, and the level of emotion that she brought to each chapter had me constantly choking up. I wasn't planning on restarting my Cat & Bones experience anytime soon, but after this audiobook, how could I not!?

OUTTAKES FROM THE GRAVE will make you fall in love with NIGHT HUNTRESS all over again!




Was this review helpful? If so, please vote for it on Amazon or like it on GoodReads!



Related Posts