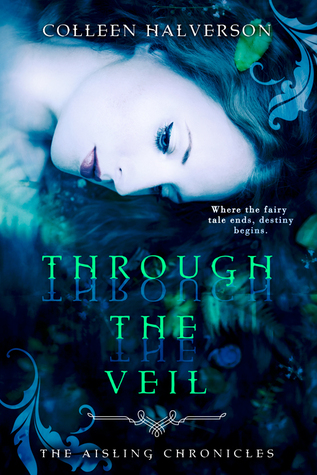 Through the Veil

by Colleen Halverson
Series: Aisling Chronicles #1
Published by Entangled: Select Otherworld
Published on: February 22, 2016
Genres: Fantasy Romance
Pages: 400
Format: eARC
Source: Tour

Amazon
|
Book Depo
|
Kobo
|
B&N
|
iBooks
 |
GoodReads
Elizabeth Tanner is no Tinkerbell, and her life is no fairy tale. Broke and drowning in student loans, the one thing she wants more than anything is a scholarship from the Trinity Foundation. But after the ancient Irish text she's studying turns out to be more than just a book, she becomes their prisoner instead. And when Trinity reveals Elizabeth is half-Fae, she finds herself at the center of a plot to save the magical races of Ireland from a brutal civil war.

As Commander of Trinity's elite warriors, Finn O'Connell isn't used to having his authority challenged. He doesn't know whether to punish or protect the infuriating young woman in his custody. When he discovers the Dark Fae want to use Elizabeth's abilities to control the source of all power in the universe, he'll risk everything to help her.

At the mercy of Trinity and enslaved to the Dark Fae, Elizabeth finds herself alone on the wrong side of an Irish myth thousands of years in the making. Refusing to be a pawn in their game, Elizabeth has to fight her way back to the man she loves, but to do so, she must wage her own war against the magic that binds her.


THROUGH THE VEIL had some really superb aspects and a few incomprehensible ones which is why my rating is split right down the middle. The world-building was extensive with its fusion of American, Irish and Fae cultures along with the implicit politics that the latter brings without fail. Elizabeth, the heroine, came out swinging which I loved, but the timeline to get from point A to B, especially where the romance was concerned, simply didn't jive.

Colleen Halverson acutely captured the essence of this particular branch of paranormal lore by producing an assortment of sects, alliances and correlating histories. The artefacts, while not many in number, were vital to the story, and I liked how the author honed in on all things Aisling, a new-to-me class of the fair folk. The tenuous collaboration between the Fianna, Faeries, and Druids (aka Trinity) was also another fascinating plot point.

Elizabeth was raised by her military father, and despite his many shortcomings as a parent, he did teach his daughter how to fight which was a skill that served her well in this novel. Tanner gets flung into a universe of monsters, war and unspeakable cruelty, and yet instead of breaking under the strain, she meets all of the horrors head on. Her scrape with Bres was the only thing that put a kink in her armour, and caused her courage to flatline.

The relationship between Finn and Elizabeth was… volatile. First off, the protagonist goes from being a student, to abducted and tortured, to sleeping with her captor, to forced into an arranged marriage with a barbarian. The scenes were extremely graphic, the progression from one stage to the next sudden, and the insta-love was so implausible that it bordered on lunacy. Then, when I finally came to terms with it, Finn's confession blows it all to hell.

THROUGH THE VEIL has a violent streak that might not appeal to all Paranormal Romance readers.



Related Posts