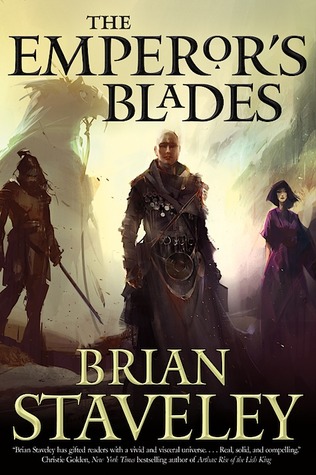 The Emperor's Blades

by Brian Staveley
Series: (Chronicle of the Unhewn Throne #1
Published by Tor Books
Published on: January 14 2014
Genres: Fantasy
Pages: 593
Format: eBook
Source: Purchased

Amazon
|
Book Depo
|
Kobo
|
B&N
|
Book Outlet
|
iBooks
 |
GoodReads
Book one in an epic fantasy of intrigue and empire, for fans of George R. R. Martin and Douglas Hulick.

The circle is closing. The stakes are high. And old truths will live again . . .

The Emperor has been murdered, leaving the Annurian Empire in turmoil. Now his progeny must bury their grief and prepare to unmask a conspiracy.

His son Valyn, training for the empire's deadliest fighting force, hears the news an ocean away. He expected a challenge, but after several 'accidents' and a dying soldier's warning, he realizes his life is also in danger. Yet before Valyn can take action, he must survive the mercenaries' brutal final initiation.

Meanwhile, the Emperor's daughter, Minister Adare, hunts her father's murderer in the capital itself. Court politics can be fatal, but she needs justice. And Kaden, heir to an empire, studies in a remote monastery. Here, the Blank God's disciples teach their harsh ways – which Kaden must master to unlock their ancient powers. When an imperial delegation arrives, he's learnt enough to perceive evil intent. But will this keep him alive, as long-hidden powers make their move?
Apologies in advance for the length, but it couldn't be helped. I LOVED and HATED parts of this book equally . . . and that means long.
Our story opens with a horrific prologue in which a bunch of immortal Vulcans-on-steroids (meaning they don't respect other lifeforms) are exterminating their "diseased" children b/c they're:
1. Afflicted with the physical "rot" of age.
2. Brains are likewise rotting b/c FEELINGS.
Basically, b/c they're HUMAN.
Fast forward a few thousand years (far enough that the unaging race of logic monsters is nothing more than a myth), and our story is mostly told from the alternating perspectives of two brothers, both the sons of the Emperor, both sent away as boys to train, but to different places, for entirely different purposes.
Kaden, the heir, is sent to live with a bunch of monks. Presumably to learn discipline, humility, etc.
When we meet him, he's on year eight of the ten assigned, and b/c I'm a fool of a Took, I didn't immediately make the connection between the "emptiness," taught by the monks and the aforementioned logic monsters . . .
Suffice it to say, I was more than a little bit disturbed that our future leader was being groomed by a bunch of religious CRAZIES zealots, whose main goal was to achieve a twisted version of Enlightenment. (As it turned out, there was a good reason, but I didn't know that then.)
And that was on top of the brain-eating monster SPIDERS that had recently begun to plague the livestock.
Now would be a could time to discuss a couple of my PEEVES:
1. I hate structured religious orders in fantasy.
They're boring.
Warrior Priests, Paladins, etc. are bad enough, but these guys don't even fight.
It's like being stuck in some Buddhist monastery, but without the childlike simplicity and joy of the Dalai Lama, b/c these monks are all about the corporeal punishment.
Ugh.
2. I HATE SPIDERS.
ALL spiders. Even the ordinary teeny, tiny brown ones. How do I feel about giant (maybe INTELLIGENT) brain-eating spiders?
SO. A lot of personal hurdles for me (more later).
Fortunately, Valyn's POV seemed more my style . . .
It started well enough—I do love my assassins, so being stuck on the Assassin Island of Training (which just happens to be right next to Outlaw/Pirate Island) was an excellent break from the monotony monastery.
And as frustrating as it was, I appreciated that Valyn wasn't the BEST.
He's bean beaten bloody "dozens of times" by Yurl, the superior fighter and Bad Guy. He was soundly defeated in his pre-Trial match. He's resigned to lose to Annick in his sniper test, b/c he recognizes that she's better than he is.
Such obstacles should allow his intelligence, his ability to strategize, the "leadership" potential we keep hearing about shine . . . BUT. Instead, he seems emotional and prone to drawing rash conclusions.
Which brings me to my next peeve . . .
There are two main schools of thought in regard to character development:
1. Begin with flawed characters who make mistakes but learn from them, thus developing through (shared) experiences.
2. Begin with competent characters and develop them by slowly revealing key details about their past, so the reader feels like she's getting to know them.
I infinitely prefer the second option.
I have no patience for characters making stupid decisions and (slooooooowly) learning the hard way. Give me insight into whatever made them who they currently are, b/c this kind of thing:
It is no slight to you, Baxter Pane had argued, staring at her with those rheumy eyes of his, but women are not suited to the Ministry. They are too…fickle, too easily transported by their emotions.
Adare swallowed a curse. And here I am, allowing myself to be transported by my emotions.
Oh, hello, Adare, impulsive firstborn daughter of Emperor. Nice to meet you. Maybe we'll see you again in another dozen POV changes, and you can do some other fool thing to make me not like you.
But as irritating as it was to watch Adare do the thing she knew she shouldn't be doing (b/c just couldn't help it?), Valyn was who really made me lose my mind:
"Off the bird, Laith," Valyn snapped. "Now."
He wasn't angry at his Wing. They were playing by the book, playing it safe, but there was no benefit to a pointless standoff with a dozen Aedolians.
Except there WAS.
Then he laments his reckless behavior:
In his eagerness to save his brother, he had led his Wing directly into harm's way, had ignored the signs, spurned sensible caution, and now, unless he figured some way to cut them all loose, they were going to die here in the shadow of an unnamed mountain at the end of the world.
YEP. He did all those things. But did he learn his lesson?
NOPE:
For as long as he could remember, he'd tried to weigh his options, to think before acting, to make the wise choice. It had all ended in ashes…
So you see . . . Not only does he not learn his lesson, he forgets there's a lesson to learn. He even convinces himself that he's exercised caution in the past, which, I can assure you, he hasn't.
And that last quote? It's from 91%.
Other problems:
1. 50(ish)% of the plot "twists" were obvious as soon as the foundation was laid. Of the remaining 50(ish)%, most took the next most obvious path. There were only one or two things I didn't guess by the second try.
2. Despite the obviousness of what was going on, the characters kept right on scratching their heads. At times, these obvious things were even stated OUT LOUD:
View Spoiler »

"So let's get this straight," Gwenna said, shaking her head. "Some poor bastard on a ship tells you the Kettral are trying to kill you. Then Manker's collapses. Then it seems like Annick tries to drown you. Then Annick shoots you in the shoulder."
"Annick shows up a lot in this story," Laith added.

Huh. So she does. I wonder if IT'S A SETUP. « Hide Spoiler

3. HUMANS DON'T HAVE PURPLE EYES.
…caught up in the spell of those violet eyes, that cascading black hair…
4. View Spoiler »

"Now let her go," Tan said. "Open your hand and let her fly away."
Slowly, Kaden opened his fingers, reluctant to let the thrush escape his grasp. It seemed important that he hold her, for some reason, that he clutch her to him … but Tan had said to let her go and so, ever so lightly, he let her slip from his fingers.
"She's flying now," he whispered.
"Watch," Tan replied.
Against closed lids, Kaden watched as the bird dwindled, smaller and smaller against the great blue of his mind's vast sky, smaller and smaller until she was a smudge, a speck, a pinprick on the great open emptiness of the heavens. And then she was gone. Blankness filled his mind.

Oh, how nice. Kaden was able to accomplish in a visualization exercise what many of the monks spend their ENTIRE LIVES trying to achieve with varying levels of success. Neat trick. « Hide Spoiler
5. Tan would live, or he would die.
Funnily enough, I felt the same way, and without the benefit of having achieved Enlightenment the vaniate. View Spoiler »I felt the same way when Lin died, too. Oh, when Valyn inner-monologued about soldiers not dying in daydreams, I felt a twinge of pain on his behalf, but, honestly, I spent the time up to that point being annoyed by her existence.

When Gwenna got so angry about Valyn not harnessing himself in properly (b/c distraught over news of father's death), I'd hoped it was b/c she liked him.

Enter Lin. A cardboard placeholder as far as I can tell. Blah. « Hide Spoiler <——there's actually two problems in there.
BUT.
As irksome as all of those things were, it's clear that Staveley has unrealized potential.
His writing can be alternately hilarious:
Gwenna had tied her last would-be suitor to a dock piling and left him there for the tide. When his friends finally found him, he was sobbing like a baby as the waves washed over his face.
Or beautiful:
Maybe this is what they want us to learn, he thought to himself blearily. There are two worlds, one of life and one of darkness, and you cannot inhabit both. It seemed like a good lesson for a Kettral, a lesson that could never be learned on the earth itself, not in a thousand days of swordplay and barrel drops, the kind of lesson that had to be bleached into the bone.
And while I didn't connect with many of the secondary characters, there were glimpses of brilliance:
"Hey, Sharpe," one of the men bellowed down at Gwenna. It was Plenchen Zee—thick as a barrel but damned near impossible to kill, if the stories were true. Someone had sliced out one of his eyes, and he'd taken to filling the cavity with all sorts of unsettling things: stones, radishes, eggs. Today a ruby bulged jauntily from the socket.
SO. Will I be reading the next book? Probably not any time in the near future. But eventually . . .? I could see it happening. And LOTS of other people absolutely loved it (including book bff). It's possible this was a case of it's-not-you-it's-me. B/c monks. And SPIDERS. And purple eyes. (Among other things.) Your call.
Chronicle of the Unhewn Throne
Was this review helpful to you? If so, please consider liking it on Goodreads!
Related Posts