Mornin', Rabid Readers! As a longtime fan of Melissa Marr's
Wicked Lovely
series, I'm thrilled to be part of her SEVEN BLACK DIAMONDS blog tour! It's a brand new fae-based YA urban fantasy, and I loved it, so make sure you check out the giveaway at the bottom of the post.
[author] [author_image timthumb='on']http://rabidreads.ca/wp-content/uploads/2016/02/Melissa-Marr.jpg[/author_image] [author_info]
Author Bio
Melissa Marr is the author of the bestselling Wicked Lovely series as well as the adult fantasy novels Graveminder and The Arrivals. When not writing, editing, or traveling, Melissa is buried under a plethora of books, dogs, and children in Virginia or online at
www.melissa-marr.com.
Website, Twitter, Facebook, Goodreads, Tumblr
[/author_info] [/author]
My Review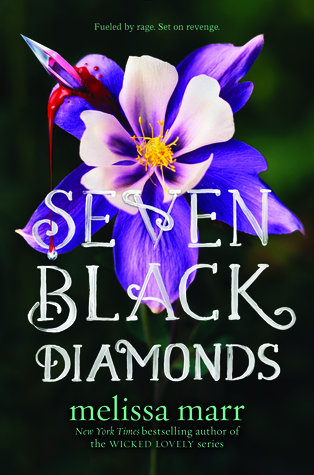 Seven Black Diamonds by Melissa Marr
Series: Untitled #1
Published by HarperCollins
Published on: March 1 2016
Genres: Urban Fantasy, Young Adult
Pages: 400
Format: eARC
Source: Edelweiss

This riveting fantasy marks Melissa Marr's return to the world of faery courts that made her Wicked Lovely series an international phenomenon.

Lilywhite Abernathy is a criminal—she's half human, half fae, and since the time before she was born, a war has been raging between humans and faeries. The Queen of Blood and Rage, ruler of the fae courts, wants to avenge the tragic death of her heir due to the actions of reckless humans.

Lily's father has always shielded her, but when she's sent to the prestigious St. Columba's school, she's delivered straight into the arms of a fae sleeper cell—the Black Diamonds. The Diamonds are planted in the human world as the sons and daughters of the most influential families and tasked with destroying it from within. Against her will, Lilywhite's been chosen to join them...and even the romantic attention of the fae rock singer Creed Morrison isn't enough to keep Lily from wanting to run back to the familiar world she knows.

Melissa Marr returns to faery in a dramatic story of the precarious space between two worlds and the people who must thrive there. The combination of ethereal fae powers, tumultuous romance, and a bloodthirsty faery queen will have longtime fans and new readers at the edge of their seats.
Lilywhite Abernathy lives a complicated existence.
She's the daughter of a crime boss—the crime boss—yet she's also his heir apparent. Her peers, both male and female, don't know how to treat her, and can't relate to her even if they could.
Yet part of her responsibility to her father is to gracefully interact with those peers. A responsibility her father makes triply difficult by watching her like a guard dog.
Hard to socialize with people who already don't know what to do with you, when your father the HEP big criminal is watching your every move, poised to rain down terror and fury at the slightest misstep.
Then there's the fact that she's part faery. More than part, truth be told, which it must be, b/c lies are physically painful for Lily to tell (b/c part faery).
It's almost too complicated.
And I haven't even gotten to her rock star crush yet.
BUT.
Somehow it works. I'm not sure if it's b/c subconscious allowances made for YA, or b/c Marr is just that good of a storyteller, but even it's the former, the key word is "subconscious."
The faery Queen of Blood and Rage has declared war on the humans. Part of her strategy includes training up baby fae in her favored guerrilla tactics, using their handlers to teach them how to use their magic, after strategically placing them in sleeper cells. At birth.
Once they reach an age and level of training dreamed useful by Queen, they're called active.
BUT.
These cells of barely adult, maybe part, maybe full fae, but regardless, they've been raised by humans in the human world . . . Which means their loyalty is divided, so even if they obey the commands of a murderous Faery Queen, they aren't 100% devoted to the cause . . .
They have doubts . . . But their fear of Queen keeps them obedient.
Enter Lilywhite (whose name I scoffed at until one of her new friends started calling her Lilyblack), meant to be the seventh and final member of Queen's flagship cell, her black diamonds.
Except beyond the fact that her mother was one, Lily knows nothing about her ties to Faery. She's spent her whole life hiding her secret—having even a drop of fae blood is enough to be imprisoned (b/c WAR).
She's also been raised to be a leader, to question, to make her own choices . . . So being told that she owes her loyalty to Queen, whom she's never met and has good reason to think is CRAZY, doesn't immediately make her fall in line with the others.
And suddenly the world is full of possibilities.
You: What does that mean?
Me: READ THE BOOK.
"The book" being SEVEN BLACK DIAMONDS by Melissa Marr, the faetastical first installment of her new YA urban fantasy series. Marr says in her acknowledgments that her three word pitch was, "faery sleeper cells." It worked for her editor, and it worked for me. There was no struggle to dive deeply into this latest faery endeavor, to roll around in it, losing time, leaving me wondering if perhaps I'd stumbled into Faery as well . . .
Highly recommended.
Was this review helpful to you? If so, please consider voting for it on Amazon or like it on Goodreads!


Giveaway
6 winners will receive a finished copy of SEVEN BLACK DIAMONDS, US Only.
a Rafflecopter giveaway
Blog Tour Schedule
Week One:
2/22/2016 –
Gone with the Words
–
Scavenger Hunt
2/23/2016 –
Katie's Book Blog
–
Review
2/24/2016 –
YA Book Madness
–
Scavenger Hunt
2/25/2016 –
Pandora's Books
–
Review
2/26/2016 –
Tales of the Ravenous Reader
–
Scavenger Hunt
Week Two:
2/29/2016 –
The Best Books Ever
–
Review
3/1/2016 –
Me, My Shelf and I
–
Scavenger Hunt
3/2/2016 –
Rabid Reads
–
Review
3/3/2016 –
Once Upon a Twilight
–
Scavenger Hunt
3/4/2016 –
YA Bibliophile
–
Review
Related Posts