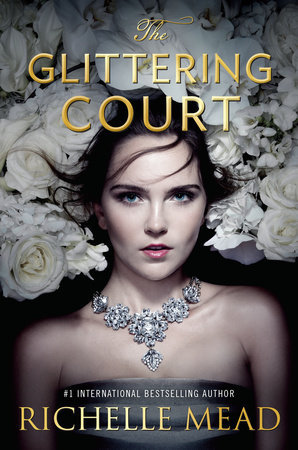 The Glittering Court

by Richelle Mead
Series: The Glittering Court #1
Published by Razorbill
Published on: April 5 2016
Genres: Half-fantasy, Young Adult
Pages: 403
Format: eARC
Source: First to Read

Amazon
|
Book Depo
|
Kobo
|
B&N
|
iBooks
 |
GoodReads
The Selection meets Reign in this dazzling trilogy of interwoven novels about three girls on a quest for freedom and true love from #1 internationally bestselling author Richelle Mead.

"Brilliant and original, Mead's new series starts off with a bang and will leave readers on the edge of their seats until the very end."
—School Library Journal

For a select group of girls, the Glittering Court offers a shot at a life they've only ever dreamed of, one of luxury, glamour, and leisure. To high-born Adelaide, whose wealthy family is forcing her into a loveless marriage, the Glittering Court represents something else: the chance to chart her own destiny, and adventure in an unspoiled, prosperous new land across the sea.

After a chance meeting with the dazzling Cedric Thorn, Adelaide poses as a servant to join the crop of impoverished girls he promises to transform into proper ladies. But her familiarity with upper class life comes with a price: she must hide her identity from her new friends, mysterious refugee Mira and fiery former laundress Tamsin, and most importantly, from Cedric himself—even though she's falling in love with him.

Everything begins to crumble when Cedric discovers Adelaide's ruse, and she catches the eye of a powerful young governor, who wants her for a wife. She didn't leave the gilded cage of her old life behind just to become someone else's property. But nothing is as daunting—or as wonderful—as the potent, forbidden attraction simmering between Adelaide and Cedric. One that, if acted on, would make them both outcasts in a wild, dangerous, uncharted world, and possibly lead them to their deaths.
I don't know if I made an assumption based on the title 'THE GLITTERING COURT' and fantasy being listed as the primary genre, or if I saw something somewhere that said "Fae," OR if I just desperately wanted this book to be about Fae, but regardless of what led me to my conclusion, what you need to know is that THE GLITTERING COURT is NOT about Fae.
Not only is it not about Fae, it's one of those weird half-fantasies that've been turning up everywhere the last few years.
I blame Marie Rutkoski. Before The Winner's Curse, this sort of thing was almost unheard of—YES, there are all kinds of subgenres in fantasy, and HOORAY for that. But until recently you could count on ALL of them to have two things:
1. An imaginary world.
2. Some kind of magic system.
BUT.
Half-fantasy only has the imaginary world, and without the magic system, I don't really see the point.
Who cares about topography, if there are no dragons in the valleys or sorcerers in the mountains? Or, you know . . . something?
NOT THIS GIRL.
That's not to say half-fantasies don't frequently have entertaining, clever, and/or complex plots. I enjoyed The Winner's Curse, I've enjoyed another half-dozen I've read since then, and I bloody loved THE GLITTERING COURT.
BUT.
I'm pretty sure the reason I was able to love it was b/c of the two to three weeks between when I read the first third of it in the preview, and when I got the rest of the book—I had time to adjust my expectations.
I had time to get over my initial crankiness at finding a fictional version of England, France, and colonial America masquerading under different names and a mail order bride scheme, when I was expecting a story about things strange and fantastical.
Nnnngh.
Okay, so I'm mostly over the crankiness . . . I don't think I'll ever reach a place where I'll greet half-fantasy with a smile when I'm expecting full-blown fantasy, but the distance helped.
It also helped that I loved the story and the characters.
Adelaide is a flawed but sympathetic heroine. I think there are very few of us who wouldn't at least consider opting for adventure in the New World over an arranged marriage to a suspiciously itchy (*giggle snorts*) cousin, who is as dull as the day is long. Tamsin and Mira are both likable and mysterious, View Spoiler »though I'm still annoyed that we never found out what Tamsin's Big Secret is. « Hide Spoiler There is tangible chemistry between Adelaide and Cedric, who made me swoon despite his religious fervor (which is HUGE if you know how I feel about structured religion in fantasy—UGH).
The world-building was absolutely incredible.
Adoria and Osfrid were a compelling combination of recognizable aspects from the British Empire and colonial America and twists and variations that were consistently as clever as they were subtle—Mead never fails to amaze me with her intelligence. And if history from that time period isn't your thing, there are PIRATES. If you don't like PIRATES, go away, I don't like you.
*whispers* I'm kidding . . . kind of . . .
My only complaints (aside from the obvious, which I mostly got over), are that the resolution was a bit too nice and neat—there was a LOT of chaos that got resolved by a LOT of coincidence and/or serendipity—and several of the subplots, twists, etc. were transparent, especially View Spoiler »that Mira was Ariel . . . Her immediate fascination and defense of the pirates in Adoria . . . Her stated intent to find a way to buy out her own contract . . . Her noted ability to imitate accents . . . The missing blonde wig . . . THE GIANT, RED-FLASHING SIGN OVER HER HEAD . . . « Hide Spoiler
But both of those problems, and any other nit-picky issues I had, can be attributed to the nature of YA, so I mostly gave them a pass.
THE GLITTERING COURT by Richelle Mead is the first installment of her new YA (half-)fantasy series, and it's the first book of its type whose characters, world-building, and story fully compensated for the lack of magic. I loved it. Mead has long been an auto-buy author for me, and this book is why. I will be impatiently waiting for Adelaide's next adventure in this brave new world, b/c with all the seeds planted in this one, it can't help but be brilliant. HIGHLY recommended.
Was this review helpful to you? If so, please consider liking it on Goodreads!


Related Posts