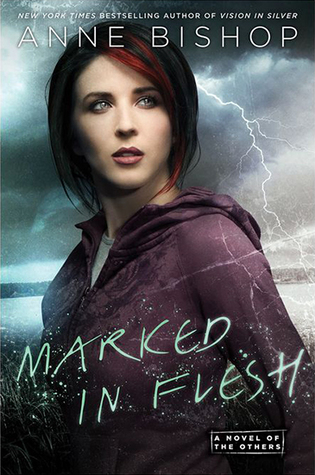 Marked in Flesh

by Anne Bishop
Series: The Others #4
Published by Roc
Published on: March 8, 2016
Genres: Urban Fantasy, Werewolves
Pages: 416
Format: eARC
Source: NetGalley

Amazon
|
Book Depo
|
Kobo
|
B&N
|
iBooks
 |
GoodReads
For centuries, the Others and humans have lived side by side in uneasy peace. But when humankind oversteps its bounds, the Others will have to decide how much humanity they're willing to tolerate—both within themselves and within their community...

Since the Others allied themselves with the cassandra sangue, the fragile yet powerful human blood prophets who were being exploited by their own kind, the delicate dynamic between humans and Others changed. Some, like Simon Wolfgard, wolf shifter and leader of the Lakeside Courtyard, and blood prophet Meg Corbyn, see the new, closer companionship as beneficial—both personally and practically.

But not everyone is convinced. A group of radical humans is seeking to usurp land through a series of violent attacks on the Others. What they don't realize is that there are older and more dangerous forces than shifters and vampires protecting the land that belongs to the Others—and those forces are willing to do whatever is necessary to protect what is theirs…


MARKED IN FLESH set out to be the defining installment in the entente between humankind and the terra indigene, and being somewhat familiar with Anne Bishop's predilection for carnage, I knew full well that no cast member was going to come out on the other side unscathed. This book was astonishingly successful in its aim; however due to its very nature the format needed to be altered to incorporate more POVs and less one-on-one time which in turn led to a slight decrease in my overall enjoyment making this my first 4-star review of a THE OTHERS title.

The HFL movement has been poking the bear since the start of this series, and they've finally managed to wake Namid's claws and teeth. They've been taking their frustration out on wolves without realizing that there are things in Thaisia that are far scarier than what live in the Courtyards. This novel was about the Elders deciding how much human to keep, and the outcome boggled the mind in its ferocity and devastation. The author definitely didn't hold anything back, I was just hoping for more than a glimpse of the mysterious inhabitants of the wild country.

Meg's growth since WRITTEN IN RED has been significant, and I liked that in this latest addition she became a do-er instead of merely a spectator. She's been labeled the trailblazer of the cassandra sangue, and in this volume she explores alternatives to cutting. We also got to look in on how some of the other blood prophets are managing outside of the compounds, namely Hope, who gave Corbyn an idea that doesn't involve a razor. Now, all they need is a substitution for the euphoria which presents itself in an unexpected yet very enticing way.

As I mentioned, the scope of this story required that it be told from a multitude of angles which was both good and bad. Good because it allowed readers to witness how the various factions reacted to the coming storm, and bad because the character development wasn't as in depth due to it being limited to only a couple of chapters per individual. I also found that the quirky and sweet moments that make THE OTHERS such a unique experience were toned down to a certain extent, although Bishop's dry humour was still very prominent which was a welcomed distraction from the bloodshed.

MARKED IN FLESH was an epically haunting tale of survival and resilience.



The Others Series


My Review


My Review


My Review
Was this review helpful? If so, please like it on GoodReads or vote for it on Amazon!
Related Posts