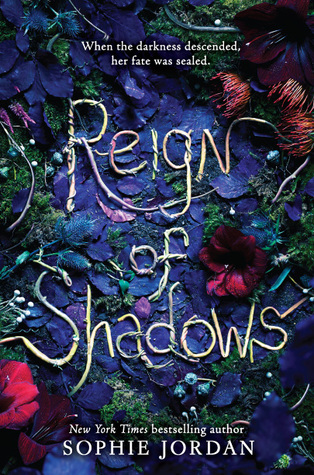 Reign of Shadows

by Sophie Jordan
Series: Reign of Shadows #1
Published by HarperTeen
Published on: February 9 2016
Genres: Fantasy, Young Adult
Pages: 304
Format: eARC
Source: Edelweiss

Amazon
|
Book Depo
|
Kobo
|
B&N
|
iBooks
 |
GoodReads
Seventeen years ago, an eclipse cloaked the kingdom of Relhok in perpetual darkness. In the chaos, an evil chancellor murdered the king and queen and seized their throne. Luna, Relhok's lost princess, has been hiding in a tower ever since. Luna's survival depends on the world believing she is dead.

But that doesn't stop Luna from wanting more. When she meets Fowler, a mysterious archer braving the woods outside her tower, Luna is drawn to him despite the risk. When the tower is attacked, Luna and Fowler escape together. But this world of darkness is more treacherous than Luna ever realized.

With every threat stacked against them, Luna and Fowler find solace in each other. But with secrets still unspoken between them, falling in love might be their most dangerous journey yet.

With lush writing and a star–crossed romance, Reign of Shadows is Sophie Jordan at her best.
Ye gods. I had difficulty with REIGN OF SHADOWS from almost the very first page.
There were issues of clarity:
From high in my perch, I listened. My hearing had long adapted to the darkness.
What does that mean?
Even knowing that Luna lived in a world covered with darkness (b/c seventeen year eclipse), this gave me pause . . . Eyes adapt to darkness, but ears?
But before too long, I gathered we weren't talking about normal adaptations. We were talking about Daredevil-like adaptations (<—–I see what you did there).
Daredevil-like adaptations that are never explained . . . and since the extent of the fantastical part of the world-building is limited to monsters and the rare precog, this is unacceptable.
Then we meet Fowler.
Fowler, the wants-to-be-a-look-out-for-numero-uno kind of guy, but can never quite manage it, who agrees to let a pair of siblings travel with him when he leaves . . . wherever . . . to go . . . wherever, and in a world with approximately one hour of daylight each day—the only time the giant, half alien, half insect (b/c FEELERS on their heads *edvard munch face*), man-eating monsters go BACK UNDERGROUND where they came from—this might seem like a good idea. Strength in numbers and all that.
BUT.
Sister has got to be both the stupidest and most obnoxious redshirt in the history of redshirts.
When Brother gets his leg caught in a trap, he screams, attracting the Monsters, then screams again when Fowler unsticks him. He can't walk. Sister refuses to leave him. Monsters are coming:
"It's going to be fine, Madoc. We have Fowler. He'll take care of you." She patted her brother's shoulder and lifted her gaze to me again. "Right?" She was bobbing her head again, willing me to promise her lies. "Right, Fowler?"
*flares nostrils*
And when Monsters get there:
Still in a panic, Dagne wouldn't release her grip on my sword arm. Cursing, I snatched the sword from my right hand with my left. The delay cost me. The dweller was on me before I could bring up my blade.
She wouldn't let go of his sword arm so he could fight the monsters that were ATTACKING THEM.
SERIOUSLY.
And all of that, my friends, happened in the first 10%. OH YEAH.
Which is the only reason I kept going. The middle 65% was better. A lot better, but still not anything spectacular. Fowler was doggedly determined to never feel anything ever again ever (b/c Broken Hero), but he's too vocal about this desire by half, which makes his sudden turnaround all the more eye roll-worthy.
So yeah, the middle was flawed but not terrible.
BUT.
The end . . .
There are two pointless (and transparent) death scares, and if Fowler wasn't as Johnny-on-the-spot as he is, Luna might be in trouble. But he is. Every time.
How fortuitous.
Then Luna suddenly decides she must sacrifice herself for the greater good. I say "suddenly," b/c she's known since they found out about thebadthing that she's the reason behind it, but now that Fowler has let himself care for her, she has to be the one to FIX IT, even though it will literally cost her her head.
Even though we know "evil" Councilor is CRAZY, and her sacrifice probably won't make a difference.
She has to try.
THEN Fowler reveals his (not so) Big Secret, and the way Luna reacts . . . View Spoiler »

"I didn't want you to do what you're doing now."
"Which is what, Fowler?"
"Looking the way you do. Like you think I'm a part of him," he snapped, his voice fierce and raw. A curse followed and I heard the flutter of his hair as he dragged a hand through it.
"You are," I whispered.

« Hide Spoiler
*throws head back and shrieks with rage*
I don't even care about the cliffhanger that immediately follows that nonsense. But there is one, FYI. And this last example of Luna's headstrong, heedless of the consequences actions is what pushed me into making a new Goodreads bookshelf: must-be-nice-to-have-9-lives.
SO. REIGN OF SHADOWS by Sophie Jordan does not live up to its pretteh cover. The most I can say for the world-building is that it's basic. I wanted to throttle the main characters on more than one occasion, and after finishing the entire book, I still don't have much of a grasp on the storyarc for either the series or this installment. Not recommended.
Was this review helpful to you? If so, please consider voting for it on Amazon or like it on Goodreads!


Related Posts