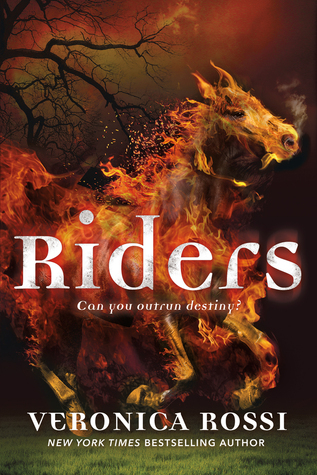 Riders

by Veronica Rossi
Series: Riders #1
Published by TorTeen
Published on: February 16 2016
Genres: Urban Fantasy, Young Adult
Pages: 369
Format: eARC
Source: NetGalley

Amazon
|
Book Depo
|
Kobo
|
B&N
|
iBooks
 |
GoodReads
For eighteen-year-old Gideon Blake, nothing but death can keep him from achieving his goal of becoming a U.S. Army Ranger. As it turns out, it does.

Recovering from the accident that most definitely killed him, Gideon finds himself with strange new powers and a bizarre cuff he can't remove. His death has brought to life his real destiny. He has become War, one of the legendary four horsemen of the apocalypse.

Over the coming weeks, he and the other horsemen--Conquest, Famine, and Death--are brought together by a beautiful but frustratingly secretive girl to help save humanity from an ancient evil on the emergence.

They fail.

Now--bound, bloodied, and drugged--Gideon is interrogated by the authorities about his role in a battle that has become an international incident. If he stands any chance of saving his friends and the girl he's fallen for--not to mention all of humankind--he needs to convince the skeptical government officials the world is in imminent danger.

But will anyone believe him?
I went into the reading of the RIDERS by Veronica Rossi blind.
Well, almost blind. I knew it was supposed to be more urban fantasy than sci-fi, like Rossi's last YA series. I knew there was probably going to be a flaming horse. AND I saw on Goodreads that more than one user had shelved it under mythology, but beyond that . . .?
Nuthin'.
Sometimes that works for me and sometimes it doesn't. This time it did. But regardless, I always think it's funny to be faced with my own assumptions.
Like that the POV would be female.
It's not.
And that the fiery horse would have something to do with Greek mythology. Apollo, probably.
It doesn't.
Instead, I found myself in the head of an eighteen-year-old manboy who immediately joined the Army upon his high school graduation.
That was only the first surprise.
You know how on TV dramas you'll sometimes start a new episode, and the first thing that flashes across the screen is "18 hours earlier," then someone is incarcerated/about-to-die/or WORSE?
That's how this starts.
Our guy, Gideon, is cuffed and drugged after being extracted from nebulous circumstances in Norway. From there we work backwards. We find out that Gideon almost died, did die briefly, in fact, in a skydiving exercise mishap.
He woke up . . . different.
He healed from injuries he was told would take a full year to recover from in days. He had a seamless metal cuff on his wrist that GLOWED. His RAGE seemed to affect the behavior of the people around him.
Then he meets a girl who tells him he's WAR.
As in one of the four horsemen from Revelation, but not in an imminent apocalypse kind of way. He's been given certain gifts to do a thing.
BUT. Despite the lack of the apocalypse, there were still some very biblical themes—think Supernatural after Heaven and Hell got involved—which I always find to be awkward (b/c Bible Belt upbringing, I can't help it).
So there's that.
Then some of the plot elements and escalations are pretty basic. Not in an obnoxious, written for thirteen-year-olds who don't know any better kind of way, but in an if-you're-an-adult-who-only-on-rare-occasions-reads-YA-you-probably-won't-have-the-patience-for-this-one kind of way.
I struggled with a manboy meant to be a hardcore military man-in-training outlining every, single aspect of his interactions with girl-he-likes, in the "debriefing" that accounts for around 90% of the story. There are probably half a dozen details like that, requiring a deliberate decision to suspend disbelief.
But forewarned is forearmed, and nothing was too huge a stretch.
PLUS, Plot Twist at the end—totally didn't see it coming. And it was pretty darn epic. Like you'd expect from a book with a flaming horse on the cover.
SO. Overall, I greatly enjoyed RIDERS by Veronica Rossi, and I can't wait to see what the next installment brings. I think pretty much anyone who reads and loves YA will like it, too. It's only the YA weekenders I'm concerned about. As for the rest of you, go forth and one-click! What's not to like about bossy manboys getting all flustered by sassy, SUPER brave girls, plus there are swords and bows and FLAMING HORSES. Highly recommended. Unless you're one of those.
Was this review helpful to you? If so, please consider liking it on Goodreads!


Related Posts