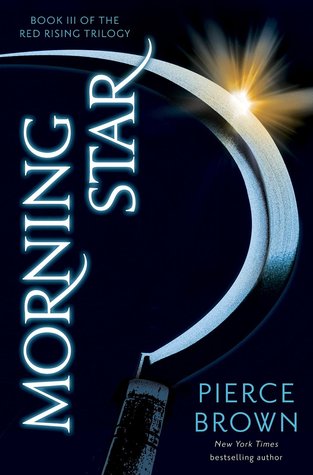 Morning Star

by Pierce Brown
Series: Red Rising #3
Published by Del Rey
Published on: February 9 2016
Genres: Science Fiction
Pages: 544
Format: eARC
Source: NetGalley

Amazon
|
Book Depo
|
Kobo
|
B&N
|
iBooks
 |
GoodReads
Red Rising thrilled readers and announced the presence of a talented new author. Golden Son totally changed the game and took the story of Darrow to the next level. Now comes the exhilarating conclusion to the Red Rising Trilogy: Morning Star.

Born a lowly Red in the mines of Mars, Darrow lost his beloved wife to the treacherous Gold overlords. Vowing to fight for the future that his wife believed in, Darrow joins a secret revolutionary group and is remade into a Gold so that he can infiltrate the ruling class and bring them down from the inside. Now, after years of hiding amongst the Golds, Darrow is finally ready to declare open revolution and throw off the chains of oppression. Nothing in Darrow's world has been easily won, and this final fight will be the most harrowing of all.
I'm a mess. FYI.
Usually, when I'm this torn over a book, I take some time to reflect, to settle my FEELINGS—so many bloodydamn FEELINGS—but I can't do that this time, so I reserve the right to revise at a later date.
Moving on.
At the end of GOLDEN SON, the world explodes. Figuratively, not literally. Either way, it's not surprising that MORNING STAR hits the ground running with Darrow being kept in a box at Jackal's compound.
Of course he escapes. There'd be no book otherwise, and with a few surprises along the way, one of them HUGE and WONDERFUL View Spoiler »Victra!! « Hide Spoiler, Darrow is reunited with the Rising, and . . . things are a shambles.
Oh, not on the surface, maybe, but take a closer look, and even if you're distracted by ALL THE THINGS that keep your stomach in a constant state of dread, like a mini abyss living inside you—seriously, this book should come with an FDA warning: Do not consume if you have a history of ulcers or acid reflux. Contact your doctor and discontinue usage at onset of symptoms. Or something like that—it doesn't take long to draw that conclusion.
And if you hear the sound of glass being hurled from a rooftop onto pavement, don't worry, it's only my heart. When you've survived it yourself, I invite you to come back and tell me what your heart shattering sounds like. Most creative gets . . . absolutely nothing, but, come on, it'll be FUN.
And that's my way of informing you that if you (inexplicably) thought you might get a break from the agony of the previous two books . . . *laughs at you* . . . you would be WRONG.
BUT.
Sometimes pain is necessary. Take Darrow, for example. If he hadn't suffered the Jackal of Mars' tender mercies, he wouldn't have faced his mortality, and a man filled with the hubris of youth is ill-equipped to lead a rebellion.
And every war has casualties . . .
I know all of that sounds unpleasant, and it is, but, once again, Brown proves himself a dab hand at balancing PAIN with humor.
Servo and Ragnar become brothers-from-another-mother in Darrow's absence, leading the Rising together, and they are damn hilarious:
"You! Troll!" Sevro shouts. "I'm a terrorist warlord! Stop throwing me. You made me drop my candy!" Sevro looks at the floor of the hallway. "Wait. Where is it? Dammit, Ragnar. Where is my peanut bar? You know how many people I had to kill to get that. Six! Six!"
Ragnar chews quietly above me, and though I'm probably mistaken, I think I see him smile.
Then there's the pain of gratitude and loyalty and friendship, which is more delicate, but equally affecting:
"I don't know how to thank you," I say.
"What for?" Kavax asks, confused, as per usual.
"The kindness …" I don't know how else to say it. "For watching over my family when I'm not even one of you."
"One of us?" His ruddy face falls. "A fool. You speak like a fool. My boy made you one of us." He looks across the hangar where Mustang speaks with one of Lorn's daughters-in-law near a transport. "She makes you one of us." It's all I can do to keep the tears from my eyes. "And if we damn all that, I say you're one of us. So one of us you are."
Kavax . . . I consider myself blessed to have met you.
BUT.
I have one major issue with this installment, and unlike last year's issues with GOLDEN SON, this one will NOT go away with the (inevitable) reread: View Spoiler »Maybe this is my fault, but I glossed over the whole Mustang and Cassius thing. Yeah, Cassius insinuated they'd had an intimate relationship, but I decided he was just trying to get a rise out Darrow.

He wasn't.

He REALLY wasn't. And glossing it over is no longer possible, b/c you get your nose shoved in it—numerous times—and I have a hard time with Mustang whoring herself out like that, and before you lose your mind b/c I called her a whore:

"A person considered as having compromised principles for personal gain."

I'm not slut-shaming, I'm not judging her b/c she had sex. I'm judging her b/c she had sex with a man she cared NOTHING for, b/c it was politically to her advantage.

Mustang is supposed to be the bloodydamn smartest Gold in existence after her brother, and that's the best she can come up with?

I call:




If it had only been that, I might've been able to ignore it (b/c happier that way), but in conjunction with "testing" Darrow before telling him THEY HAD A CHILD . . . *throws head back and shrieks with rage*

What if he didn't pass her bullshit tests? Would she not have told him?

Eff you, lady, effff youuuuu!

This is the woman we're leaving in charge? This manipulative bitch? Kind of hard to consider it a happy ending when visions of Mustang-at-the-bottom-of-a-slippery-slope are flashing in my head.

***AMENDMENT: Mustang having sex with Cassius isn't the bigger part of my issue with her. It's that she made him fall in love with her. DELIBERATELY. He carried her damn earring around with him. He didn't believe she'd shoot to kill. He thought what they'd had was REAL.

That's so much worse than just sleeping with him.

Her behavior is everything I HATE about manipulative female stereotypes.

BAD form. « Hide Spoiler
SO. Minus one star for that.
But overall, I bloodydamn loved MORNING STAR, and I thought it was a brilliant conclusion to an exceptional trilogy. It made me feel . . . everything. I can't wait to see what Brown has for us next, b/c this world . . . Nothing but potential. Highly recommended (but maybe with chocolate and baby animals for fortitude).
Red Rising:
Was this review helpful to you? If so, please consider liking it on Goodreads!


Related Posts