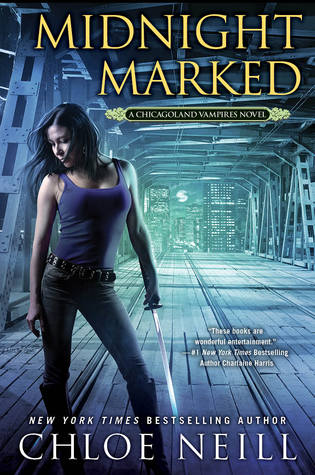 Midnight Marked

by Chloe Neill
Series: Chicagoland Vampires #12
Published by NAL
Published on: March 1, 2016
Genres: Urban Fantasy
Pages: 384
Format: eARC
Source: NetGalley

As the Chicagoland Vampires series continues, Merit and Ethan find themselves in a deadly game of cat-and-mouse, where winning may require the ultimate sacrifice...

A vampire's grudges don't stay dead long...

Merit is one of Chicago's most skilled vampire warriors; these days, she doesn't scare easily. But she and Master vampire Ethan have made a new and powerful enemy, and he won't give up until he owns the Windy City.

With his last plan thwarted, he's more determined than ever to watch Cadogan burn. Ethan has put the House's vampires on high alert, but their enemy will stop at nothing, including pitting vampire against vampire...

In this deadly game of cat-and-mouse, the stakes are life or death—and winning might mean sacrificing everything...


The CHICAGOLAND VAMPIRES series is twelve installments deep, so it's kinda crazy that Merit is only now celebrating her one-year vampire anniversary, but there you have it! It's been a heck of a journey thus far, and Chloe Neill wrote the ideal story to honour such a momentous occasion. The latest antagonist is at it again, all of the beloved characters get their due, and I just loved the ending. The action and romance were in perfect harmony, and there were so many little things that made me smile that reading over my notes in preparation of drafting my review made me doubly appreciative.

I liked how the author brought a thread that I hadn't even really thought about since book 1 to the fore; it was such a fitting choice given where we're at in this universe's timeline, and answered a whole whack of questions that I'd figured would remain mysteries. The House called in Paige's help for this particular riddle which made me happy, and just when I thought that Neill had covered the spectrum of supernaturals she brings in a necromancer! I'm unsure if Annabelle will be added to the list of rotating secondaries, but I hope so because she was quite interesting (and useful).

The Chicago flavour that's injected into every novel is something that I always look forward to, and in this addition instead of familiarizing fans with another hole-in-the-wall food joint, we got a little history lesson on Belle River. I'm not sure how much of it was fact/fiction, and my internet research didn't pan out, nevertheless it was thought-provoking. The humour was as good as ever with Merit-isms like "alphapology" and despite the absence of a local dish to add to my wishlist, the heroine made sure to bring a battle snack. Merit & Ethan fulfilled a fantasy of mine too—they did it in the Cadogan library!

[SPOILER ALERT]

There was one important slip that spoiled the anonymity of the big bad way earlier I would have preferred, and that was his/her name. The villain basically had a flashing sign over their head with an arrow pointing to them that said "I did it". It's like naming a character Luna, and not expecting readers to guess that that character is a werewolf. So, that took some of the thrill out of it for me because half the fun is trying to guess who the wrongdoer is. And, of course this person somehow managed to thwart the legal system, and fly the coop which means we'll definitely be seeing them again.

The training wheels came off in MIDNIGHT MARKED. Happy one-year vamp birthday, Merit!

Was this review helpful? If so, please like it on GoodReads or vote for it on Amazon!


Chicagoland Vampires Series


My Review


My Review


My Review


My Review


My Review


My Review


My Review


My Review


My Review


My Review


My Review


[author] [author_image timthumb='off']http://3.bp.blogspot.com/-Njql7JILhbs/Ue_ub1sJ3VI/AAAAAAAAIqo/jdcvI9Wiaqk/s1600/Chloe-Neill.jpg[/author_image] [author_info]
Author Bio




Chloe Neill is the New York Times and USA Today bestselling author of the Devil's Isle, Chicagoland Vampires, and Dark Elite series. She was born and raised in the South, but now makes her home in the Midwest. When not writing, she bakes, works, and scours the Internet for good recipes and great graphic design. Chloe also maintains her sanity by spending time with her boys–her favorite landscape photographer/husband and their dogs, Baxter and Scout. (Both she and the photographer understand the dogs are in charge.) Photo © Dana Damewood.





ChloeNeill.com | Facebook | Twitter | Pinterest


GoodReads | Amazon
[/author_info] [/author]
Tour-Wide Giveaway
The fun doesn't stop here. Want more chances to win? You can also enter the Midnight Marked Grand Prize Giveaway, which runs February 11 through March 4 on Chloe's web site.

What is the Grand Prize Giveaway prize?
Engraved Cadogan House medal pendant.
$25 Amazon gift card
Tote bag containing Chicagoland Vampires and Devil's Isle Swag
Blog Giveaway
Cadogan House mini-pennant
Cadogan House tote bag
Swag, including bookmarks, a pen, and a Cadogan House keychain
Related Posts