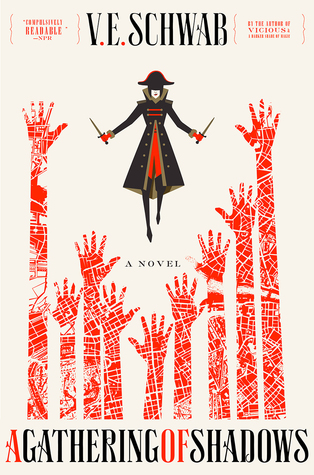 A Gathering of Shadows

by V.E. Schwab
Series: Shades of Magic #2
Published by Tor Books
Published on: February 23 2016
Genres: Fantasy
Pages: 513
Format: ARC
Source: Publisher

Amazon
|
Book Depo
|
Kobo
|
B&N
|
iBooks
 |
GoodReads
Four months have passed since the shadow stone fell into Kell's possession. Four months since his path crossed with Delilah Bard. Four months since Rhy was wounded and the Dane twins fell, and the stone was cast with Holland's dying body through the rift, and into Black London.

In many ways, things have almost returned to normal, though Rhy is more sober, and Kell is now plagued by his guilt. Restless, and having given up smuggling, Kell is visited by dreams of ominous magical events, waking only to think of Lila, who disappeared from the docks like she always meant to do. As Red London finalizes preparations for the Element Games—an extravagant international competition of magic, meant to entertain and keep healthy the ties between neighboring countries—a certain pirate ship draws closer, carrying old friends back into port.

But while Red London is caught up in the pageantry and thrills of the Games, another London is coming back to life, and those who were thought to be forever gone have returned. After all, a shadow that was gone in the night reappears in the morning, and so it seems Black London has risen again—meaning that another London must fall.
Authors of series like to do this thing where they give you a first installment that while, of course, leaving unanswered questions, still manages to conclude nice and neatly.
You can't wait to get your hands on the next book, but only b/c you love the story and are desperate to see what happens next.
You feel safe when you finally get the next chapter.
The tension that plagued you while reading the prior installment, coming ever closer as you neared the end, like footsteps speeding up behind you, making you curse your stupidity for taking a walk alone at night in an unfamiliar city . . . That tension isn't there.
You've developed a trust, a camaraderie . . . an understanding with the author.
You have been duly warned.
When we last left Lila and Kell, they were parting ways. We were sad, but we expected no less. After all:
"I'm not going to die," she said. "Not till I've seen it."
"Seen what?"
Her smile widened. "Everything."
Kell can't go with her. He has responsibilities . . . PLUS, you know, there's that thing that happened, that thing that tied him even closer to the royal family . . . The royal family he's meant to be part of . . . The royal family that instead treats him like a commodity . . .
Lemme tell you, people—it gets WORSE.
Lila, on the other hand, is having the adventure she's always dreamed of. On a PIRATE ship. *coughs* I mean, privateer ship. She got her position by killing another crew member. *shakes head at Lila* Buuuuut it turned out they didn't like the fellow much anyway, so it all worked out.
A little too well, actually.
Lila develops a sort-of friendship with the captain. She earns the respect of the crew. Worse, she begins to feel like she herself is a true part of the crew.
Can't have that.
So when Captain announces his intent to return to Red London and participate in a prestigious wizards' tournament, Lila decides that she won't be going with them when next they leave.
And she doesn't.
But not for the reasons she anticipated.
You: WHAT DOES THAT MEAN?!
Me:
And that's just the tip of the iceberg.
Things happened in A DARKER SHADE OF MAGIC, and those things have CONSEQUENCES. CONSEQUENCES that you will not believe until you see them for yourself.
What does it mean that Kell's life is now tied to another's? What will happen now that a living being from Grey London has permanently crossed over into Red London? And what would you say if I told you that you only think you've seen chaos in White London?
Last year, A DARKER SHADE OF MAGIC made my Best Books of 2015 list. This year, A GATHERING OF SHADOWS is already a strong contender for the #1 spot. If you have yet to check out Schwab for yourself, what are you waiting for? The woman is GENIUS. This world and the characters that populate it, is one of the most unique I've encountered in ages. I love it. Even as I'm screaming at Lila to THINK before she acts, for once. Even as my heart is breaking for Kell b/c he can longer ignore the charade of his circumstances. Even as all the Londons hover on the edge of DOOM . . . I love it.
Highly recommended.
A Darker Shade of Magic:
Was this review helpful to you? If so, please consider liking it on Goodreads!


Related Posts