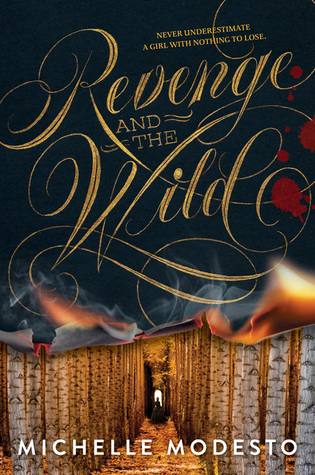 Revenge and the Wild

by Michelle Modesto
Published by Balzer + Bray
Published on: February 2 2016
Genres: Fantasy, Steampunk, Young Adult
Pages: 384
Format: eARC
Source: Edelweiss

Amazon
|
Book Depo
|
Kobo
|
B&N
|
iBooks
 |
GoodReads
The two-bit town of Rogue City is a lawless place, full of dark magic and saloon brawls, monsters and six-shooters. But it's perfect for seventeen-year-old Westie, the notorious adopted daughter of local inventor Nigel Butler.

Westie was only a child when she lost her arm and her family to cannibals on the wagon trail. Nine years later, Westie may seem fearsome with her foul-mouthed tough exterior and the powerful mechanical arm built for her by Nigel, but the memory of her past still haunts her. She's determined to make the killers pay for their crimes—and there's nothing to stop her except her own reckless ways.

But Westie's search ceases when a wealthy family comes to town looking to invest in Nigel's latest invention, a machine that can harvest magic from gold—which Rogue City desperately needs as the magic wards that surround the city start to fail. There's only one problem: the investors look exactly like the family who murdered Westie's kin. With the help of Nigel's handsome but scarred young assistant, Alistair, Westie sets out to prove their guilt. But if she's not careful, her desire for revenge could cost her the family she has now.

This thrilling novel is a remarkable tale of danger and discovery, from debut author Michelle Modesto.
SO. The good news is that it only took an afternoon to read REVENGE AND THE WILD by Michelle Modesto. The other news is . . . meh.
In all fairness, several of the contributing factors to the MEH are personal preference issues.
Like I find too few gadgets just as annoying as too many gadgets in steampunk. Dollface has a bionic arm, NOT-brother has a Bane-like face mask, Guardian is building a big ol' machine out of copper that amplifies magic, and that's pretty much it.
Oh, there were a handful of throwaway mentions, but altogether it didn't feel very steampunky.
There was also some of EVERYTHING, and I do mean EVERYTHING: vampires, trolls, werewolves, leprechauns, elves, undead, shamans, CANNIBALS . . . Too many things for any of them to make much of an impact. Except the cannibals.
Ye gods, the cannibals.
Once again, rules for fashion are excellent rules for writing: before you leave, look in the mirror and take off the last three accessoryies you put on.
BUT.
Once I adjusted to the cadence of Modesto's writing style, it was highly engaging. I flew through the middle 70 – 80%.
BUT.
When we got to the wrap-up 15%, the unraveling of our mystery was very . . . basic. The clues Westie found didn't link back to earlier planted threads, making the whole cohesive. It was more like a scavenger hunt, and scavenger hunts do not tickle my clever bone.
And all that middle I flew through . . . not really memorable.
ALSO, I did not buy View Spoiler »in lurrrrrrrve Vampire at ALL.

If you're a thousand+ years old, you don't fall into unrequited love with a seventeen-year-old you've probably spent less that twenty-four cumulative hours with. You just don't. « Hide Spoiler
However, there was one very excellent plot twist that shocked the hell out of me. Especially b/c it was one of those where you know you've figured it out, and you did (b/c you can count), but BOOM that's not all, sucker!
So HOORAY for that.
Ultimately, REVENGE AND THE WILD by Michelle Modesto was entertaining enough to pass a pleasant afternoon, however, for me, there were a few preference-based misfires. BUT. If you like creature features and steampunk überlite, I'd say it's definitely worth a shot. And BONUS, it's a standalone, so no pesky wait for the next installment. Recommended with qualifications.
Was this review helpful to you? If so, please consider liking it on Goodreads!


Related Posts