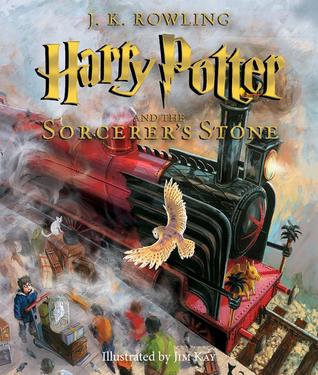 Harry Potter and the Sorcerer's Stone

by J.K. Rowling
Series: Harry Potter #1
Published by Arthur A. Levine Books
Published on: October 6 2015
Genres: Middle Grade
Pages: 256
Format: Hardcover
Source: Purchased

Amazon
|
Book Depo
|
Kobo
|
B&N
|
iBooks
 |
GoodReads
The beloved first book of the Harry Potter series, now fully illustrated by award-winning artist Jim Kay.

For the first time, J. K. Rowling's beloved Harry Potter books will be presented in lavishly illustrated full-color editions. Rowling herself selected artist Jim Kay, whose over one hundred illustrations make this deluxe format as perfect a gift for the child being introduced to the series as for the dedicated fan.

Harry Potter has never been the star of a Quidditch team, scoring points while riding a broom far above the ground. He knows no spells, has never helped to hatch a dragon, and has never worn a cloak of invisibility.

All he knows is a miserable life with the Dursleys, his horrible aunt and uncle, and their abominable son, Dudley--a great big swollen spoiled bully. Harry's room is a tiny closet at the foot of the stairs, and he hasn't had a birthday party in eleven years.

But all that is about to change when a mysterious letter arrives by owl messenger: a letter with an invitation to an incredible place that Harry--and anyone who reads about him---will find unforgettable.
I wasn't going to review this for Rabid Reads, but then I was reminded of the multitudes of unfortunates who haven't read HARRY POTTER yet . . .
I ask myself:
Me: How can this be?
Self: *shrugs awkwardly*
Me: The HARRY POTTER books breathed new life into readers of all ages. They're amazing, wonderful, fantastic, addicting, SUPERLATIVE—
Self: *nods emphatic agreement*
So what's the deal people?
Boiled down to its most basic elements, HARRY POTTER AND THE SORCERER'S STONE is urban fantasy.
For kids? Absolutely.
For adults? ALSO absolutely.
Rowling creates a wondrous world of magic that exists alongside the normal, the "muggle" world.
In this magic world, the objects and PEOPLE in pictures move, chess pieces are both sentient and opinionated about your game-playing strategy. Jelly beans come in EVERY flavor, so part of the fun is never knowing whether the funny yellow one is going to be toffee . . . or earwax. Creatures of legend—centaurs, hippogriffs, dragons, goblins, etc.—are part of everyday life. If you're a wizard.
But all of the world-building is secondary to Harry himself.
The boy who lived.
Harry was only a year old when he was given over to his only living relatives. The Dursleys of 4 Privot Drive are happy in their normalcy, their mediocrity. They think things properly account for the worth of a person, they indulge their already horrible son, and they more than neglect Harry . . . They're dismissive of him. They humiliate him. They stifle him. And they do all of these things thoughtlessly. As if he's not a real person . . . B/c he's other..
Their abuse is so offhand, you have to be an adult, or least a mature reader to recognize it for what it is. Younger readers just see a hateful villain. A hateful villain who does such ostentatiously self-centered things to poor Harry that they can alternately "Yayyyyyy," and "Booooooo," with enthusiasm.
I've heard similar comparisons made about Robin Williams' Genie in Disney's Aladdin—the character was complex enough for adults to enjoy while being thoroughly entertaining to children.
So that's my sale. Harry Potter isn't just for children, it's for EVERYONE. In my humble opinion, what Rowling has done with these books makes Disney's Genie look like amateur hour (and I quite like Aladdin. FYI).
And as the recent popularity of coloring books for adults has proven, people of all ages like pretty things, and that is why this new illustrated version is spectacular:
SO. We have an engaging premise: a child mysteriously defeats the most powerful dark wizard in memory, becoming instantly famous in one world, a world full of wonder and magic, is raised ignorant of his past by negligent relatives, only to be reintroduced to the magical world when he comes of age to attend the equivalent of middle school.
We have the earlier referenced fantastical world-building. We have well-developed, often hilarious or reprehensible characters (depending on whether they're meant to be Good or Bad). And we have addictive individual story plots that build into the best Good vs. Evil story arc since LOTR.
And children LOVE it.
So will you. More than highly recommended.
Harry Potter series:
Was this review helpful to you? If so, please consider liking it on Goodreads!
Related Posts