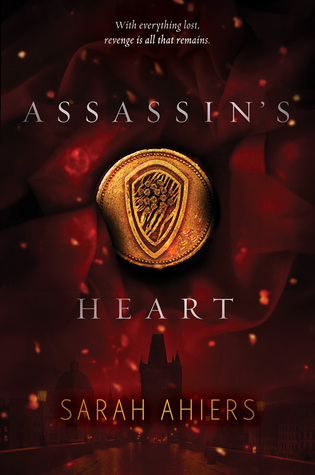 Assassin's Heart

by Sarah Ahiers
Series: Assassin's Heart #1
Published by HarperTeen
Published on: February 2 2016
Genres: Fantasy, Young Adult
Pages: 432
Format: eARC
Source: Edelweiss

Amazon
|
Book Depo
|
Kobo
|
B&N
|
iBooks
 |
GoodReads
In the kingdom of Lovero, nine rival Families of assassins lawfully kill people for a price. As a highly skilled member of one of these powerful clans, seventeen-year-old Lea Saldana has always trusted in the strength of her Family. Until she awakens to find them murdered and her home in flames. The Da Vias, the Saldanas' biggest enemy, must be responsible—and Lea should have seen it coming. But her secret relationship with the Da Vias' son, Val, has clouded her otherwise killer instinct—and given the Da Vias more reason than ever to take her Family down.

Racked with guilt and shattered over Val's probable betrayal, Lea sets out to even the score, with her heart set on retaliation and only one thought clear in her mind: make the Da Vias pay.

With shades of The Godfather and Romeo and Juliet, this richly imagined fantasy from debut author Sarah Ahiers is a story of love, lies, and the ultimate vengeance.
In a county that worships a death goddess, nine families of assassins are her chosen disciples. Each family executes (HA!) their religious duty—legal assassination—from their individual territory, all except the Saldana and Da Via families whose territory is shared.
Unsurprisingly, these two families are also the top ranked, each of their blades kept sharp by the others', and, also unsurprisingly, while none of the families would ever consider one of the others an ally, the Saldanas and Da Vias share a particular rivalry.
That rivalry comes to a head when the Da Vias attack the Saldana home, setting it on fire and killing its residents in their beds.
But one Saldana got away . . . one girl, the youngest of her generation's active members, and Lea Saldana will not rest until the Da Vias pay for their treachery in blood.
From there it gets complicated.
In a good, intricate plot way, not a convoluted way.
Lea can be a bit much occasionally—like surgeons, arrogance is a required trait of assassins—but she grows on you as she herself grows into her character.
I also had some trouble in the middle of the book . . .
There's a lot of angst. Or maybe it's a little bit of angst compounded by the redundancy of the three pillars of The World According to Lea:
1. It's all my fault.
2. Trust can only end in betrayal.
3. Keep your eye on the prize (the prize being DEATH for ALL Da Vias).
BUT. Eventually, she calms down and things get interesting again.
And it really is interesting. Lea's world's pantheon is full of gods who are REAL. Not just effigies waved around to make the peasants keep toiling away in hopes of a better afterlife. The gods' priests have real power, and the gods themselves reach out directly to their favored followers.
It's really cool.
And as long as you don't let yourself get too philosophical about the realities of having legal assassination (jealous lovers, greedy business men, etc. having a green light to take a hit out on the competition), that's a pretty cool concept, too.
BONUS, no cliffhanger. In fact, the ending was so the exact opposite of a cliffhanger thatI have no idea where we're headed next. But I will find out. ASSASSIN'S HEART by Sarah Ahiers is the most promising first installment of a YA fantasy series I've read recently, and I highly recommend it to any fan of the genre, especially those of you who (like me) love assassins.
Was this review helpful to you? If so, please consider liking it on Goodreads!


Related Posts