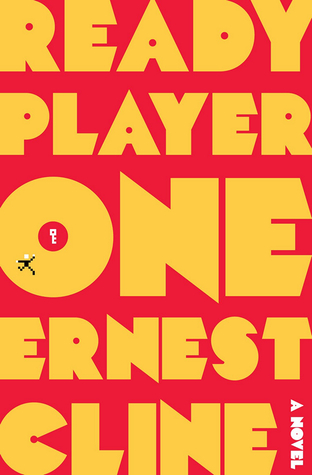 Ready Player One

by Ernest Cline
Published by Broadway Books
Published on: August 16 2011
Genres: Science Fiction
Pages: 386
Format: eBook
Source: Purchased

Amazon
|
Book Depo
|
Kobo
|
B&N
|
iBooks
 |
GoodReads
In the year 2044, reality is an ugly place. The only time teenage Wade Watts really feels alive is when he's jacked into the virtual utopia known as the OASIS. Wade's devoted his life to studying the puzzles hidden within this world's digital confines, puzzles that are based on their creator's obsession with the pop culture of decades past and that promise massive power and fortune to whoever can unlock them. When Wade stumbles upon the first clue, he finds himself beset by players willing to kill to take this ultimate prize. The race is on, and if Wade's going to survive, he'll have to win—and confront the real world he's always been so desperate to escape.
I've heard, you've probably heard, HELL, most people who read some variation of SFF have heard that READY PLAYER ONE is freaking amazing b/c it's swarming with '80s pop culture/nerd references.
And it is. Absolutely.
But even though I've had the book for years, I only recently got around to picking it up (and only b/c impromptu roadtripping with Husband, and sacrifices must be made when trying to find a book we'll both have a shot at liking), b/c as much fondness as I have for the decade, it's not enough to warrant reading a book solely b/c '80s! Yay!
*shrugs* It's just not. #sorrynotsorry
Which is why I feel the book has been done a major disservice.
Nostalgia for the '80s might not be a good enough reason for me—and a lot of others as well—to pick up READY PLAYER ONE, but you know what is?
THIS:
I spent a big chunk of my childhood hanging out in a virtual-reality simulation of Sesame Street, singing songs with friendly Muppets and playing interactive games that taught me how to walk, talk, add, subtract, read, write, and share.
And THIS:
In my Astronomy class we visited each of Jupiter's moons. We stood on the volcanic surface of Io while our teacher explained how the moon had originally formed. As our teacher spoke to us, Jupiter loomed behind her, filling half the sky, its Great Red Spot churning slowly just over her left shoulder. Then she snapped her fingers and we were standing on Europa, discussing the possibility of extraterrestrial life beneath the moon's icy crust.
And a MULTITUDE of similarly awesome things.
It's also important to know the '80s pop culture awesomeness isn't superfluous—it naturally extends from the plot line.
Wade Watts lives in a bleak future version of our world where the majority escape their mundane existence by spending as much time as humanly possible in virtual realities.
The realities Wade visits are mostly inspired by the '80s and popular geek culture spanning from the advent of gym-sized computers to our present. You can level up your avatar by completing quests, MMO-style, which also helps you accumulate armor and weapons.
It's like WoW immersion.
*whispers* How cool is that?
But Wade's focus, along with many, many others is the pursuit of deceased James Halliday's, the creator of the OASIS (the virtual reality space in which all these worlds exist), Easter Egg.
Halliday was socially awkward in the extreme, you see, thus leaving him without friends or family to bequeath his multi-billion dollar fortune to. So he created a quest, solvable by deciphering obscure clues referencing his favorite games, movies, and music.
It's been over five years since Halliday's death, and no one has been able to complete even the first leg of the three part journey.
But that's about to change.
READY, PLAYER ONE is much more than cornball Brat Pack references distracting you from a weak plot. It's part Rat Race, part geek-out, part DAMN-the-man, and I loved ALL of it. If you've ever wished you had your own Star Wars X-Wing, or wanted to explore Azeroth in person, this book will have you green with envy and simultaneously fangirling harder than you ever have in your life. Highly recommended.
Was this review helpful to you? If so, please consider liking it on Goodreads!


Related Posts