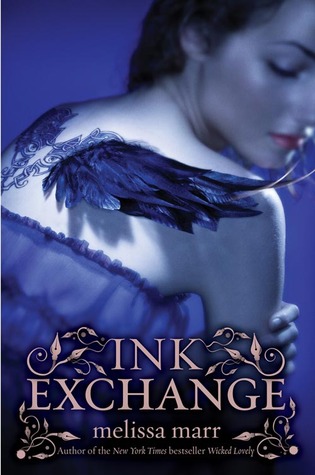 Ink Exchange

by Melissa Marr
Series: Wicked Lovely #2
Published by HarperTeen
Published on: April 24 2008
Genres: Urban Fantasy, Young Adult
Pages: 340
Format: eBook
Source: Purchased

Amazon
|
Book Depo
|
Kobo
|
B&N
|
Book Outlet
 |
GoodReads
Unbeknownst to mortals, a power struggle is unfolding in a world of shadows and danger. After centuries of stability, the balance among the Faery Courts has altered, and Irial, ruler of the Dark Court, is battling to hold his rebellious and newly vulnerable fey together. If he fails, bloodshed and brutality will follow.

Seventeen-year-old Leslie knows nothing of faeries or their intrigues. When she is attracted to an eerily beautiful tattoo of eyes and wings, all she knows is that she has to have it, convinced it is a tangible symbol of changes she desperately craves for her own life.

The tattoo does bring changes—not the kind Leslie has dreamed of, but sinister, compelling changes that are more than symbolic. Those changes will bind Leslie and Irial together, drawing Leslie deeper and deeper into the faery world, unable to resist its allures, and helpless to withstand its perils. . .
How do I love Bad Boys? Let me count the ways:
1. Okay, so I don't actually have reasons, I just love them.
2. But I should get an A for effort, b/c I sat here and thought about it for a good long while.
Iriel. GAH. Even his name is HOT.
The Dark Court thrives on chaos and Iriel is its King. His Fae are the natural balance to the restraint and order found in the High Court, but ever since Keenan found his Summer Queen and Beira (the Winter Queen)'s reign of terror ended, his own court has been weakening . . . Too much harmony, not enough fear and pain.
What's a responsible Fae monarch to do?
Find a way to feed on mortals' darker emotions, of course.
The problem is in the process. There are . . . unforeseen side effects. And that doesn't take into consideration that Iriel's chosen vehicle is one of Aislinn's best friends. EEP.
I still didn't bond with Aislinn or Keenan in this book. In fact, I think I liked them both significantly less. Aislinn could have prevented the whole thing if she'd just told Leslie the truth, and Keenan became the scheming, manipulative bastard I'd feared he was becoming in WICKED LOVELY.
BUT.
Iriel.
Also Niall. I honestly can't remember if I was intrigued by him the first time I read WICKED LOVELY, but I love how Marr developed his character in this second installment—as much as I love Bad Boys, I also have a significant weakness for Complex Lives-by-his-Troth Guys. Not to be confused with Nice Guys *whispers* who are boring.
Even if you don't share my weaknesses, most of you can agree that both Bad Boys and Complex Lives-by-his-Troth Guys are better than frat boy dumb dumbs (like Keenan).
And Leslie is a heartbreakingly tragic heroine. So damaged, yet so strong. I may not have made the same decision she did, but I understand why she did it, and I love her for it.
The story was great. The characters were great. The folklore is great. The writing was great (<——there's a theme in there):
What does it mean when nightmares dream of peace? When shadows wish for light?
I loved INK EXCHANGE by Melissa Marr as much as I didn't love WICKED LOVELY the first go 'round. The contrast was shocking, and I can't think of a series where the payoff for sticking it out after a mediocre first book is better. Highly recommended.
Wicked Lovely:
Was this review helpful to you? If so, please consider liking it on Goodreads!
Related Posts