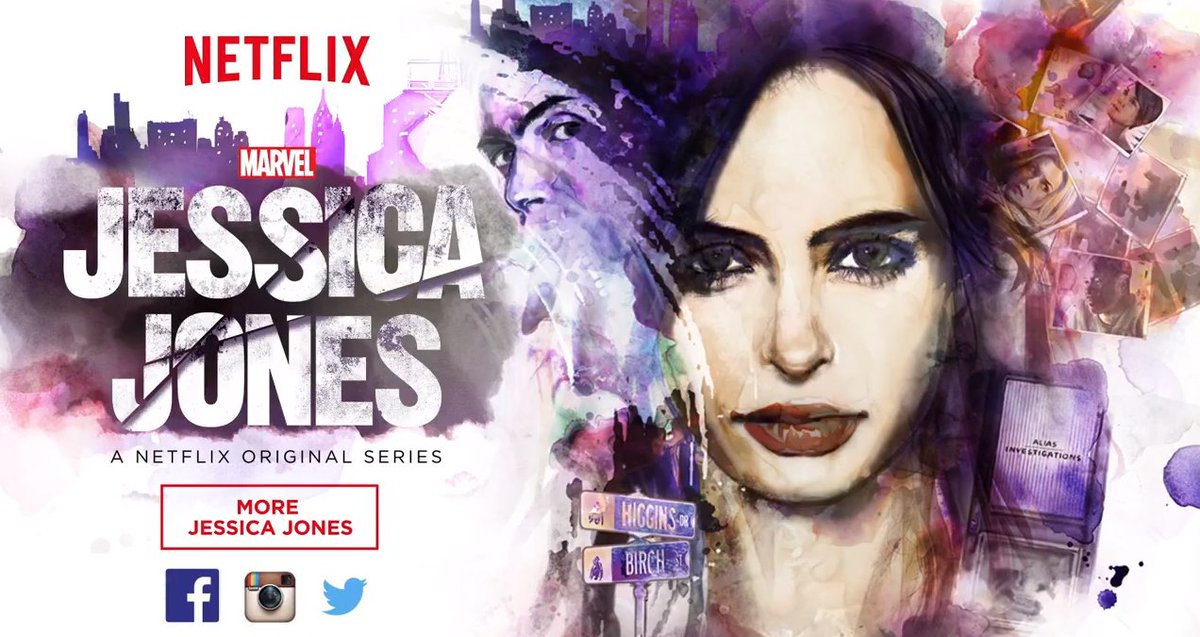 Holy-friggin'-crap.
First things first: I bloody love comic book movies. I never read comic books as a kid (which I will regret to the end of my days), but comic book movies, I love 'em.
BUT.
I haven't had much luck with the TV series.
Arrow was decent until the third season when it got stupid, I quit S.H.I.E.L.D. before the first episode was over, and I couldn't stomach Daredevil b/c one of the actors was creepily like my worst Ex. In appearance and mannerisms. Seriously, it was creeptastic. Bff thought so too:
*whispers* It was not just in my head . . .
BUT. Despite the MEH of my past experiences, I was looking forward to Jessica Jones, b/c:
1. I love Krysten Ritter.
2. I love David Tennant.
And after the first episode, I was definitely hooked, but . . . it was obvious there were things I was missing (b/c comic book weekender). So what did I do?
I checked her entry in the Marvel Universe Wiki.
It was like a really excellent cheat sheet. It touched on all the basics, so I knew there was a reason Kilgrave was always wearing some shade(s) of purple, and that Jessica was branching out in PI work after a stint as bonafide superhero.
I also learned less pertinent, but extremely interesting tidbits like after accidentally launching herself into a body of water when her powers first manifested, Jessica was rescued by THOR. AND she went to high school with Peter Parker.
BOTTOMLINE: Marvel Universe Wiki is your friend.
Newly educated, I returned to the series and was bloody blown away.
Heroes and villains alike are commonly tortured individuals. Magneto's mother was used as a motivational tool to discover the extent of his abilities. Wolverine suffered numerous painful experiments, not to mention his singular inability to die. Ever.
Admittedly, it could be my own control freak-ness that makes Jessica's experience drastically worse, but whether it's universal or just me . . . Girl can't catch a break.
The accident that led to the development of her abilities killed her entire family. By itself, that puts her on the level with the majority of her peers, especially considering the accident happened b/c her father was distracted by an argument she was having with her brother (which, of course, leads to self-loathing).
To add insult to injury, this accident happened while on a family vacation . . . A family vacation in DISNEYLAND. *shakes fist at Marvel gods*
That, however, is merely the sad foundation of our hero's story.
Soon after her entrance into the realm of heroes, Jessica encounters Kilgrave (played by an absolutely phenomenal David Tennant), who is "gifted" with mind control.
He abducts her, keeping her captive for months. B/c he's intrigued by her and thinks she's pretty . . .
I don't think you heard me . . . he abducts her . . . b/c he sees her and decides he wants her . . . so he takes her.
And Kilgrave's mind control is the variety where the victim is an observer of her actions, a silently screaming voice in the background of their violation.
I won't tell you how she escapes, but I will warn you . . . it is rough.
And when Tennant is fully ensconced in his role as Bad Guy, it will make your blood run cold.
For many of you, that may not come as a surprise, b/c Tennant is apparently quite the Big Deal. He began cutting his acting chops when most of us were content to climb like monkeys on our schoolyard jungle gym—I'd just thought he made a better Doctor Who than the Bad Guy from Gone in Sixty Seconds. *shrugs awkwardly*
But I learned.
Tennant plays such a convincing sociopathic narcissist, a narcissist who still manages to be charming, that even though you know, you know, he is irredeemably the Bad Guy, even though you HATE him for what he's done to Jessica and so many others, you hope down to your marrow that something, anything, will somehow make it right.
When Jessica sends Kilgrave the daily picture of herself that he's blackmailed her into sending, his pleased grin, exactly like that of a doting boyfriend admiring the woman he loves, you have to physically shake yourself out of his reality.
B/c he makes you believe it.
And it is disturbing.
I'm still disturbed. I loved him, and I hated myself for loving him.
That shit is WHACK.
Then there's Ritter, who wasn't half bad herself. There were moments when she overshot droll and hit monotone, but for the most part, I thought she played her role very well. She's especially good when interacting with her childhood bff/adoptive sister and her former guardian:
"I wish I had a mother of the year award so I could bludgeon you with it."
Former Guardian is . . . You need to see it for yourself . . .
Ironically, it's when Jessica's vulnerability, the leftover damage from her ordeal in Kilgrave's manipulative hands, is on display that Ritter truly shines. Her panicked yet determined recitation of the streets surrounding her childhood home to beat the post-traumatic stress will break your heart.
Other highlights include an ex spec ops cop who can't accept civilian life, a former child star who proactively trains to protect herself, LUKE CAGE, and lawyer-without-ruth, Jeri Hogarth (SIDENOTE: don't tell a shark to be a shark, then get angry when it sharks).
And it looks like Netflix is just getting started. Season 2 of Daredevil and the Jessica Jones spin-off Luke Cage are currently filming, and Iron Fist and The Defenders are on the books.
Now we just have to sit back and twiddle our thumbs waiting for word of where the next season of Jessica Jones fits in. B/c if the fans have anything to say about it, there will be MOAR. Highly recommended.
Related Posts