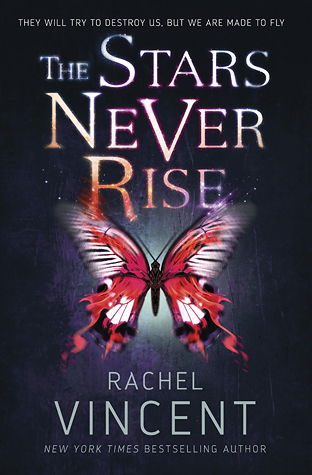 The Stars Never Rise

by Rachel Vincent
Series: The Stars Never Rise #1
Published by Delacorte Press
Published on: June 9, 2015
Genres: Young Adult
Pages: 368
Format: eBook
Source: Purchased

Amazon
|
Book Depo
|
Kobo
|
B&N
 |
GoodReads
Sixteen-year-old Nina Kane should be worrying about her immortal soul, but she's too busy trying to actually survive. Her town's population has been decimated by soul-consuming demons, and souls are in short supply. Watching over her younger sister, Mellie, and scraping together food and money are all that matters. The two of them are a family. They gave up on their deadbeat mom a long time ago.

When Nina discovers that Mellie is keeping a secret that threatens their very existence, she'll do anything to protect her. Because in New Temperance, sins are prosecuted as crimes by the brutal Church and its army of black-robed exorcists. And Mellie's sin has put her in serious trouble.

To keep them both alive, Nina will need to trust Finn, a fugitive with deep green eyes who has already saved her life once and who might just be an exorcist. But what kind of exorcist wears a hoodie?

Wanted by the Church and hunted by dark forces, Nina knows she can't survive on her own. She needs Finn and his group of rogue friends just as much as they need her.
Religion is always a slippery slope in fiction, but Rachel Vincent used it well in THE STARS NEVER RISE, and in doing so created a compelling dystopian world that I'm sure to want to visit again and again. There was a steady flow of twists which was good because although none of them were stumpers, they kept things interesting, and other than the bizarre love interest, I thought that this was a smashing kickoff. Definitely recommended!

I've read the majority of this author's books, and as a general rule I prefer her adult stories; however this series debut has left me eyeing the remainder of the untapped SOUL SCREAMERS installments that are sitting on my Kindle. I loved how dark the universe was from the very public executions of sinners, to the shortage of souls for newborns. Vincent painted an extremely dire picture that only continued to darken as the plot advanced.

There is little room for error in New Temperance because if the Church doesn't burn you at the stake, the hellspawn will devour you. And, survival just so happens to be one of the best cures for naive Young Adult characters which bolstered Nina, Devi, Reese, Maddock, and Finn's likability immensely. The only one that I had an issue with was Mellie, but she's in tenth grade, and not really part of Kane's band of rogue exorcists.

Now, what to say about 'the boy'; I knew that there would be a romantic thread, and quite possibly a triangle, so I was prepared for both, and while there was insta-love, Finn's nature came with its own unique set of complications. I'm sure that his backstory is cool, I can't wait to read about his exploits, and doubtless his skill set will come in handy; however his special circumstances make relationships… challenging

Guy trouble notwithstanding, the YA genre needs more books like THE STARS NEVER RISE.


Was this review helpful? If so, please vote for it on Amazon or like it on GoodReads!



Related Posts