A huge welcome back to Kristi Charish who is celebrating the release of OWL AND THE CITY OF ANGELS, the second installment of her THE ADVENTURES OF OWL series! *waves at Kristi*


When Jessica was nice enough to invite me back to Rabid Reads she had a couple questions I could pick from. This was the one that really caught my eye:
If Owl joined a superhero fight squad, which one would it be? Why and what role would she fill?
So, first off, I think we need to figure how we're defining superhero fight squads. Is it more of a metaphorical superhero squad (ie: The X-Files), or are we talking full on super power superhero squads (a la X-men)? The answer might change. Going with a mix of middle of the road however, I think there is only one superhero squad on the planet Owl (aka Alix Hiboux) would feel comfortable with.
Guardians of the Galaxy.
And there is definitely a rhyme to this reason.
1st Listen Like Thieves. Ok, I think we can all agree that they're essentially all thieves. A few of them might moonlight as bounty hunters and assassins but they've got one thing that's damn well in common with Alix. They know how to steal stuff. Not only will they not balk at the odd tomb raid but they'll most likely come along for the ride. What does Alix call those? A great set of friends. Welcome Guardians your new thief!
2nd Pets Allowed. The Guardians are totally cool with pets. One of their members is a raccoon, and the raccoon has a pet attack tree. If that's not pet friendly, I don't know what is. I see Owl and Captain getting along famously with Rocket raccoon. Provided Captain doesn't try to swipe rockets food or mistake the explosives box for the litter box they should get along famously.
3rd Throwing Stones at Glass Houses. Alix has her share of faults. She's human. Rather than beat herself up over those innate faults she accepts her mistakes and moves on. The Guardians of the Galaxy also don't take themselves too seriously…most of the time. They don't let the whole 'saving the universe' weight heavy on their shoulders. They accept their own faults but more importantly forgive each other's. Great teams are built by accepting your own and each other's limits.
4th Space Bar, anyone?: It may be that Alix has met her match in Jason Quill when it comes to knocking a few back at the bar…come to think of it, Rocket might drink her under the table, too…Might not be bad for Alix to spend some time with some folks who can put her own benders into perspective…
The point is she'd be in good company. The Guardians aren't the super heroes who sit at home and watch MacGyver reruns on a Saturday night. They hit the neighborhood space bar and embrace it the resulting bender. Hangovers on deck five only, please…
5th Priorities: No, I'm not talking about going for a beer…though that might be another parallel priority that Owl has in common with the Guardians…
When Owl runs back into the booby trapped temple to grab a Captain who's fallen behind chasing vampires, the Guardians will understand. Jason Quill won't leave his Walkman behind, and Owl won't leave her cat. It's an understanding.
6th We're All Losers Here: Another thing Guardians really excel at? Calling each other on their own self-aggrandizing BS. Yes, Jason might essentially be intergalactic royalty, but does that mean he gets to act like it? No! The Guardians don't fool themselves into thinking they're on top of the world. They embrace their loser status and work with it. One of the reasons I love the Guardians of the Galaxy so much is not a damn one of them is perfect. They still embrace the hell out of it and that's what makes them great. Caring about themselves and each other despite all the problems that they wear on their sleeves. That's friendship, and that's reality.
Though Owl's world doesn't involve space ships and galactic battles, this is one group of space cowboys I think Owl and Captain would feel right at home with.
Rocket better watch that cardboard box full of explosives…It's looking an awful lot like a litter box…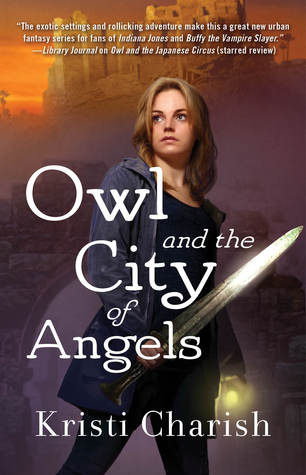 The wild second adventure for unforgettable antiquities thief Owl—a modern-day "Indiana Jane" who reluctantly navigates the hidden supernatural world—from the pen of rising urban fantasy star Kristi Charish. For fans of Kim Harrison, Jim Butcher, Jennifer Estep, Jenn Bennett, and the like.

Alix Hiboux, better known as Owl, international antiquities thief for hire, is settling into her new contract job for Vegas mogul Mr. Kurosawa, a red dragon with a penchant for ancient, supernatural artifacts. And now he has his sights set on some treasures of the mysterious Syrian City of the Dead that are sitting in a recluse's private collection.

There's just one wrinkle. To stop the resurrection of an undead army that could wreak havoc on Los Angeles, Owl must break into a heavily guarded archaeological sight in one of the most volatile regions in the world. A detour through Libya and a run-in with Somali pirates sends the clock ticking hastily toward total paranormal disaster.

Meanwhile, Alexander and the Paris vampires have stopped stalking Owl's apartment, but they have by no means forgotten their death grudge against her. To top everything off, Owl finds out the hard way that there is nothing heavenly about the City of Angels…
[author] [author_image timthumb='on']http://rabidreads.ca/wp-content/uploads/2015/01/Kristi-Charish.jpg[/author_image] [author_info]
Author Bio
Kristi is the author of the urban fantasy series THE ADVENTURES OF OWL, about a modern-day "Indiana Jane" who reluctantly navigates the hidden supernatural world. She writes what she loves; adventure heavy stories featuring strong, savvy female protagonists, pop culture, and the occasional RPG fantasy game thrown in the mix. The second installment, OWL AND THE CITY OF ANGELS, was released on October 5th 2015.
The first installment of KINCAID STRANGE, her second urban fantasy series is scheduled for release May 2016.
Kristi is also a scientist with a BSc and MSc from Simon Fraser University in Molecular Biology and Biochemistry and a PhD in Zoology from the University of British Columbia. Her specialties are genetics, cell biology, and molecular biology, all of which she draws upon in her writing. She is represented by Carolyn Forde at Westwood Creative Artists.
Website, Blog, Twitter, Facebook, Google +
[/author_info] [/author]
Thanks again to Kristi for stopping by and hanging out. If only it could be at the Space Bar with Alix, Jason, and Rocket, am I right? Oh well. Next time 😉 Be sure to keep an eye out for my review of OWL AND THE CITY OF ANGELS—will post soon!
Related Posts