Sorcerer to the Crown

by Zen Cho
Series: Sorcerer Royal #1
Published by ACE
Published on: September 1 2015
Genres: Fantasy
Pages: 374
Format: eARC
Source: Publisher

Amazon
|
Book Depo
|
Kobo
|
B&N
 |
GoodReads
In this sparkling debut, magic and mayhem clash with the British elite…

The Royal Society of Unnatural Philosophers, one of the most respected organizations throughout all of England, has long been tasked with maintaining magic within His Majesty's lands. But lately, the once proper institute has fallen into disgrace, naming an altogether unsuitable gentleman—a freed slave who doesn't even have a familiar—as their Sorcerer Royal, and allowing England's once profuse stores of magic to slowly bleed dry. At least they haven't stooped so low as to allow women to practice what is obviously a man's profession…

At his wit's end, Zacharias Wythe, Sorcerer Royal of the Unnatural Philosophers and eminently proficient magician, ventures to the border of Fairyland to discover why England's magical stocks are drying up. But when his adventure brings him in contact with a most unusual comrade, a woman with immense power and an unfathomable gift, he sets on a path which will alter the nature of sorcery in all of Britain—and the world at large…
I tried to read SORCERER TO THE CROWN by Zen Cho THREE separate times, and had pretty much given it up for lost when I decided to give it one . . . more . . . chance.
Many, many thanks to friend and fellow Ace Roc Star Anne at The Book Nympho, whose review influenced this decision. *tips hat*
The beginning is slow, no getting around it. Even if I hadn't been reading mostly high-octane, action-packed urban fantasy in the weeks prior to my first attempts, I think I still would have found it slow.
I was initially reminded of a Jane Austen novel.
You: But you LOVE Jane Austen!
Me: Yes, I know.
You: ???
Me: I love Jane Austen, despite the florid prose, not because of it.
BUT. Given time, this book grew on me for the same reasons EMMA and PRIDE AND PREJUDICE did: clever hilarity and exasperating yet wonderful characters whom I grew to absolutely adore.
And BONUS, there is the kind of whimsicality that can only be present in a FANTASY novel.
Zacharias Wythe is not a white, land-owning man in something like 19th century England. He was adopted and emancipated by Sir Stephen Wythe, Sorcerer to the Crown, and his presence in society is met with both acceptance and ridicule by the peerage, and:
Though he had never doubted his guardian's attachment, being Sir Stephen's protégé had at times felt like being a touring attraction—a dancing bear on its lead.
And how easy it is to blame one whose existence you already disdain for problems almost certainly not of his doing.
Like the steady decline of magic in England? Who better to hold accountable than the new Sorcerer to the Crown? Especially when it so neatly provides a solution to the problem that is the new Sorcerer to the Crown?
But regardless of continuous and varied mistreatment at the hands of other thaumaturges, Zacharias is determined to discover the source of England's lack of magic as his station demands, and during this search he also discovers the plight of gentlewitches.
Well-bred ladies do not practice magic, you see. If a young lady is discovered to have any magical ability at all, she is shipped to a boarding school where her use of magic will be stamped out.
It is in one such school that Zacharias stops as a favor to a friend, only to find that the method of suppressment is an altered version of a KILLING CURSE, modified to be cast by a lady on HERSELF, draining her magic temporarily, along with her energy and essential spark.
Zacharias is predictably horrified (b/c not a stuffy, pompous wanker like his sorcerer brethren).
And it was at Mrs. Daubeney's School for Gentlewitches that things started to pick up.
I began to see hints, not carbon copies, mind you, but hints of well-loved characters from various girlhood favorites, most notably in Mrs. Daubeney herself, who when vexed behaves in a rather Mrs. Bennett-like fashion:
"You ought to have considered me, but no one ever does, and it puts me in an impossible position!"
Then there's the scene of utter pandemonium that somehow manages to combine early ANNE OF GREEN GABLES Anne:
Henrietta stamped her foot, her grey eyes drowned in green light.
"I will teach you a lesson for that!" she cried. "How dare you call him my precious Mr. Wythe! How dare you say I am in l-love!"
With those wretched Pringles she doesn't encounter until several books later:
When Prunella entered the classroom, Clarissa Midsomer was trying to bang Emily Villiers's head against a desk. Emily was resisting this, screeching in a manner fit to bring the ceiling down.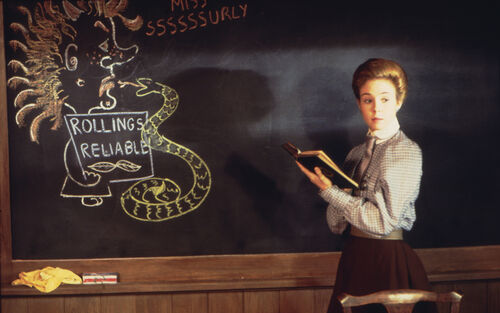 (I couldn't find a good picture of the Pringles or of the classroom in chaos after the fireworks were set off, but this one works just as well, I think.)
Fairyland resembled a combination of Bedknobs and Broomsticks' underwater and king of the jungle segments.
Flanked by fish-faced guardsmen, the Fairy King lounged upon his throne . . .
YES. That is fantastic.
Resemblances, purposeful or accidental, aside, were not the only amusements, and I found myself shaking with laughter on more than one occasion, be it the result of a formidable aunt named Georgiana Without Ruth (<——get it? Ruthless? *snickers*), or his fairy Highness explaining why England's magic is being shunted elsewhere (but don't worry, not to France. They don't like France any better than England does):
"It would be an end to all peace if they returned," he said, with a sigh. "We should give them our first-born child if that would persuade them to stay away. Indeed, we made the offer, but they would not look at poor Cuthbert."
Poor Cuthbert.
BUT. As much as SORCERER TO THE CROWN made me laugh, there is so much more to it than humor. Peppered throughout the story are painful truths:
To her surprise Prunella found that she was still attached to Mrs. Daubeney. She would never trust her again—no! But one could nonetheless be very fond of someone in whom one had no confidence whatsoever.
When Prunella at last listened to the full message contained in the singing orb, I found myself in tears, and there is an Elizabeth and Darcy scene so spectacular as to give its namesake a run for its money.
Maybe you didn't hear me: there is an Elizabeth and Darcy scene so spectacular as to give its namesake a run for its money.
Indeed.
SORCERER TO THE CROWN by Zen Cho was fantabulous. Plain and simple. I'm so glad I didn't let a slow start derail my consumption of one of the best books I've read this year, and I hope you'll read it for yourself, b/c it's just that good. Highly recommended.
Was this review helpful to you? If so, please consider voting for it on Amazon or like it on Goodreads!


Related Posts