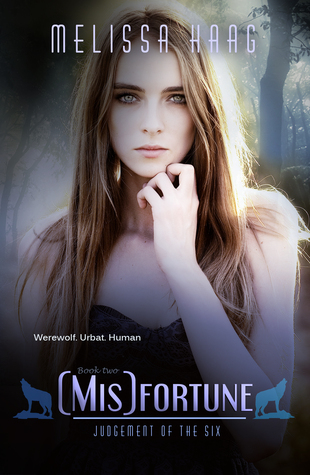 (Mis)Fortune

by Melissa Haag
Series: Judgement of the Six #2
Published by Indie
Published on: April 29, 2013
Genres: Paranormal Romance, Werewolves
Pages: 315
Format: eBook
Source: Purchased

Amazon
|
Book Depo
|
Kobo
|
B&N
 |
GoodReads
The spring Gabby meets Clay, Michelle, another girl like Gabby, discovers the truth. A truth she'll need to share with Gabby and the other four like them.

Michelle...

They kept me prisoner for four years, using me for my predictions. They thought they had me subdued, meekly following orders, but they were wrong. I was waiting for a chance to run. I had to be careful, though. They had my brothers, and the leader wasn't exactly human.

The sudden death of her stepfather gives Michelle the only chance she may ever have to escape, and she takes it. She needs a place to hide and someone to listen to her predictions so her head doesn't explode. Yet, there's nowhere she can hide and no one to protect her from the monsters pursuing her.

Then, she meets Emmitt. He's calm, kind, caring...and a werewolf. If she can find a way to trust him, he might be able to do more than just keep her safe. He might be the one who can help her fight for answers about her gift and the other women like her.


Sometimes the second book in a series can be a real let down, not so with this book, sequel to Hope(less). Not only was I not let down, I could not put the book down until I finished, pretty much the same thing that happened while reading the first one. With this book, the author expanded on more of the werewolf culture in her world building, and also introduced us to another one of the special women. Women that seem to be linked to each other, and are the only human women that can mate with a werewolf successfully. So far, each woman has special abilities, otherwise known as a "gift".

Michelle is nineteen and has been a prisoner in her home for the past four years. The reason? She is able to foretell the stock market, and an evil man(Blake) is keeping her there while using her information to become very rich. Also living in the house are her small brothers and her stepfather, Richard, who is now just a puppet for Blake. When Richard suddenly dies after leaving her money and important papers in an envelope, Michelle grabs the boys and runs away. Not really spoilers as it all happens in the first few pages. While on the road, and stopped at a diner, she is mesmerized by a guy eating there, and he is with her as well. But even so she leaves and gets caught by Blake's men. The guy from the diner(Emmitt) helps her escape. This is the story of what happens both on the road, and after they finally get to Emmitt's home.

I loved the main characters of Michelle and Emmitt. Michelle was mature beyond her years due to her imprisonment, and so loving towards her brothers. But she is also real, she gets tired of being around a toddler constantly, just like anyone would. She makes poor decisions at times, as we all do as well. She also has a classic too stupid to live moment closer to the end of the book. Yep, I was yelling at her. But my point is, she is not a cookie cutter character. Emmitt reminded me a lot of Clay from book one-but then they are both werewolves. Emmitt certainly talks a lot more than Clay, but he is also an extremely nice guy who just happens to have a furry secret. Nana Wini, an elder in the werewolf community, and also a resident at Emmitt's home was quite the character. She's like the bad ass grandmother with a cardigan on her shoulders and a werewolf inside that is way stronger and meaner than even Emmitt or his brother Jim. Jim was a fun character, and also resides in the home. He becomes the play toy for the children, even though he is an adult. He also is the instigator for trouble at times. Sam, Gabby's guardian from book one, is also back this time around. This book takes place in the same time frame as the first book.

The premise of there being two different types of werewolves was really different. The fact that the werewolves are just now finding out about the Urbats and that there is a possibility that these special women could have a true mate within the werewolves and the Urbat community as well, made it even more unusual. Urbat's aren't exactly the friendliest of races to say the least. And they really want Michelle, among other things.

This book has an exciting story line with lots of action at times, interspersed with Emmitt and Michelle's romance-which is much quieter. Any book that can make me stop everything else but reading, is one that I consider well written, and this book certainly fits into that category. It's perfectly fine for older teens to adults. There is some talk of mating, but nothing explicit.

Highly recommended!


Judgement of the Six Series


My Review
Related Posts