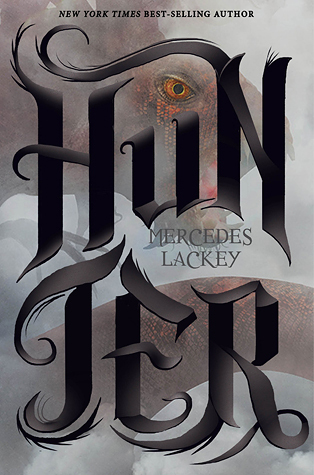 Hunter

by Mercedes Lackey
Series: Hunter #1
Published by Disney Hyperion
Published on: September 1 2015
Genres: Alternate History, Urban Fantasy, Young Adult
Pages: 384
Format: eARC
Source: NetGalley

Amazon
|
Book Depo
|
Kobo
|
B&N
 |
GoodReads
Centuries ago, the barriers between our world and the Otherworld were slashed open allowing hideous fantastical monsters to wreak havoc; destroying entire cities in their wake. Now, people must live in enclosed communities, behind walls that keep them safe from the evil creatures constantly trying to break in. Only the corps of teen Hunters with lightning reflexes and magical abilities can protect the populace from the daily attacks.

Joyeaux Charmand is a mountain girl from a close knit village who comes to the big city to join the Hunters. Joy thinks she is only there to perform her civic duty and protect the capitol Cits, or civilians, but as cameras follow her every move, she soon learns that the more successful she is in her hunts, the more famous she becomes.

With millions of fans watching her on reality TV, Joy begins to realize that Apex is not all it seems. She is forced to question everything she grew up believing about the legendary Hunters and the very world she lives in. Soon she finds that her fame may be part of a deep conspiracy that threatens to upend the protective structure built to keep dark magic out. The monsters are getting in and it is up to Joy to find out why.
Contrary to my assumption, HUNTER by Mercedes Lackey was not a YA fantasy. If I'd bothered to read the blurb, I would've known that, but what can I say? Old habits die hard.
What it is is a paranormal/mythological/post-apocalyptic/dystopian mashup.
Sounds cool, right? And a lot of readers, particularly those still in their teens, will probably really like it.
BUT not me.
For starters, I'm not a big fan of the shy, reluctant heroine type. It always rings false to me. Little mouse girls who aren't comfortable with themselves or their abilities don't get books written about them, b/c they don't do anything worth writing about.
Timidity and diffidence do not breed heroic acts.
So when I'm confronted with a heroine who is all of those things, it feels contrived. If that had been my only issue with Joy, I might have gotten over it.
Guess what?
It wasn't:
Everybody with even a tiny little bit of magic gets taught at the Monastery; there aren't many who have as much as me . . .
Yes, she's SUPER special. But she's too busy being admirably self-sufficient to care about that:
"Popular?" I repeated. "What's popular got to do with anything?"
"People love watching him Hunt," said the steward, sounding puzzled. "Don't you—oh. I guess you don't watch much vid out there—"
"We're kind of busy," I pointed out dryly. "We have to hunt and grow our food for ourselves. And make our own clothing from wool, hemp, linen, and ramie. And cut the wood to heat our houses. And—"
*pats on back* *congratulates* *offers to set off fireworks, but is declined b/c wasteful*
Her SUPER specialness extends to her dogs, too:
Not all Hounds can, but mine do.
And with all this awesomeness floating around, of course it can't help but positively impact others around her:
Mark laughed at that. Funny thing, he was laughing a lot more since he and I had partnered up.
Soooo funny.
Her Country Mouse looking down her long nose at City Mouse, b/c "I'm wearing my drab hunting garb, b/c on the (perfect) Mountain we don't have exotic *ahem* unnatural dyes, and, my, I bet those heeled shoes must make your back hurt, but they certainly are pretty," attitude felt incongruent with her, "I just want to live a quiet life helping others as best I can, but thanklessly and out of public view, thankyouverymuch," game face.
This problem was compounded by the heroine's occasional direct comments to the reader . . . The phrase "two-faced" springs to mind. Especially when such an allegedly altruistic person thinks to herself:
Suddenly my palms were damp and I was more nervous than I'd been facing down that Mage. After all, all he could do was kill me horribly. These people… they could make me look stupid.
It's good to have priorities.
Then there's this:
I wanted to scream, but I held it in. Hunters don't scream. Not when we're startled, not when we're terrified, not when we're hurt. Not when we're dying.
Got it. No screaming. Ever.
But this is fine:
I sighed and finished my cup of yummy goodness, and wished I could Summon Bya back through again to cuddle up with.
Yeah, all the badasses drink hot chocolate and call it "yummy goodness."
The warm drink had finally made me sleepy, and it wasn't private enough here for me to curl up and have a good cry about being sent away from everyone I knew.
And nothing wrong with wanting to cuddle up with your dog for "a good cry."
TOTALLY different from screaming.
Beyond my intense dislike of the heroine, the world-building was shoddy—it felt like a poor imitation of Panem.
I had similar issues with the plot: Joy leaves her mountain home where the people had REAL problems for the superficial and frivolous Capital at the behest of the corrupt government.
There are also the beginnings of a love triangle, but Boy #2 has a girlfriend, so maybe I'm mistaken . . . *snickers*
The writing was almost as bad as Joy (which probably had a lot to do with my dislike of her). When she wasn't finding ways to unobtrusively point out her SUPER specialness or stereotyping/contradicting her position in society, she was peating and repeating previously addressed information or stating the obvious.
*adopts lecturing tone*
When facing an opponent out-of-control with RAGE, you can use that RAGE against them. Like a weapon in your hand made of their RAGE. To turn their RAGE against them. Like a weapon.
A smaller person can use her larger opponent's size and momentum against them. It's all about leverage. So just b/c someone is bigger than you, doesn't mean you can't beat them. You just have to know how. Using energy. And leverage.
Othersiders don't like the cold. That's why everyone back home on Mountain is safe. B/c Mountain is cold, snow on its peak all year, so the Othersiders can't attack them b/c it's cold.
Speaking of Mountain, Joy really wishes she was at home. She can't go back, b/c running away would draw attention to Mountain which would be bad b/c SECRETS, but she really, really wants to go home. If there was any way for her to return to Mountain, with her tiny room that is plenty big enough for her, she would totally do it.
*bangs head against wall* *repeatedly*
And once again, I'm nearing my self-imposed word limit. I had half a dozen other issues as well, but almost all of them can be attributed to Heroine's constant nattering and sanctimonious inner monologue. On the rare occasion she was actually doing something, HUNTER by Mercedes Lackey was fairly entertaining, but considering that accounts for maybe 20% of the book . . . Not recommended.
Was this review helpful to you? If so, please consider voting for it on Amazon or like it on Goodreads!


Related Posts