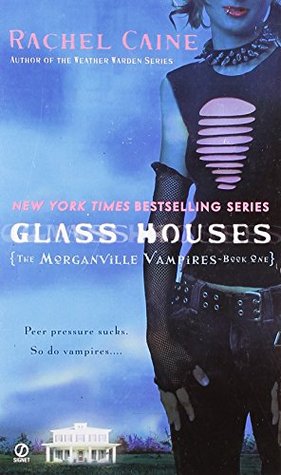 Glass Houses

by Rachel Caine
Series: The Morganville Vampires #1
Published by Penguin
Published on: October 3, 2006
Genres: Urban Fantasy, Young Adult
Pages: 260
Format: eBook
Source: Purchased

Amazon
|
Book Depo
|
B&N
 |
GoodReads
College freshman Claire Danvers has had enough of her nightmarish dorm situation, where the popular girls never let her forget just where she ranks in the school's social scene: somewhere less than zero.
When Claire heads off-campus, the imposing old house where she finds a room may not be much better. Her new roommates don't show many signs of life. But they'll have Claire's back when the town's deepest secrets come crawling out, hungry for fresh blood.


Of course I had heard of the Morganville Vampire series, couldn't very well not if you read as much paranormal as I do. I was put off by the sheer number of books in the series so never indulged, although I know they sure sounded good. Thanks to Naomi at Naomi's Book Palace for telling all us readers what we were missing if we weren't reading these, I bought the first one. I literally could not put it down! I am sure a lot of you have already read these, but if you haven't than you are missing out.

Claire is a teenage nerd, brilliant, and although too young to be in college, has started her freshman year away from home. She lives in a dorm, but as with her high school years, she has become the object of bullying by the mean girls in her dorm. These girl take the definition of mean to new levels-like stratosphere levels. After a group tries their hardest to kill her(and almost succeeds)she goes looking for a place off campus to live. This is how she ends up living at Glass House, an old home inhabited by Eve, a goth girl, Michael a musician that sleeps all day, and Shane, an out of work, but super fun guy. They take her in knowing she has problems back on campus, also knowing that she's going to be a real problem for them.

Morganville isn't your typical small college town by a long shot. Here, the vampires rule the town, and people are prey-unless they are protected. Nobody in Glass House is protected so things heat up fast. Claire manages to get involved in so many bad aspects of the town and seems to almost be the catalyst for things to ramp up between the residents of Glass House and the vampires of Morganville. I wondered at times how they managed to survive prior to Claire's arrival. And actually one of them does have a major secret concerning that.

I enjoyed this one so much that I immediately bought the next in the series and have already read it, and started the third-in a three day period. Yes, there are something like fifteen books in this series, and it's pretty daunting, but right now I am happy with reading how ever many I can. Series like this makes me wish there were more hours in the day to read. I saw on Amazon that the age group for this book starts at twelve and I have to say REALLY? to that, because of sexual thoughts and things like one of the girls dressing sexy(garters, thong) to hit on the guy she likes-call me old fashioned, but I think the age group should be more like 15+-just my opinion of course. And that's not even touching on the amount of violence.

Great characters, unique premise, non-stop action and/or humor, this read had all that and more. There's romance, and scary life and death moments, and I thought it was perfect for any Urban Fantasy fan or PNR readers for that matter, although it's lighter on the romance. Just a word of caution, it does have the dreaded cliffhanger and I am usually not a fan. However, I forgave it, because the next book was there ready for me to buy. If you love paranormal reads and haven't tried this, I highly recommend it. As in, You really need to read these!


Related Posts