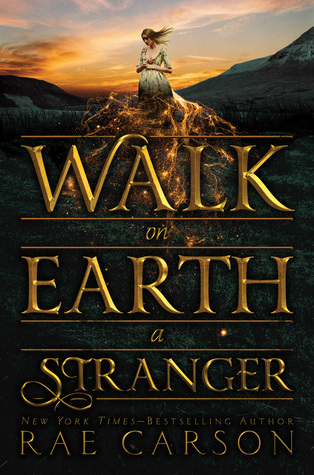 Walk on Earth a Stranger

by Rae Carson
Series: The Gold Seer Trilogy #1
Published by Greenwillow Books
Published on: September 22 2015
Genres: Fantasy, Young Adult
Pages: 448
Format: eARC
Source: Edelweiss

Amazon
|
Book Depo
|
Kobo
|
B&N
 |
GoodReads
The first book in a new trilogy from acclaimed New York Times bestselling author Rae Carson. A young woman with the magical ability to sense the presence of gold must flee her home, taking her on a sweeping and dangerous journey across Gold Rush–era America.

Lee Westfall has a secret. She can sense the presence of gold in the world around her. Veins deep beneath the earth, pebbles in the river, nuggets dug up from the forest floor. The buzz of gold means warmth and life and home—until everything is ripped away by a man who wants to control her. Left with nothing, Lee disguises herself as a boy and takes to the trail across the country. Gold was discovered in California, and where else could such a magical girl find herself, find safety? Rae Carson, author of the acclaimed Girl of Fire and Thorns trilogy, dazzles with this new fantasy that subverts both our own history and familiar fantasy tropes.

Walk on Earth a Stranger, the first book in this new trilogy, introduces—as only Rae Carson can—a strong heroine, a perilous road, a fantastical twist, and a slow-burning romance. Includes a map and author's note on historical research.
This book . . . GAH.
I was already a HUGE fan of Rae Carson from reading her Fire and Thorns books, so I was dying in the interim between series, scavenging for any bit of information I could find about what she was working on next.
And the more I learned, the more excited I became: a girl on the run with the ability to sense gold like a dowsing rod . . . during the California Gold Rush . . .
Pretty cool, right? I'm not a huge fan of American history, but even I thought that was a pretty great scenario.
In hindsight, I feel kind of silly for not seeing the inevitable similarities between traveling in wagons across the county to California and traveling across the country in wagons . . . on the OREGON TRAIL.
BUT. As an adult, I finally grasped the gravity of the situation.
It was not an easy trip. People traveled in huge caravans b/c there was safety in numbers. A family would start the journey with a wagon jam-packed with various "necessities" they refused to leave behind, and the longer they traveled, the more stuff they tossed out, b/c they learned: if it isn't food or water, it's not important.
REAL people were dying from real diseases. LOTS of them. Not just random stick figures I'd named after my fourth grade best friends.
But Carson didn't only capture the realities of long-distance travel in Gold Rush-era America, she captured the mindsets. The blasé attitude that went hand-in-hand with the prejudices. The irony of the American settlers' response to perceived Native American threats. The desperation of women who were wholly dependent on their husbands b/c they had no rights of their own. The blind stupid belief of religious men who expected God to do everything for them, believing that taking any type of precautionary action was a "lack of faith."
It was heartbreaking and infuriating and thought-provoking and, above all other things, REAL.
Viscerally real.
Which is quite an accomplishment for a YA fantasy novel.
My only complaint was that there were several shocking plot twists that—BAM!—hit you at the very beginning, and I hadn't had enough time with Leah to really be affected by the awful things that happened to her. B/c they were awful. Horrible, tragic things. But I only felt them cerebrally, not emotionally.
BUT. It was a problem that was short-lived. By the time I was one-third of the way through it, I was well and truly ensnared. I tore through the pages, finishing only six(ish) hours after starting it. And I'll admit, around the 90% mark I started getting worried . . . I could almost see a cliffhanger ending biting its thumb at me in the distance . . .
Thankfully, it was all in my head. I finished in agony, but only the agony that springs from finishing a truly great book and knowing that you have a year to wait before finding out what happens next. *wipes sweat from brow*
WALK ON EARTH A STRANGER is pure gold. In this phenomenal first installment of Rae Carson's new GOLD SEER TRILOGY, you will meet a fascinating cast of characters whose journey from the Southern United States all the way to California will spring to life as you feverishly inhale chapter after chapter, willfully ignoring silly things like food and shelter b/c you physical CANNOT put it down. At least I couldn't. Highly recommended.
Was this review helpful to you? If so, please consider voting for it on Amazon or like it on Goodreads!
Related Posts