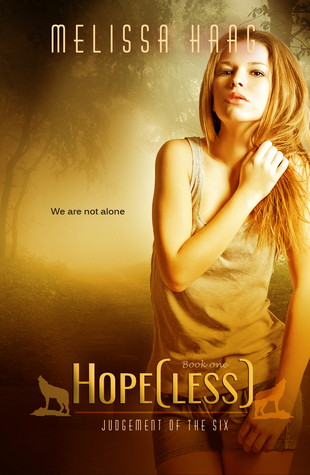 Hope(less)

by Melissa Haag
Series: Judgement of the Six #1
Published by Indie
Published on: November 18, 2013
Genres: Paranormal Romance, Werewolves
Pages: 315
Format: eBook
Source: Freebie

Amazon
|
Book Depo
|
Kobo
|
B&N
 |
GoodReads
Gabby's brain is like a human fish finder. It comes in handy when she wants to avoid people. Mostly men. They seem to like her a bit too much. It's lonely being different, but she's adapted to it. Really. She just wishes she knew why she is different, though.

In her search for answers, she discovers a hidden community of werewolves. She immerses herself in their culture, learning about their world until she meets Clay. He's unkempt, prone to mood swings, intense without saying a word, and he thinks Gabby is his.

It's going to take every trick she knows to convince Clay to go away, and every bit of willpower not to fall for him when she discovers the man beneath the rough exterior.

Delve into a riveting world of werewolves and young women with unexplained abilities, in Hope(less).

Judgement has begun...


For almost two years, this little gem of a book hid in my to be read pile, until recently when I decided to finally read it. Definitely kicking myself, because I could not put it down.

Werewolves. Yes, they have been written about in just about every way imaginable. Not much new out there, but lately I have found a couple of series that are really different, and this is one of them. This is book one and I have every intention of reading them all, and the best part is four are already published and a fifth is due out in November, so not as much waiting.

Gabby was sixteen and a foster child, when she saw her first werewolf. It scared the stuffing out of her, but when the wolf almost immediately changed back into an older man and told her his story, something made her listen. The man is Sam, and he is an elder in one of the main packs in Canada. He had shown himself on purpose to Gabby because he recognized her as different. And Gabby is different, only not in the way Sam thinks. Sam only knows that Gabby is one of the rare humans that have the ability to mate with werewolves. Actually Gabby is one of only two that the packs know about. Female werewolves are so few that it's important when they find humans that can become part of the pack. Eventually, Sam becomes Gabby's guardian and the story jumps two years into the future and she is immersed into werewolf culture.

What made this story different was first of all, Gabby's true "gift", and that was being able to mentally see when people were present, in the dark, hidden in the park, anywhere that you might want to know if someone was there. She sees them as a colored light, and werewolves have a different light than humans. And Gabby? Gabby's light is different from all of them. The second thing that made this different for me was what happened when she finds her mate. That, and the time that follows after that, was an extremely different beginning to a relationship.

Gabby's mate was so different from the typical alpha male types in most paranormal romance. He's scruffy, unkempt, and just about everything most women wouldn't want. Except underneath it all, he's actually very handsome and there's reasons for why he is the way he is. Their relationship was slow-probably one of the slowest I have ever read, and to be honest it was refreshing for a change. It was a funny relationship most of the time, and if you read the book you will understand what I mean. I found a lot of humor in the way things all played out with it. Another character, Rachel, has a big part in the story as the clueless roommate, and someone that caused quite a bit of the humor due to that. There's also a lot more to Gabby's gifts to figure out as well, and that's not mentioning the effect she has on men.

I am sure there are going to be people that may not like the turn this book takes, but I wasn't one of them. The pace was perfect for the story, and I thought the writing was pretty spot on. There were a few typo's and misplaced words, but I forgave it because it was such a good story, and I am not changing my rating because of it. I enjoyed the whole thing and would recommend it to paranormal romance fans ages 15+. No sexual situations, but a bit of violence here and there keeps me from going under age 15.


Related Posts