Bestselling author, Dianne Duvall, returns with the sixth book in her exciting and addictive Immortal Guardians series – SHADOWS STRIKE!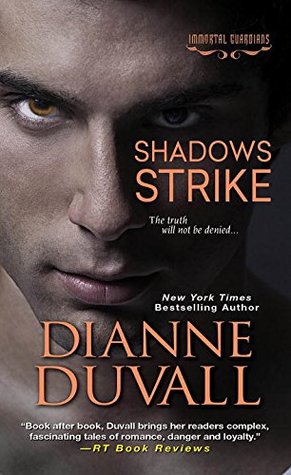 Shadows Strike by Dianne Duvall
Series: Immortal Guardians #6
Published by Zebra
Published on: August 25, 2015
Genres: Paranormal Romance
Pages: 320
Format: eARC
Source: NetGalley

The Immortal Guardians protect the innocent in secret. Sometimes the secret gets out...

U.S. law enforcement agent Heather Lane can read minds. But not the future. The dream of battle and blood that recurs every night must be a fluke, some obscure terror from her own mind. What its significance might be, she can't guess: an attack from seven psychotic vampires at once, only separated from nightmare by an eighth very different immortal. A handsome, brave man fighting at her side, a man she misses when she wakes.

Then the dream comes true. Heather is flung into a war between predators and protectors of humanity, the man from her dreams beside her again. Except now that she's awake, she isn't sure she can trust Ethan, or the shadow organization he represents. The U.S. military doesn't trust either of them. But against an onslaught of evil like the one that's coming, it will take everything they have just to survive...
This is one of the rare Paranormal Romance series in which I enjoy the main story arc as much, if not more than the lovin'. I have tons of theories, but no concrete leads as to the direction Dianne Duvall plans to go in with her IMMORTAL GUARDIANS, and that's ok because it's been one hell of a ride so far! Ethan's one of the youngest, and least known of Seth's warriors, and yet he still managed to steal my heart, and Heather fit right in with the other strong females that make up this world. SHADOWS STRIKE is one of my top PNR reads of 2015!

Lisette, the featured protagonist of book 5, was kinda meh for me, so I was concerned that her ex-friend with benefits would fall into that category as well. Ethan's a fairly new addition to this franchise, and his Gift is a bit of a dud; however the author developed his character in such a way that I was eating out of his hand by chapter two. And, with the exception of Miss d'Alençon, I've had no issue with any of this series' heroines, and Heather's entrance was so seamless that at times it felt as though she'd been part of the IG family since DARKNESS DAWNS.

The romance was more understated than usual, but it worked well with this book's hectic story line. The pacing did a complete one-eighty when compared to the previous volume, and that was actually fine because NIGHT UNBOUND was too lovey-dovey IMO. I thought that the emotional connection between the couple helped establish the basis for their relationship, and the sex is (with good reason) smokin' thanks to death being imminent. In spite of Heather & Ethan's odd beginnings, I liked where they ended up.

It's evident that Duvall has a sizable conclusion planned for her IMMORTAL GUARDIANS, and who knows, one of my countless speculations might actually be correct, so I'm going to keep them to myself for now. David, the most chill secondary ever and Seth's second, actually gets angry in this installment which caused some of the Elders to stop, and take notice. Hmm… Several of the Others finally get off their keisters, and pick a side too. There's also talk of an apocalypse, and Chris Reordon really makes a case for himself to get his own novel.

SHADOWS STRIKE takes the cake for hottest PNR of the summer!

Was this review helpful? If so, please like it on GoodReads, or vote for it on Amazon!


Immortal Guardians Series


My Review


My Review


My Review





My Review





My Review



[author] [author_image timthumb='on']http://2.bp.blogspot.com/-tCcoFpmOSZw/UlPymreWFnI/AAAAAAAAJBE/rjbmtvhtaGQ/s1600/DianneDuvallAuthorPicSm.jpg[/author_image] [author_info]
Author Bio
Dianne Duvall is the New York Times and USA Today Bestselling Author of the Immortal Guardians paranormal romance series and The Gifted Ones series. Her books have twice been nominated for the RT Reviewers' Choice Award for Best Vampire Romance and are routinely deemed Top Picks by RT Book Reviews, The Romance Reviews, and/or Night Owl Reviews. Reviewers have called Dianne's books "utterly addictive" (RT Book Reviews), "fast-paced and humorous" (Publishers Weekly), "extraordinary" (Long and Short Reviews), and "wonderfully imaginative" (The Romance Reviews).
Dianne loves all things creative. When she isn't writing, Dianne is active in the independent film industry and has even appeared on-screen, crawling out of a moonlit grave and wielding a machete like some of the vampires she has created in her books.
DianneDuvall.com | Blog | Facebook | Twitter | Pinterest
[/author_info] [/author]
Giveaway
a Rafflecopter giveaway
Related Posts