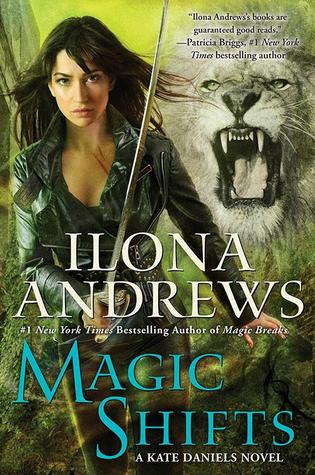 Magic Shifts

by Ilona Andrews
Series: Kate Daniels #8
Published by ACE
Published on: August 4, 2015
Genres: Urban Fantasy
Pages: 352
Format: eARC
Source: NetGalley

Amazon
|
Book Depo
|
Chapters
|
Kobo
|
B&N
 |
GoodReads
In the latest Kate Daniels novel from #1 New York Times bestselling author Ilona Andrews, magic is coming and going in waves in post-Shift Atlanta—and each crest leaves danger in its wake…

After breaking from life with the Pack, mercenary Kate Daniels and her mate—former Beast Lord Curran Lennart—are adjusting to a very different pace. While they're thrilled to escape all the infighting, Curran misses the constant challenges of leading the shapeshifters.

So when the Pack offers him its stake in the Mercenary Guild, Curran seizes the opportunity—too bad the Guild wants nothing to do with him and Kate. Luckily, as a veteran merc, Kate can take over any of the Guild's unfinished jobs in order to bring in money and build their reputation. But what Kate and Curran don't realize is that the odd jobs they've been working are all connected.

An ancient enemy has arisen, and Kate and Curran are the only ones who can stop it—before it takes their city apart piece by piece…
MAGIC SHIFTS is a transition book, there had to be one eventually, right? But, there's one very important difference between this installment, and the vast majority of other Urban Fantasy bridge novels, it's NOT FILLER. The story swerves from one plot thread to the next while Kate & Curran adjust to their new lifestyle with their usual sarcastic flair, and on trend, win another battle for team Atlanta. So, more of the same yet also scads of never-before-seen just about sums it up in a nutshell.

Ghouls and djinn are two supes that haven't played a significant part in this series to date, and I really enjoyed Ilona Andrews' approach to these two paranormals. The authors accentuated their basic traits while also working in some Arabic mythology. But, the world-building didn't end there; reanimative metamorphosis makes its grand entrance in all its messed up glory. Yes, it's exactly what it sounds like; things die and come back as something completely other. Kate & Curran are basically fighting matryoshka dolls full of beasties!

I loved Kate in this book; well, to be fair, I ALWAYS love Kate, however this time I felt as though I connected with her on a fundamental level. She's gotten to be pretty powerful over the course of eight volumes, and as much as I enjoy reading about her washing the floor with her opponents, I also like that she still gets her butt handed to her on occasion, and in this installment she even takes a time-out. I was a bit of an emotional wreck after that one because it was a wake-up call that Daniels isn't invincible. Her family circles the wagons as a result and oh the feels!

My favourite aspect of this novel was probably that Kate & Curran were out of their element; well, technically these two don't do normal, but their current circumstances are a big change from their former positions as Beast Lord & Consort. Lennart is trying to fit into human society, and Daniels has a "rapport" with her father now. Dinner at Applebee's anyone? And. like I said in my opening paragraph, this title was just plain more of everything. And, as far as memorable scenes go, I think Kate's casino entrance is one of the front runners. "Bow, you idiot."

I really don't know what else to say about MAGIC SHIFTS except buy it, read it, listen to it, and recommend it to everyone you know including strangers on the bus.
Kate Daniels series


My Review


My Review


My Review


My Review


My Review


My Review


My Review


My Review
Was this review helpful? Please vote for it on Amazon or like it on GoodReads!
GIVEAWAY
a Rafflecopter giveaway
Related Posts