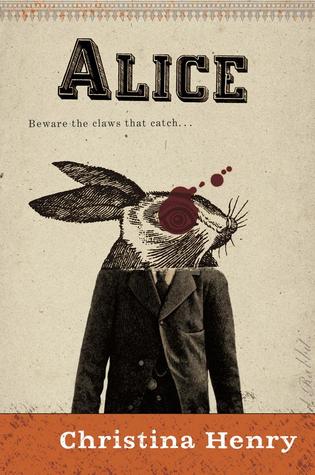 Alice

by Christina Henry
Published by ACE
Published on: August 4 2015
Genres: Fantasy, Horror
Pages: 292
Format: Paperback
Source: Publisher

Amazon
|
Book Depo
|
Kobo
|
B&N
 |
GoodReads
A mind-bending new novel inspired by the twisted and wondrous works of Lewis Carroll...

In a warren of crumbling buildings and desperate people called the Old City, there stands a hospital with cinderblock walls which echo the screams of the poor souls inside.

In the hospital, there is a woman. Her hair, once blond, hangs in tangles down her back. She doesn't remember why she's in such a terrible place. Just a tea party long ago, and long ears, and blood…

Then, one night, a fire at the hospital gives the woman a chance to escape, tumbling out of the hole that imprisoned her, leaving her free to uncover the truth about what happened to her all those years ago.

Only something else has escaped with her. Something dark. Something powerful.

And to find the truth, she will have to track this beast to the very heart of the Old City, where the rabbit waits for his Alice.
The first thing you should know is that I bloody hate ALICE IN WONDERLAND.
In fact, with the exception of THE JABBERWOCKEY, which I appreciate for English nerd reasons (nonsense words that make sense b/c masterful command of grammar), I bloody hate Lewis Carroll.
Too weird. #sorrynotsorry
I've also read an installment or two of Henry's BLACK WINGS series, and I wasn't terribly impressed. My top two least favorite subjects in urban fantasy are: dead things and angels. BLACK WINGS is basically about angels dealing with dead things.
SO. A book from an author I've previously not had much luck with, on a subject I've loathed since childhood . . .
You're probably wondering why on earth I bothered with ALICE.
Honestly, so did I.
And if it hadn't immediately captured my attention, I doubt I'd've stuck with it.
But it did. And I did.
The second thing you should know is that this book isn't for the faint of heart.
This Alice is an adult who's spent the last ten years institutionalized after stumbling out of the Old City with blood on her thighs, raving about a rabbit.
YES. That means exactly what you think it means.
And what happened to Alice isn't uncommon in this world.
Usually this kind of thing has me running, screaming in the opposite direction, but ALICE is a perfect example of the difference between dark and crude.
Dark means real life Bad Things happen. It's awful, it's presented as awful, but you're mostly seeing the aftermath of the awful, not a play-by-play account in real time.
It's realistic, but not shockingly so.
Crude means your face is shoved in the awful b/c this-is-life-suck-it-up-and-deal-with-it-you-pansy-suburban-housewife. Crude means deliberately crass terminology used for the express purpose of making something already awful even more awful.
I have zero tolerance for crude.
Dark I can handle.
And if the perpetrators get what's coming to them, my bloodthirstiness comes out to play and rolls around in the darkness. Like some kind of fiery-eyed hellhound.
ALICE is darrrrrrrrrk.
But it's also a perfect blend of old school Carroll strangeness and modern urban fantasy (albeit in a more Victorian setting) that I could not put down. I read the whole thing on a Saturday afternoon.
I loved the characters, especially our two MCs Alice and Hatcher, who were each other's only solace for eight years in the hospital where they were held. Despite the shared experience and insanity, they are as different as two people can be, their disparate strengths and weaknesses making them that much stronger together.
The world was bleak, yet fascinating. Make no mistake, Bad Things happen here. BUT. There is also justice, and that makes all the difference.
ALICE by Christina Henry is hopefully the first of many installments in this new weirdly fantastic series—definitely my most surprising read of the year so far. Henry's Alice knows that sometimes you have to hurt people before they can hurt you, and she doesn't hesitate to do exactly that. And even if she did, her mad companion Hatcher, thusly named for the killing frenzy that resulted in at least six deaths-by-ax, would not. They're on a mission, and if they're coming for you . . . Run, Rabbit, run.
Was this review helpful to you? If so, please consider voting for it on Amazon or like it on Goodreads!


Related Posts