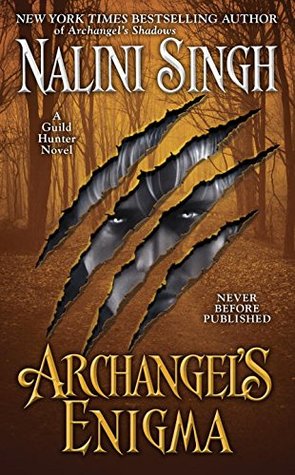 Archangel's Enigma

by Nalini Singh
Series: Guild Hunter #8
Published by Jove
Published on: September 1 2015
Genres: Paranormal Romance
Pages: 384
Format: eARC
Source: NetGalley

Amazon
|
Book Depo
|
Kobo
|
B&N
 |
GoodReads
Naasir is the most feral of the powerful group of vampires and angels known as the Seven, his loyalty pledged to the Archangel Raphael. When rumors surface of a plot to murder the former Archangel of Persia, now lost in the Sleep of the Ancients, Naasir is dispatched to find him. For only he possesses the tracking skills required—those more common to predatory animals than to man.

Enlisted to accompany Naasir, Andromeda, a young angelic scholar with dangerous secrets, is fascinated by his nature—at once playful and brilliant, sensual and brutal. As they race to find the Sleeping archangel before it's too late, Naasir will force her to question all she knows...and tempt her to walk into the magnificent, feral darkness of his world. But first they must survive an enemy vicious enough to shatter the greatest taboo of the angelic race and plunge the world into a screaming nightmare…
After finishing ARCHANGEL'S SHADOWS last year, I burned, I pined, and I perished for the next installment to be about Naasir, an almost unknown quantity prior to that book.
An almost unknown quantity who very nearly stole the spotlight from Janvier and Ashwani, whose book I had been waiting years for.
How did she do that?
I'd have to shake my nonthreatening fist at Singh had she not indulged my (and multitudes of other fans, I'm sure) need to learn more about this strange creature, this enigma.
But she did. So the world is once more safe from my fists and their (non)threats.
This installment opens with a frustrated Naasir b/c his mate is hiding from him.
Hiding. *giggle snorts*
B/c, you see, Naasir has decided that he is ready to find his mate, and he has been searching for her for months, unable to find her. So she is hiding.
There's a childlike directness, a black-and-whiteness to Naasir that is both adorable and intoxicating.
But Naasir is not a child. *fans self* <——b/c necessary.
Andromeda is the only grandchild of Charisemnon, ally of Lijuan (who needs to die). She fled the abuses and depravities of his court for the Refuge when barely more than a fledgling to pursue her dream of becoming a scholar.
Her main area of study is the Ancients for the wisdom they can offer, and, secondarily, she has made a study of mythological creatures b/c she is fascinated by them.
It's her knowledge of the Ancients that causes Raphael to send Naasir to protect her while she searches for the Sleeping Ancient Alexander who they have cause to believe Lijuan is also searching for that she might kill him when he is helpless.
Like I said . . . Bitch needs to DIE.
There are the characteristic hurtles that prevent Naasir and Andromeda from being together: a vow of celibacy (*snickers* three guesses as to how Naasir feels about that) and a Big Secret.
Several times I found myself frustrated with Andromeda, screaming in my head at her to just TELL HIM THE TRUTH!
But as it turns out, it really was as hopeless a situation as she was making it out to be, and it's only a byproduct of their mission that provides a solution.
So have patience. It's legit. FYI.
Beyond Naasir and Andromeda's romance, the main storyline is continued at a steady pace, with a potential key to Lijuan's eventual (*grumbles*) destruction being revealed, as well as several more consequences of the Cascade, one of them absolutely heart-stopping.
*heart palpitates in remembrance*
All in all, ARCHANGEL'S ENIGMA, the eighth installment of Nalini Singh's GUILD HUNTER series is everything I've come to expect from this auto-buy author. Technically a paranormal romance, there is both action and relationship development enough to satisfy lovers of both PNR and Urban Fantasy, and if you haven't already started this series, I highly recommend that you do. It is fantastic and completely worth the commitment.
Guild Hunter series:
Was this review helpful to you? If so, please consider liking it on Goodreads!
Related Posts